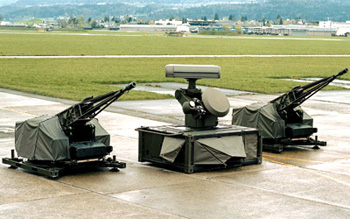 March 23, 2012: Rheinmetall Air Defence AG of Switzerland (RAD) has formally objected to its March 5 blacklisting by the Indian government, effectively barring it from doing business with the Ordnance Factory Board, but presumably with any other wing of the government too. In a statement issued today, more than two weeks after the blacklisting announcement, the company said, "Rheinmetall Air Defence AG objects to the decision of the Indian Ministry of Defence announced on 5 March 2012 to exclude it from doing business with India's Ordnance Factory Board (OFB). This decision was based on allegations against RAD which the company categorically rejects as false and as entirely without merit. The Indian authorities have yet to inform RAD of the details of these allegations. Transparency with regard to investigations would enable RAD to put forward conclusive evidence that will refute all claims made against it. RAD is keen to cooperate with India's authorities and to assist in any investigation related to the company. RAD insists that its employees have invariably behaved in a correct, law-abiding manner.
The company has made this clear to the Indian authorities in meetings, in which RAD underpinned its position with comprehensive documentation. Just as they are in every other country in the world, RAD employees in India are subject to the company's stringent compliance regulations and have adhered to them. A mutually beneficial, trustful relationship with Indian government authorities and armed forces continues to be very important for the company. RAD will therefore do everything in its power to prove these allegations wrong.
In the meanwhile, RAD remains committed to a close dialogue with the Indian authorities." As things stand, Rheinmetall AG, the mother organisation has ambitious plans for Def Expo 2012, though these plans were made before the blacklisting announcement. In a statement just three days before the blacklisting, Rheinmetall AG had said, "Without a doubt, India is the regional superpower of South Asia. Its armed forces form a mainstay of Indian security policy, and are now undergoing further modernization. Facing up to the challenges of an expanded mission spectrum, they rely increasingly on network-enabled operations: a "system of systems" consisting of sensors, C4I capabilities and effectors that enables an appropriate response to any and all threats. As one of the world's leading suppliers of defence technology systems, Rheinmetall will be on hand with a representative selection of its diverse array of products for military and security forces. Building on a proud tradition, the Düsseldorf, Germanybased Rheinmetall Group covers many different capability categories."