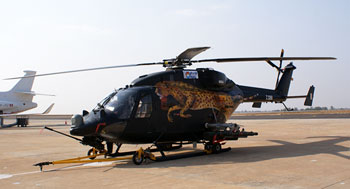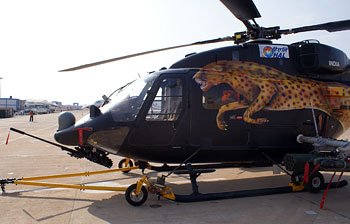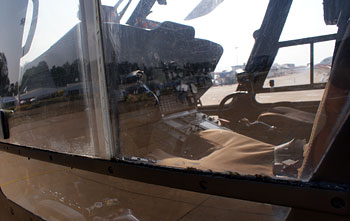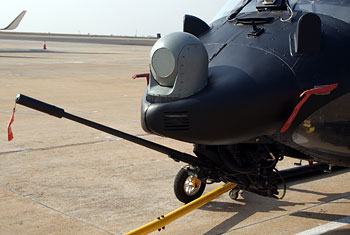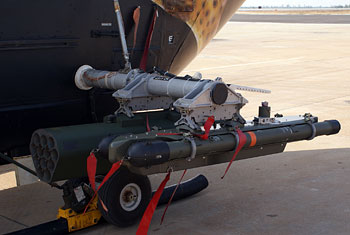 January 28, 2013:
In a significant milestone for Hindustan Aeronautics Ltd, the first Dhruv (Weapon Systems Integrated)—Dhruv-WSI or
Rudra
as it has been christened—will be certified and ready for handing over to its primary customer, the Indian Army, during Aero India 2013. The platform is all set to be officially certified by certification agencies this week. While a modified version of the Dhruv airframe—tandem seats—goes into the Light Combat Helicopter that is currently in flight trials, the Army was of the opinion that an armed Dhruv without major modifications to the primary airframe would also be a potent platform, and be available to the customer naturally much sooner. The
Rudra
is a result of that. According to HAL, a
Rudra
can carry 48 70mm rockets.
"Different warheads such as high explosive, darts, flechettes or cargo warheads provide adequate flexibility to address any type of target. These rockets can be safely delivered at stand-off ranges of more than 8 km. The turret mounted 20 mm cannons can be cued to the electro optical pod or the pilot's helmet. This provides Rudra immediate and accurate firepower against ground and aerial targets. Pilot only has to look at the target and fire. With an advanced ballistic computer, the guns are very accurate even at extreme angles. Fire and forget anti-tank guided missiles with 7-km range make Rudra an ideal platform for ground support roles. Rudra can carry four air to air missiles. These are infra red guided fire and forget missiles with off axis boresight capability. Pilot can engage the target using the helmet mounted sight or with the electro optical pod, while manoeuvering."
The HAL brochure on the
Rudra
also adds, "State of the art sensors complement this tremendous firepower. Gyrostabilised electro optical sensors work on both visual and IR spectrum. Any type of target will be picked up and tracked at large distances, whether by day or by night. These targets can be handed over to the guided missiles or attacked with rockets and gun. The laser designator can designate the target for any compatible weapon. A comprehensive self protection suite would empower the pilot with essential situational awareness of the elctromagnetic and laser environment. Any missile launched on the helicopter would be picked up by the self protection suite and effective countermeasures dispensed automatically. This makes Rudra practically unassailable." The delivery comes at a time when there remain unresolved issues between the IAF and Army in the use of armed helicopters.