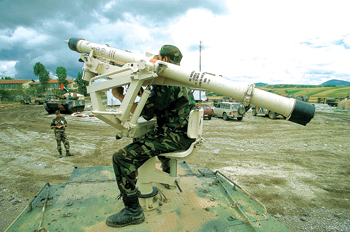 MISTRAL-s man-portable, fuly digital, heat-seking misile system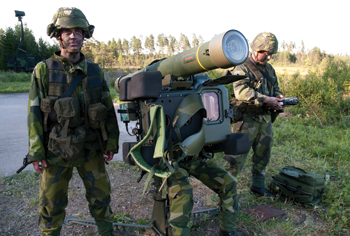 RBS 70 ground-based air-defence system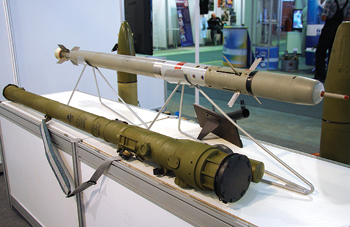 IGLA-S portable anti-aircraft missile system
In the heady vapour trail of India's medium multi-role combat aircraft (M-MRCA) bid, it's easy to lose sight of some of the most important land forces requirements still being fought over in the country. Chief among them, both in terms of value and significance has to be the Indian Army's very short-range air defence systems (VSHORADS) requirement, ostensibly in its final lap. Among the long list of simultaneous competitions for air defence hardware across the three services, in sheer scope and size, the VSHORADS is the largest. Not surprising therefore, that the three finalists are each at Defexpo 2014 in a big way. The event affords only another opportunity to obtain clarity from government and armed forces leadership in an uncertain time.
The $6-billion VSHORADS is a three-way face-off between the MBDA Mistral, Saab RBS 70 NG and the KB Mashinostroyeniya new generation Igla-S. Heading into Defexpo 2014, top Army sources have confirmed that the VSHORADS competition has been pegged under a 'priority list' for the three armed forces, and will be one of the first bids to make headway once decisionmaking circumstances become optimal overall again. That said, the evaluation process in the competition is still very much on, making it one of the most stringent field trial routines for any recent Indian competition.
Firing and across-board performance evaluation trials of the three VSHORADS finalist competitors were carried out by specialised Army trial teams in Rajasthan in May 2012 for hot-weather firing, at the coastal batteries in Visakhapatnam for coastal environment performance evaluation and Nyoma in Ladakh for cold-weather high-altitude performance tests.
As reported by SP's exclusively earlier, the Army is looking for a system that can be deployed in multiple configurations including man-portable, fitted on a twin-launcher, based on a highmobility vehicle, ship-based and submarine-based by specialised personnel. The weapon systems fielded have so far demonstrated several capabilities during trials, including multiple target detection and tracking by day and night, providing target acquisition to the munition and engagement of aerial targets.
SP's understands that several performance requirements were fielded during trials, though none of these were an apparent problem for the three competitors, which also underwent simultaneous performance tests of electronic systems and quality assurance in Bengaluru in 2012.
One of the most dramatic phases of the evaluations was a sustained firing exercise where multiple missiles were deployed in quick succession by all three competitors in a single test setting.
India's Bharat Dynamics Ltd (BDL), a well-known presence at Defexpo through the years, is engaged in detailed discussions with all three companies on the crucial issue of technology transfer and licence manufacturing.
The VSHORADS requirement will be largely met by a local manufacturing line, and a mandatory offsets requirement will apply. Defexpo will further discussions for all three vendors on that crucial latter aspect as well. Several Indian offsets opportunities are likely to have presented themselves between the last Defexpo and this year's show.
Awaiting guidance on the next step on the Mistral airto-air missile for the Hindustan Aeronautics Limited (HAL) helicopters, MBDA has invested significant energies in the VSHORADS competition, where its Mistral-S is one of the three finalists. The Mistral-S is a man-portable, fully digital, heat-seeking missile system, designed to meet the requirements of all branches of the armed forces.
According to MBDA, the Mistral 2 missile boasts a 96 per cent proven success rate and higher reliability than any other existing low-level air defence missile.
It integrates ultimate state-of-the-art technology to ensure the same effectiveness, in peacetime as well as in wartime conditions. The missile's diameter (90 mm) permits the integration of a homing head 40 per cent larger than that supplied by the competition and a 3-kg warhead (as compared to 1.2 kg provided by competing weapons).
"The Mistral system boasts of a high kill probability, very high speed (850 m/s) and manoeuvrability (at 32 G), efficiency guaranteed against all types of targets, including high speed and highly manoeuvring combat aircraft as well as helicopters, day or night deployable in stand-alone or in co-ordinated mode, qualified in severe weather conditions (- 46°C to + 71°C, as demonstrated during Indian trials), easy to integrate on a large range of vehicles, boasts a fire-and-forget engagement mode, and crucially for the army, sports a simple training regime with indoor simulator and in-the-field training system.
"India is looking to replace its old Igla systems. With Mistral MANPADS in their inventory, India's armed forces would have a system that weighs less than 19 kg rendering it easily portable by two operators, rapidly brought into action and fired. Being a fire-and-forget system, once the immediate threat has been engaged, attention can then be turned towards other targets, a crucial advantage that man-in-the-loop laser beam riding systems do not have. For an enemy pilot, at ranges of up to 6 km and beyond, Mistral's passive IR seeker means that it is very hard to detect and defend against," says the company.
No less formidable is the Saab RBS 70 VSHORADS system. Speaking of the way forward on the competition and others, Saab's Lars-Olof Lindgren, Head of Market Area, says, "Defexpo 2014 will be an opportunity to meet Indian stakeholders from government, defence forces, homeland security, research, technology and industry. The main theme for Saab for this Defexpo is "Teaming Up With India". Saab believes in partnerships — a combination of smart ideas, local knowledge and close relationships with Indian companies forms the basis of Saab's thinking edge, and opens the door for innovation and new technologies.
The RBS 70 NG VSHORADS system with 24 x 7 all-target capability has been developed for any combat situation, with a new generation integrated sighting system, enhanced gunner aids, high precision, while "unbeatable range and unjammable laser guidance" combine to produce a ground-based air-defence system with world-leading capabilities.
The company says, "The RBS 70 NG is on offer to the Indian Army to fill a crucial need gap. The all-new RBS 70 NG VSHORADS system is a versatile battlefield game changer and will offer critical edge in the spectrum of deployment. We believe that the RBS 70 NG meets and exceeds the requirements of the Indian Army for a system that has multiple target seeking and tracking capabilities, multi-launcher capability, ability to deploy from high mobility vehicles and ship and submarine naval vessels, ability to engage aerial targets by day and night and aerial target detection capability."
In many ways, the Russian new generation Igla-S fights a type antiincumbency, given that the VSHORADS competition is intended to replace legacy earlier generation Igla MANPADS systems in service with the Indian Army. The company has mounted an aggressive campaign to keep the Army fixed on type, and is confident of success."
Missile 9M39 of the portable anti-aircraft missile system "Igla" is designed for defeat of visually observed jet, turboprop and piston-engined aircrafts and helicopters on head-on and tail-on courses under conditions of influence of natural (background) and false heat jammings.
The missile is fired by a gunner from the shoulder in a standing or kneeling position from a fire position on the terrain providing good observation of air space. "Igla" possesses automatic introduction of elevation and lead angles, deep destruction of warhead, uses detonating fuel in propulsion system and displacement circuit in a homing head ensuring the missile hit into the most vulnerable components of the target and allows to defeat effectively modern aircraft and helicopters of enemy.
The Igla has proven its performance capabilities under conditions of temperate cold, arid and humid tropical climate, during Indian field trials.
Given that the competition is still on, due process could still conceivably take a while. Sources indicate, however, that given the priority status that has been accorded to air defence requirements, the VSHORADS competition could see final results this year, with a decision during the 2014-15 financial year. Either way, the fight is still on.