By Lt. General P.C. Katoch (Retd)


Former Director General of Information Systems, Indian Army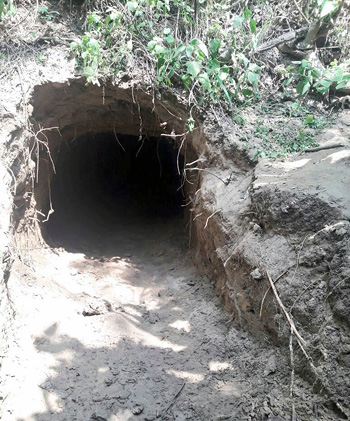 Detected tunneling attempt, Arnia, Jammu
On September 30 this year, the BSF discovered a 14-foor secret tunnel (below the border fence) in Arnia Sector of Jammu. This was the second big tunnel detected by the BSF aside the international border over the last seven months, previous one being in the Ramgarh Sector in Samba region. As per BSF sources, this one was aimed at sending large number of terrorists to "cause havoc in the festive season". Pakistan has been indulging in repeated cross-border violations in these areas, indulging in heavy firing to assist infiltration. The inability to infiltrate large groups has led Pakistan to resort to tunneling. Incidentally, the tunnel discovered on September 30 was just a day after the border meeting between the BSF and Pakistan's Rangers. The unfinished tunnel discovered was about 3-feet in height and 2.5-feet wide. In 2012, a sophisticated 400m long tunnel with ventilation pipes was discovered in the Samba Sector and another was found near the Line of Control in the Akhnoor sector in 2009. Actually between 2001 and 2016, India has discovered at least eight tunnels originating from across the border along Pakistan, at an average of one every two years. Only one of these was suspected to have been dug for drug running, while the others are linked to infiltration operations.
The government has been looking for two key technologies to cope with the menace of infiltration: one, tunnel detection system, and; two, gunshot detection system. In January 2017, media reported that the testing for ruggedness was in progress for a Ground Penetration Radar (GPR) at 920 MHz developed by the National Centre for Excellence in Technology for Internal Security (NCETIS) at IIT-B in collaboration with other IITs, with field trials in multiple terrains and conditions slated for February 2017. This initial project was for landmine detection, to which the additional requirement of tunnel detection was added by the BSF. The MHA has also invited vendors, manufacturers, distributors and experts to share recommendations and product details, if any, in addition to looking at foreign collaboration. The BSF is also looking for three-tier gunshot detection system that can provide an alert one second after enemy shot has been fired from 300-1200m: one, standalone detection system, vehicle mounted system and weapon mounted system. Israel has recently uncovered new advances in tunnel detection technology that was used to detect and demolish a Hamas tunnel crossing from the Gaza Strip into Israel. Shortly after destroying the tunnel with a controlled explosion, Prime Minister Benjamin Netanyahu last month publicly stated, "I have said several times that we are developing breakthrough technology to deal with the tunnel threat. We are applying that technology. Today, we discovered and demolished it (Hamas tunnel) and we will continue to do so. We hold Hamas responsible for any violation of our sovereignty emanating from areas under its control and by persons subject to its authority."
Israeli engineers are currently at work on a NIS 3 billion Gaza border fence that runs above and below ground and includes an underground concrete barrier armed with cameras and sensors due for completion by early 2019. It is unclear whether the tunnel blown up Monday was exposed during works on the barrier. As far as tunnel detection goes, it would be prudent to also look at such technologies incorporated in drones that can be deployed easily and can cover extensive areas. Drone technology for detection of landmines and their destruction through drones has already been developed privately in India. During the Vibrant Gujarat Summit in January 207, 14-year old Harshwardhan Zala (class 10 student) signed a 5-crore deal with the Department of Science and Technology, Government of Gujarat, to facilitate production of the drone developed by him that detects and defuse land mines. The drone is equipped with infrared, RGB sensor and thermal meter along with a 21-megapixel camera with a mechanical shutter that can take high resolution pictures as well. Israel has already indicated in assisting India for securing its borders. We have considerable in-house expertise already and we must cash on the offer by Israel and other strategic relationships to counter the dual China-Pakistan threat astride our borders, including through underground tunnels. exploding enemy tunnels 'with' infiltrators inside would be added fun.