By Lt. General P.C. Katoch (Retd)


Former Director General of Information Systems, Indian Army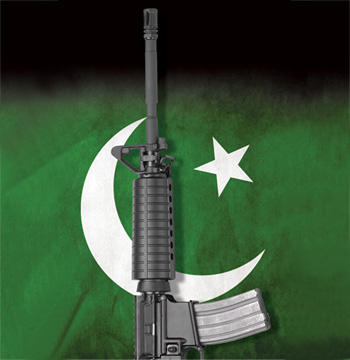 In January 2017, when Qamar Javed Bajwa was appointed Pakistan's Army Chief superseding his seniors including the Zubair Mahmood Hayat, present Chairman Joint Chiefs of Staff Committee since November 2016, Pakistani scholar Ayesha Siddiqa wrote, "Even his (Bajwa's) epaulette weighs heavy. With his limited maneuverability before islamists, he'll continue to clean his yard and pet the useful jihadis". So Hafiz Saeed being set free by Pakistan is no surprise. He was anyway only under house arrest, provided protection, and which by no means meant that outsiders were not allowed to meet him. Hafiz Saeed and Masood Azhar both are 'more that useful' not only to Pakistani military-ISI and the Chinese, with China using Pakistan (as a borrowed knife) to keep India de-stabilized. When Prime Minister Modi took the initiative to improve relations with Nawaz Sharif, these radical mullahs were used to launch terror attacks like at the IAF base in Pathankot.
The excuse given by Pakistan is that there isn't enogh evidence against Hafiz Saeed but prosecutors obviously suppressed critical proof. Besides judges in Pakistan crossing the line of the military means getting bumped off. Before Hafize Saeed's release, the US issued a statement saying, "The US is deeply concerned that LeT leader Hafiz Saeed has been released from house arrest in Pakistan. LeT is a designated Foreign Terrorist Organization responsible for the death of hundreds of innocent civilians in terrorist attacks, including a number of American citizens. The Pakistani government should make sure that he is arrested and charged for his crimes". In 2008, US had designated Saeed as a Specially Designated Global Terrorist, in addition to the UN designating him so in the same year. Since 2012, the US had also offered $10 million reward for information to bring Saeed to justice. But isn't it ironical that the US has not pursued the incriminating statement of David Coleman Headley, American terrorist of Pakistan origin in US prison, who admits he conspired with the LeT in plotting the 2008 Mumbai attacks? US focus ironically has only been on the Haqqani Network attacking Afghanistan, not terrorism across Pakistan's eastern borders. It is also known that that the ISI formed the Islamic State of Khorasan (ISK) in Peshawar region by amalgamating (what the US intelligence acknowledged as "disgruntled elements" of both Taliban), pushing them west into Nangarhar province of Afghanistan.
Significantly Afghanistan had officially told Pakistan last year in July that Hafiz Saeed, former LeT chief was directing ISIS operations in Afghanistan, as reported by Voice of America. Set free, Hafiz Saeed called Nawaz Sharif a traitor for seeking peace with India and said he will continue to fight for the Kashmiris and liberating them from India. Saeed recently launched a political party while under house arrest; the Milli Muslim League (MML), which has won thousands of votes in by-elections. Now that Pakistan has absolved him of involvement in 'any' such case, why should he not contest elections? Why the Pakistani military would not be amenable to install him even as the PM - and wouldn't Beijing be absolutely thrilled? Question are being raised in India like, what is America doing, why are they not rescinding Major non-NATO ally (MNNA) status accorded to Pakistan and why are they not designating Pakistan terrorist state? But have we had the gumption of even withdrawing the most favoured nation (MFN) from Pakistan, not to mention that when a motion for designating Pakistan terrorist state was introduced in our Parliament by an independent MP, not even 50 MPs turned up. MK Dhar, former Joint Director IB wrote in his book 'Open Secrets', "The Pakistani establishment is a geopolitical bully. The best response to blunt such a bully is to take the war inside his home.... The sabre rattling of 'coercive diplomacy', which is nothing but sterile military power, cannot convince the Islamist Pakistani Establishment that India can take the border skirmishes inside their homes and hit at the very roots of the jaundiced Islamist groups." This unfortunately has still not been understood by our policy makers. The answer does not lie in conventional military power, diplomacy and not even surgical strikes on terror launch pads in POK. The answer is to transport the hybrid war from own territory to Pakistani territory.

The views expressed herein are the personal views of the author.