By Lt. General P.C. Katoch (Retd)


Former Director General of Information Systems, Indian Army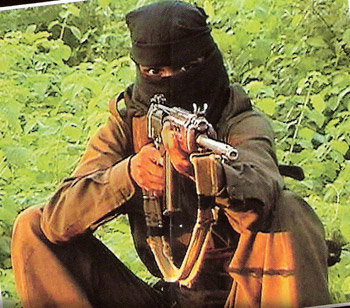 State Governments are claiming a significant drop in Maoist related violence
The ghastly ambush by Maoists at Sukma on April 24 killed 25 CRPF personnel killed and wounded some. While the heart goes out to the bereaved families, serious introspection is required as apparently we have failed to learn any lessons even after the April 2010 Dantewada massacre of 76 CRPF personnel by the Maoists and loss of all their weapons. In the instant incident at Sukma, it is being said that the 99-strong CRPF patrol providing protection for road construction was attacked by 300 Maoist and the firefight continued for three hours or so, but ground realities are quite different, as per a reliable report. The CRPF column was operating in three separate groups and this particular group that was attacked was having lunch, obviously without ensuring protection. As routine all inspectors; SI, ASI, Head Constables, Constables collected for lunch break - a pattern observed by Maoists. The Maoists laid a trap in which the target simply walked into. When the firing started, the balance personnel rather than going for counter ambush drill, broke contact and got back to their post. The Maoists mutilated the bodies and looted their weapons and equipment; 13 x AK assault rifles, 3 x INSAS, 3 x SLR rifles, 3 x light machine guns, 5 x radio sets, an assortment of rifle magazines and ammunition, 22 x bullet proof jackets, 2 x binoculars, and one metal detector. There are claims of 10-12 Maoists killed but no bodies were found.
Repeat Performance of March 2017
On March 11, Maoists attacked another strong CRPF column at Bheji (Sukma) and in the one hour confrontation reported, killed 11 and injured five (one succumbing to injuries). Balance of the 110-strong CRPF column abandoned their dead and wounded, who the Maoists clubbed to death, mutilated bodies, placed IEDs under them and walked away with 10 x assault rifles, 1 x Light Machine Gun, 1 x 51mm mortar, 1 x Under Barrel Grenade Launcher, 2 x radio sets and assorted ammunition. In both encounters not a single CRPF officer was killed or wounded, indicating serious lapse in junior leadership, insufficient training and motivation. Either officers were not accompanying the columns or were way behind (rather than leading)
Aftermath
As per reports the officiating DG CRPF was ordered to go down and oversee operations and the government has directed the security forces to go all out against the Maoists but the gross performance deficit due mainly to lack of officer leadership at tactical level must be addressed on priority. A former Home Secretary went public in revealing that while in service, he had recommended that an Army cantonment be set up in Bastar. He probably is unaware that Chhattisgarh alone is allotted 45 x CAPF battalions (CRPF, BSF, IRB etc - equivalent to some 9 x Infantry Divisions or 2 x Army Corps), while during the elections the strength in Chhattisgarh was boosted to 135 x CAPF battalions - equating to 15 x Infantry Divisions or 5 x Army Corps.
Maoists
Maoists span over 200 districts in West Bengal, Chhattisgarh, Bihar, Jharkhand, Madhya Pradesh, Maharashtra, Andhra Pradesh, Odisha, Uttarakhand and Uttar Pradesh, expanding to Tamil Nadu, Assam and even Tripura. They have established what they term 'liberated zones' where the state machinery doesn't exist and Maoists organize 'Jan Adalats', awarding justice as per their own norms. They have no problems of manpower, have enough weapons including those captured / looted from Police and CAPF, adequate finances, and have established linkages with terrorist-ISI in Pakistan, Nepalese Maoists, SIMI, Popular Front of India (PFI), J&K militants etc. Intelligence agencies would have more details of their linkages with other organizations. The ISI-SIMI-Maoist nexus merits serious concern as also with PFI. South India may soon be activated through the Maoist-PFI by China-Pakistan. Ironically, the PFI is not taken seriously because of vote-bank politics, despite evidence of their armed cadres undergoing training in jungles of Kerala. Presently, Maoists are busy establishing urban bases in slums, and infiltrating security forces organizations is planned (followed by white-collar employees, intellectuals and youth). Propaganda through student-worker organizations is the present strategy and inroads apparently have been made into JNU and DU. Some Maoist leaders have been arrested from New Delhi, Mumbai, Pune, Thane, Nasik, Kolkata and Chandigarh in the recent past. All this is vital part of China-Pak hybrid war.
Lapses - State Level
Behind every insurgency lies lack of governance and inability to address socio-political issues, and access to justice. This applies to both J&K and the Maoist belt, foreign support notwithstanding; endemic corruption and radical support that low level politicians enjoy to get elected and to remain in power. Insurgency has become lucrative industry where everyone makes money. Centre pours in enormous amounts of funds, and there is little accountability. If this were not the case, why have States in Maoist belt not implemented Article 5 and 9 of the Constitution in letter and spirit to address part of Maoist grievances? How many new police stations have come up in areas devoid of administration and rule of law despite being sanctioned years back? Unlike routine law and order, the Maoist insurgency needs to be simultaneously tackled at the socio-political, moral and physical planes, population being the centre of gravity, with security forces operations only part of the response.
Is the DGP of a State proficient and trained to operationally plan and handle the strategy to be adopted with the deployment and employment of massive forces placed under him? Ask the CAPF and they say definitely not but MHA remains ambivalent. Take Chhattisgarh, which generally has 45 x CAPF battalions at all times, can State DGP develop the required strategy, optimally employ such large force, and have dynamic intelligence acquisition, psychological operations and perception management plans, where the Centre has actually failed to do so? As for human rights (HR) you cannot just arrest and hold hundreds of so called Naxals in jail indefinitely without trial.
Lapses - MHA
The MHA has been dishing out CAPF battalions but there is little responsibility beyond that. Why despite 160 odd CAPF battalions (including 135 CRPF battalions) being deployed in Maoist affected belt in non-election period), States are unable to deal with the problem? Whhile the BSF and ITBP have been given designated areas in the Maoist belt, this is not the case with CRPF despite 90 percent of CAPF battalions provisioned are CRPF. Can't part of the CRPF be integrated into the CI grid? Why is there no unified operational command in MHA to cover the Maoist belt, manned by career specialists - not just bureaucrats and IPS officers? Why can't we examine reorganizing at least two third of the 343 CRPF battalions into an effective counter Maoist force; like Rashtriya Rifles and the Assam Rifles?
Lapses - CRPF / CAPF
There apparent total void of junior leadership, motivation, and little being done to ensure officers lead from the front. No lessons are being learned, no standard operating procedures followed, and the jawans are simple shoved en-masse into CI are with inadequate pre-induction training or some even without any training. The inside story is that the training at various training establishments set up by the CAPF, emphasis is more on demonstrations and press coverage, quite different from the rigorous training at the one set up by Chhattisgarh under a veteran Army Brigadier. CAPF who have gone through training at the latter academy have performed far better in CI operations. The CAPF also have their share of grievances. With strong IPS lobby, very few officers from the CRPF and BSF get promoted to the rank of even ADG; bulk of appointments at this level are held by IPS officers despite it being grossly disproportionate given the strength of individual CAPF. According to veteran CAPF officers, this is a major reason why the manning, training and equipping of these forces have been suffering.
Then is the question of human rights. On February 8, 2017, Chhattisgarh High Court admitted a criminal writ petition for alleged gang rape and assault of 28 Adivasi women by police in Bijapur district. The National Human Rights Commission found allegations of rape and assault by the police on 16 women to be prima facie true. That is perhaps the reason why genitals of some of the CRPF personnel killed at Sukma on April 24 were cut off by Maoists.
The Requirement
There is no reason why scores of units of CAPF cannot deal with internal security challenges. They must perform / be 'made' to perform with leaders being held accountable for non-performance, be more offensive with actionable intelligence, and most importantly, dominate the Dandakaranya Forest, where occasional forays are of no use. A more integrated and well thought out approach is required including: MHA assuming direct responsibility of counter-Maoists operations spanning multiple states; reorganizing CRPF units in CI role on the lines of Rashtriya Rifles / Assam Rifles; discontinue practice of imposing IPS officers on CRPF organizations; give CRPF their own officers, review their training and imbibe culture of officers leading the operations, and; ensure unity of command. Dealing with over-ground Maoists cloaked as university students, intellectuals and social activists must also be part of counter-Maoist strategy. The Home Minister should send MHA bureaucrats to the Bastar region for at least one years tenure by rotation to get first-hand experience of the tribal culture and practices which would also preclude mindless suggestions as having a cantonment in Bastar region. Much of the army's requirements in Siachen Glacier were met after Defence Minister George Fernandes sent MoD bureaucrats to Siachen.