By Lt. General P.C. Katoch (Retd)


Former Director General of Information Systems, Indian Army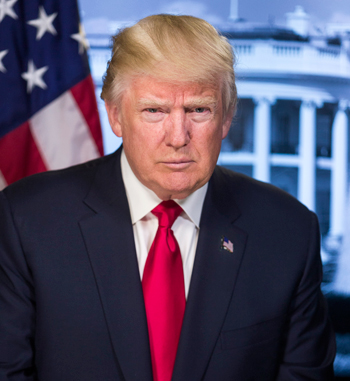 President Donald J. Trump
US President Donald Trump's televised speech unveiling his new Af-Pak policy directly nailed Pakistan in sponsoring terrorism, exposing Pakistan's double game. As of October 18, 2016, total US military casualties in Afghanistan were 2,386 killed and 20,049 wounded, in addition to 1,173 civilian contractor fatalities. US-NATO commanders in Afghanistan had been exhorting terrorist sanctuaries inside Pakistan must be destroyed. Scholars and counter-terrorist experts kept reporting intimate Haqqani Network-Pakistani Military links. Michael Hughes wrote on July 6, 2010, "Nine years, nearly $300 billion dollars and 1900 dead coalition soldiers later, the US has officially verified that the entire war effort has been focused on the wrong side of the mountains". Despite this "officially verified" bit, Pakistan sheltering Osama bin Laden and Mullah Omar, and Najam Sethi warning in the Friday Times of March 16-22, 2012, "The ISI has walked into GHQ and seized command and control of the armed forces". Resultantly, a terrorist organization like LeT raised to target India grew into an international terrorist organization, now also attacking Afghanistan. US administrations kept hoping Pakistan would not join the China camp despite clear indications to the contrary.
Highlights of New Af-Pak Policy
Trump's speech highlighted following:
Pakistan often gives safe haven to agents of chaos, violence, and terror;
US can no longer be silent about Pakistan's safe havens for terrorist organizations, the Taliban, and other groups that pose a threat to the region and beyond;
Pakistani people have suffered greatly from terrorism and extremism but Pakistan has also sheltered the same organizations that try every single day to kill our (American) people;
US has been paying Pakistan billions and billions of dollars at the same time they (Pakistan) is housing the very terrorists that US is fighting. But that will have to change, and that will change immediately;
no partnership can survive a country's harboring of militants and terrorists who target US service members and officials;
it is time for Pakistan to demonstrate its commitment to civilization, order, and to peace;
support pledged to Afghan government, while praising India's role in Afghanistan and across Indo-Pacific Region - asking more Indian support to Afghanistan;
US in Afghanistan is for counterterrorism, not nation-building and didn't care if Afghanistan remained a democracy;
conditions on the ground, not arbitrary timetables, will guide future US strategy, and;
enemy will be kept guessing about US troop additions.
Having sensed the mood in the US, just before Trump's televised address, Pakistan's ISPR spokesperson Major General Asif Ghafoor released a statement saying, "There are no terrorist hideouts in Pakistan. We have operated against all terrorists, including Haqqani Network". But this has been a perpetual lie from Pakistan; Musharraf as President had even lied to the world, saying, "There is not a single terrorist on Pakistani soil". US Secretary of State Rex Tillerson later told reports, "We are going to attack terrorists wherever they live. If you are providing safe havens to terrorists, be forewarned", adding that US could consider sanctions on Pakistan or cut off its status as non-NATO ally if Islamabad does not crack down on the Taliban and other extremist groups. The farce of Pakistan not supporting Taliban was exposed a decade back when British SAS officers killed a Pakistani SSG officer operating as Taliban Commander in Helmand, as reported by Christina Lamb in 'The Sunday Times' on October 12, 2008. His Pakistani military ID was recovered but the incident was kept under wraps. Switch to present day - Afsraib Khattak, former Pakistani Senator warns in his article 'Deepening fault lines' in the Dawn of September 2, 2017, that Pakistan is continuing to support Taliban and that this policy and the CPEC cannot go together.
Analysis of New US Policy
While Trump made it clear that he would do what it takes to act against 'Pakistan's safe havens for terrorist organizations', he left future operations open ended saying it is counterproductive to announce dates intended to begin or end military options, numbers of troops or plans for further military activities. His references to India redefined the erstwhile US Af-Pak policy to include India and de-hyphenated the India-Pakistan gaffe. Recently, US had designated Hizbul Mujahideen (HM) as a "foreign terrorist organization" and Syed Salahuddin, HM chief as a global terrorist. This was a blow to Pakistan and moral indictment of China's position which has repeatedly vetoed all Indian attempts to blacklist these terrorists at the UN. All this has been reinforced by President Trump's recent policy speech. However, even after the recent BRICS summit declaration naming Pakistan-based terror groups, the China-Pakistan collusion in optimizing terrorism is unlikely to change. Pakistan condemned the BRICS declaration and the military continued to maintain there are no terrorists in Afghanistan, even as Pakistan's foreign minister admits presence of LeT, JeM etc which can't be denied anyway. Saimual Haq, ISI's protégé heading the Defence of Pakistan Council (DPC) said in a press conference on August 23 that Pakistan Army would not act against Haqqani network. Wang Yi, Chinese foreign minister has said Beijing stands firmly behind its "ironclad friend"; as expected considering Pakistan is vital for China's Indian Ocean plans and Pakistan is gripped in China's economic straightjacket. As for Afghanistan, China wants US-NATO out of the region and Pakistan will continue to expand its strategic depth in Afghanistan.
The Afghan dilemma is it continues to survive on 90 per cent foreign aid despite sitting on minerals, oil and gas reserves of $3 trillion. In Afghan perceptions, the Taliban can perhaps be persuaded to join the government if the economic situation improves. But how does the economy look up without certain amount of stability, necessary for investments. The Afghan National Security Forces (ANSF) are fully stretched and inadequately equipped by way of air and fire support, transportation, logistics and medical. Even the soldier has a contract of three years tenure, affecting training, specialization and leadership. In addition to China-backed Pakistan, Russia and Iran too are supporting Taliban. Elections are due in 2019, which may witness more instability in the run up.
Implementation of the new policy by the US has following implications:
Although the commanders on ground have been given free-hand, addition of some 3500-4000 troops may not make much difference because in order to enhance stability and persuade Taliban to join the government, Taliban's military capability will have to be reduced substantially.
To cut off Pakistan's support to terrorist groups, the sanctuaries must be hit hard inside Pakistan - including cruise missiles akin to Russia hitting targets in Syria.
Maintenance of US-NATO troops in Afghanistan through Pakistan may become problematic. Maintenance through Chahabar is possible but the US-Iran deteriorating relations may hinder it. An alternative is to link the maintenance via Pakistan to Afghanistan blocking Pakistan's access to Central Asia through Afghanistan; Afghan President Ashraf Ghani has already threatened Pakistan to do so unless Pakistan provides Afghanistan land access to India.
For substantially reducing the military capability of Taliban, and as a long-term solution to Afghan stability, the US must look at boosting the ANSF capability beyond just numbers. ANSF must have adequate air and fire power, mobility, logistics, medical, and a soldier's tenure of 10 years or more. If the US has given F-16s and attack helicopters to Pakistan for "counter-terrorism", there is no reason Afghanistan cannot be given the same weaponry. Unless this is done, chaos will return to Afghanistan as and when the US forces pull out in the future.
India has invested some $3 billion in Afghanistan in various development and humanitarian projects, capacity development in various fields and education, as well as military aid by way of training and military equipment under the India-Afghanistan Strategic Partnership Agreement 2011. Trade and economy has progressed; India has recently launched dedicated air corridor to Afghanistan and India is developing Chahabar, which India will link with Zahedan on the Afghan-Iran border. Three years back a symposium at Delhi had identified areas where India could invest in Afghanistan but there has been no response from the latter yet. There has been speculation in Indian media about possibility of some 15,000 Indian troops being sent to Afghanistan but neither the US or Afghanistan have asked for this, nor is it desirable given the geostrategic situation. What is perhaps required is a joint Indo-Afghan vision covering the short, medium and long-term. Militarily, India should continue to provide maximum assistance to Afghanistan including training, weaponry and equipment, and help set up logistics and maintenance nodes. Afghanistan has been seeking military alliance with India past several years and continues to do so. Perhaps there is no better time given the present situation but this is something that both governments to discuss and decide. At the same time, both countries must jointly engage in information operations without waiting for formal military alliance. Diplomatically, joint approach at regional and global institutions including at forums like SCO is warranted. India and Afghanistan also need to evolve an approach to ensure that though some countries continue to arm and equipping Pakistan, they desist from actions harming the stability of Afghanistan. As for Indian investments in Afghanistan to alleviate the economy and create jobs, Afghanistan needs to identify ventures that can be provided requisite security from existing resources. Given the abundant unexplored mineral, oil and gas resources Afghanistan has, the requirement is of a strong industrial security force, which India could assist in setting up.
Conclusion
The new US policy announced by President Trump is what can be described as a breather for Afghanistan that was bracing for pullout of US forces envisioned by the Obama administration. However, the situation ground remains as complex and it is the execution of this policy that matters. India has a major role in all this; there is need to go pro-active on all fronts, and perhaps there has never been a more opportune time.