By Lt. General P.C. Katoch (Retd)


Former Director General of Information Systems, Indian Army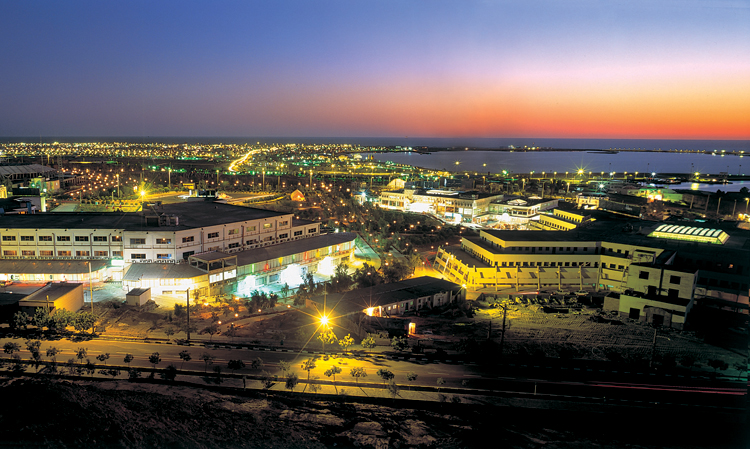 Chabahar Port night view
The trilateral engagement between India, Iran and Afghanistan during the visit of Prime Minister Narendra Modi to Iran in May 2016 expanded avenues of trade for India with Iran, Afghanistan, Central Asia and Russia through the International North South Transportation Corridor (INSTC). Chabahar Port is one of the regional hubs for sea transportation in Iran, besides multi-modal transport of goods and passengers across the three nations. The 2016 Trilateral Transit Agreement makes it incumbent on India to build and operate Chabahar Port (two terminals and five berths with cargo handling for 10 years). The trilateral meet also discussed the next steps for full implementation of the agreement and moving towards its operationalisation. Towards this endeavour, it was decided to finalize protocols related to transport and transit, ports, customs procedures and consular affairs. India, Iran and Afghanistan reiterated their commitment to the early operationalisation of the port that will contribute to bilateral and regional trade and economic development, apart from providing land-locked Afghanistan an alternative access to regional and global markets.
The first phase of the Chabahr port was inaugurated on December 3, 2017 by Iranian President Hassan Rouhani. Pon Radhakrishnan, MoS (Shipping) represented India at the inauguration of phase one of what is known as the Shahid Beheshti terminal of Chabahar port. He also represented India in the second edition of the India-Iran-Afghanistan ministerial-level meeting on Chabahar port development. Considering the importance of the event and that the inauguration was by the Iranian President himself, absence of Nitin Gadkari, Minister of Shipping was conspicuous, viewed as diplomatic faux pas in some quarters. Incidentally, the Pakistani Ambassador to Iran was specifically asked to stand next to the Iranian President during the inauguration.
Chabahar Port and its Strategic Significance
Chabahar, Iran's only oceanic port consists of two separate ports named 'Shahid Kalantari' and 'Shahid Beheshti', each of which have five berths. India and Iran first agreed upon plans to further develop 'Shahid Beheshti' port in 2003, but India was deterred by sanctions against Iran. Under the 2016 Trilateral Transit Agreement, India is to refurbish one of the berths at 'Shahid Beheshti', and reconstruct a 600 meter long container handling facility at the port. The agreement gives India the right to develop two berths of the Chabahar port as agreed in 2015, allowing them to be operated for 10 years by India Ports Global; joint venture between Jawaharlal Nehru Port Trust and Kandla Port Trust, in partnership with Iran's Aria Banader.
Along with the development of Chahabar port, India is also to construct a railway line linking Chahabar with Zahedan on the Iran-Afghanistan border, which beyond Zahedan will be linked to the Iranian Railway running west and then north close to the Iran-Afghanistan border, avoiding the volatile Helmand Province of Afghanistan. India's development of Chabahar will be at a cost of $85 million over the course of 18 months. Upon completion of upgrade works agreed to in May 2016, Chabahar's capacity will be increased to 10 million tons from the current 2.5 million ton capacity. India's investment is supplemented with a $150 million credit line to Iran through Exim Bank of India. India has also offered to supply $400 million worth of steel towards the construction of the rail link Chabahar-Zahedan. Chabahar port and the INSTC give India the strategic access for trade with Afghanistan and Eurasia, faced with denial of the land route through Pakistan. Incidentally, prior to the Indo-Iranian agreement on Chabahar, Iran had offered the same project to China and Pakistan also in addition to India, but China and Pakistan did not respond.
Chabahar port in the Sistan-Balochistan province on the energy-rich nation's southern coast is easily accessible from India's western coast and is increasingly seen as a counter to Pakistan's Gwadar Port, which is being developed with Chinese investment and is located at distance of some 80km from Chabahar. Chabahar offers India a vital route to Afghanistan and land-locked central Asia that bypasses Pakistan. It may be recalled that in September 2000, India, Iran and Russia had inked the INSTC agreement to build a corridor to provide the shortest multi-model transportation route linking the Indian Ocean and the Persian Gulf to the Caspian Sea via Iran and St Petersburg. From St Petersburg, North Europe is within easy reach via the Russian Federation. The estimated capacity of the corridor is 20-30 million tons of goods annually. The strategic significance of Chabahar increases manifold when viewed in concert with the INSTC connecting Mumbai with St Petersburg and beyond.
INSTC has made slow progress over past 15 years plus but now there are indications of it being operationalized early next year with the first consignment from India to Russia, possibly on January 15, 2018. It is expected to cut the time and cost for transportation by half, helping Indo-Russian trade to grow from current US $6 billion to 30 billion over next 10 years. The Russian Railways is expected to be actively involved in the INSTC. The INSTC needs to be linked to the Chabahar Port, in addition to Iran's Bandar Abbas port. According to P Stopdan, who has served as India's Ambassador in Central Asia, "India is also exploring how Chabahar connectivity corridor can be extended to connect with Central Asia through INSTC, or the Iran-Turkmenistan-Kazakhstan rail line, Iran-Uzbekistan-Kazakhstan alignment and Trans-Afghan rail line (which possibly could be developed by Iran, India, Afghanistan and Uzbekistan)."
Changing West Asian Geopolitical Scene
In May-June 2017, media reports appeared that the Trump administration appeared to be taking potential step closer to backing efforts by Saudi Arabia and the UAE to destabilize Iran, possibly topple its Islamic government, and force Qatar to fall into line with Gulf policies (that target Iran, political Islam, and militants) with the appointment of Michael D'Andrea, a seasoned covert operations officer as head of CIA's Iran Mission Centre. James M Dorsey, senior fellow S. Rajaratnam School of International Studies also voiced similar concerns. In July 2017, the US imposed new ballistic missile sanctions on Iran; a day after the Iran launched a rocket towards space, thought to be a step toward developing ICBM that could one day carry a nuclear weapon. Should conflict occur (predicted in some quarters), despite slim possibilities, which side Russia and China is obvious going by the conflict in Syria. Significantly, post the inauguration of the Phase I of the Shahid Beheshti terminal on December 3, the US has said that India is a player in Afghanistan and it supports New Delhi's move with regard to transit options to enhance its economic connectivity with war-torn Afghanistan. However, any effort towards destabilizing Iran could affect Chabahar operations. The US-Iran tensions are increasing with US stating firm evidence of Iran arming Houthi rebels in Yemen. Disruption of the INSTC, however covert, due to estranged US-Russian relations would also not be in India's interests. Incidentally, post the Iraqi announcement of victory over ISIS, it is already facing fresh terrorist attacks – either by ISIS remnants or ISIS reinvented under new guise, and there are reports of some ISIS cadres homing on to the Af-Pak region.
In 2011, Beijing and Tehran signed a deal giving China exclusive rights to multiple Iranian oil and gas fields through 2024, including rights to build complete necessary infrastructures. In return, China promised to treat any foreign attack against these regions as attacks against its own sovereign territory, and defend them as such. China needs no prior permission from Iranian government to maintain and increase its military presence in Iran, and will control the movement of Iranians in and out of these territories. According to Green Experts of Iran, this agreement was the basis for PLA's General Zhang Zhaozhong stating, "China will not hesitate to protect Iran even with a third World War." China and Iran aim to increase bilateral trade to $600 billion within the next decade, even though economists feel it is not attainable. In June 2017, the Chinese and Iranian navies undertook joint exercise in the strategic Straits of Hormuz, preceded by a China-Pakistan joint naval exercise off the coast of Karachi. Will China hesitate to disrupt INSTC using Pakistani proxies given China-Pakistan nexus to keep India confined to South Asia despite China-Russian relations is moot question. However, radical Pakistani politician Shireen Mazari (whose daughter Imam recently lambasted the Pakistani army publicly for funding and being in synch with terrorists) had recommended in the past that the Taliban in Afghanistan should develop capacity to strike beyond Afghanistan's borders, to disrupt the INSTC.
Conclusion
There is no doubt that Chabahar gives clear strategic advantage to India, especially since it bypasses Pakistan with its dog in the manger attitude. India will do well by completing the project at the earliest. Iran has a narrow road link to Heart in Afghanistan. This should be widened and a rail link developed connecting Heart with the INSTC. The INSTC should be made more and more inclusive through India-Iran-Afghanistan-Russia diplomacy drawing in the Central Asian countries into it, along with EU investments in the corridor that would enhance its security. It would then be a game changer in the true sense.