| | |
| --- | --- |
| | The Author is Former Director General of Information Systems and A Special Forces Veteran, Indian Army |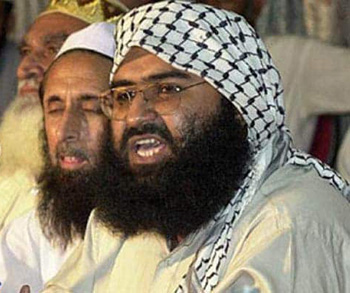 Masood Azhar
After China stalled the UNSC for branding Masood Azhar for the fourth time on March 14, 2019, US, France and UK gave an ultimatum to China to lift her so called 'technical hold' on Masood Azhar's ban by April 23. China's recent action at UNSC despite the Jaish-e-Mohammad orchestration of the Pulwama car bombing on February 14 had led the media of Japan and Hong Kong categorically stating that China's hands are stained with the Pulwama blood, although India ironically even refrained naming China directly for her treacherous action at the UNSC on March 14 of continuing to protect Masood Azhar. The US proposal to UNSC members says that if China does not lift its objection by April 23, the US would formally introduce its resolution on banning Azhar at the UNSC bypassing the 1267 sanctions committee.
For the UNSC to ban Masood Azhar, the UNSC requires all five permanent members to go along with it; US, France, UK, Russia and China voting for the resolution or China abstaining without vetoing the move. It also requires four other votes in support of the resolution from the 10 non-permanent members of the UNSC. Banning Masood Azhar by the UNSC would imply placing strictures on his travel and activities including collecting funds for the JeM. But factually, it means little since Azhar doesn't have to travel out of Pakistan and as far as collection of funds go, this will continue to happen through the plethora of front organisations, new ones that can be created, plus affiliates of other radical organisations that are all used as covert arms of Pakistan's military and ISI.
The Indian media has been reporting about China veering towards lifting her hold, but this appears more of utopia to highlight India's achievement in isolating Pakistan. The fact remains that China has no compunctions about cementing further her strategic partnership with Pakistan. Moreover, China herself is a top line terrorist nation by proxy with her support to Taliban, Pak-based terrorist organisations, United Wa State Army (USWA), Arakan Rohingya Salvation Army (ARSA) and other terrorist organisations. The US State Department classifying China as 'enemy' implies more US-China estrangement that would harden the stand by Xi Jinping even more. The US has called out China's hypocrisy in repressing Uighurs in Xinjiang while shielding actual terrorists elsewhere. It is being said that Beijing needs to consider the double risk of its citizens, getting radicalised by repression and terrorists across the Himalayas, turning on it someday.
It could learn from the experience of others, the US in Afghanistan of the 80s, for example, that even if nursing violent groups helps achieve short-term goals, it could backfire and ignite trouble in its own backyard. But why should China bother when its massive Uighur 'concentration camps' are given the green certificate even by the visiting Crown Prince of Saudi Arabia. Yet, China can be expected to continue its façade of being a benign and peace loving nation that is against terrorism. China's White Paper titled 'The Fight Against Terrorism and Extremism and Human Rights Protection in Xinjiang' released on March 18, 2019, says that 'Terrorism is the common enemy of humanity, and the target of international community' is part of the same veneer. Though the white paper is to justify the "cultural cleaning" of Xinjiang, what is happening inside the so-called "re-education camps" for Uighurs has become an open secret. Western Pacific is witnessing growing US-China tensions but Beijing is more than confident of its own military muscle and will test US patience to the hilt. The US has increased patrolling in the disputed seas and sent warships with fighters in the region but what may happen is a light skirmish, if at all, instigated by China. Anything beyond is unlikely to happen. China-backed North Korea is already cocking a snoot at the US with a US Think Tank saying satellite images show movements which could indicate reprocessing radioactive material into bomb fuel in North Korea's main nuclear site. China cares little about Indian sensitivity because of India's self-inflicted 'Myasthenia gravis' – weakening of military muscle. For China, India reducing the massive bilateral trade imbalance means little. Xi Jinping aims to overcome the US as the global superpower and promote China as 'Great Power'. China's economy may be slowing but its BRI initiative and debt trap policy is succeeding in Italy, Africa and countries like Sri Lanka and Pakistan. Jinping's Lebensraum includes China's continuing illegal claims on territories of 23 countries (Afghanistan, Bhutan, Brunei, Cambodia, India, Indonesia, Japan, Kazakhstan, Kyrgyzstan, Laos, Malaysia, Mongolia, Myanmar, Nepal, North Korea, Pakistan, Philippines, Russia, Singapore, Taiwan, South Korea, Tajikistan and Vietnam) based on trumped up history centuries ago, even as China shares physical borders only with 14 of them. Jinping's obduracy is more because the world is doing little to destabilise China from within though huge fissures and opportunities exist.
Pakistani Prime Minister Imran Khan recently said his government will not allow Pakistan's land to be used for any kind of terror activities and promised action against militant groups operating from the country's soil. But Imran is just repeating lies of his predecessors. His recent exhortations are directed at the International Monetary Fund (IMF) and the Financial Action Task Force (FATF) for fear of getting blacklisted. Hussain Haqqani, former US envoy to the US, addressing Georgetown University on April 12, 2019, stated there are no signs of Pakistan's government and the military dismantling the terrorist support infrastructure, adding, "There is little change in Pakistan's attitude towards militancy, particularly the one directed against Afghanistan and India". But it is also possible that Pakistan may not get blacklisted by FATF because of underhand moves by the US. President Trump is fixated on Iran and Trump would like some action against Iran before the next US presidential elections in 2020, with support of Pakistan and Pakistan-supported Taliban. The US has already removed Pakistan from the National Security Threat List (NSTL). This is the FIRST time that Pakistan doesn't figure in the NSTL; so much for US sympathising over Pulwama! India will be kept happy with selling more weapon systems, non-NATO or NATO ally and what not because in all this the US gains more.