| | |
| --- | --- |
| | The Author is Former Director General of Information Systems and A Special Forces Veteran, Indian Army |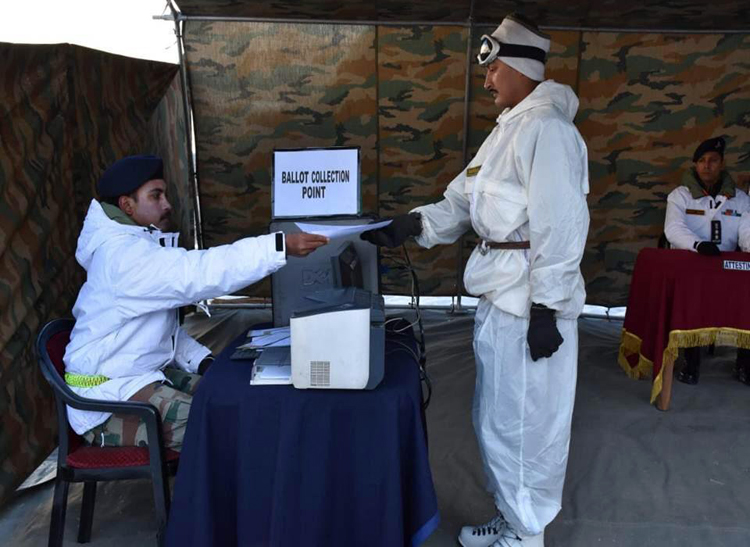 Indian Army troops deployed in Siachen & on LC, braving severe weather conditions, undeterred by ceasefire violations, enthusiastically participate in democratic process & cast votes as service voters from place of duty facilitated by ECI
An incident on April 28, 2019 during voting at Jabalpur, in which army personnel and families from Army's Grenadiers Regimental Centre located at Jabalpur exercised their franchise, should shame the nation. It would make no difference to the politicians and their goons because the word 'shame' doesn't exist in their lexicon. Politicos are loathe to the military voting because it upsets their caste and creed calculations, and they cannot distribute cash and liquor to the uniformed voters to buy them off. This general election the fear and apprehensions of losing appears more. That is why 'all' political parties have been distributing cash – some even 2000/- in an envelope along with the voter slip. From the Grenadier Regimental Centre in Jabalpur, a total of 1386 applications for registration as voters were sent. Of them, 1304 proceeded for voting. To facilitate their move to the polling booth and back, they were provided military vehicles with all drivers in uniform. While they were voting, goons of some political parties started shouting slogans against them and commenced video-filming them. In the words of Lieutenant General G.S. Sangha, Colonel of The Grenadiers Regiment, "Dear Countrymen, if you haven't already seen a video defaming your own Army troops of meddling with politics, with voting, you will see this video soon.
All it is trying to project is wrongdoing by Army Soldiers during polling in Jabalpur. It is trying to show Army being used as a political tool. The bare truth and I know it because I, Lt Gen G.S. Sangha, am the Father Figure of these Soldiers, is this - the events as they happened on 29th April 19: polling was in progress in Jabalpur; Army sent its troops, including families and Recruits to vote in Jabalpur, as constitutionally provided, after registering them as Service Voters wherever they are posted because they all can't be sent back to their hometowns to vote on that day. Can you imagine entire Indian Army leaving the Borders to go home and vote?; Army vehicles were parked a km away on a main road; they all go to the polling booth and start voting in a disciplined manner, guided and controlled by their seniors only for their conduct in public and not for telling them who to vote for, as Good Armies always do everything in, in good faith; Gundas, the Goons of some political parties do not know that Constitution allows Army people to vote where ever they are posted, after proper Registration and issue of Voter Cards by EC; they think Army cannot Vote there and that Ruling Party is rigging the Elections forcibly by using the Army; the Goons start a ruckus. Army people walk back peacefully to their vehicle a km away; they are chased by the political goons; the Goons make a video saying what they ever they want. Army Men avoid talking to them as per Orders not to get involved with Rogues; the Goons and many irresponsible Countrymen amongst us, make the video Viral; India at large starts believing Indian Army has become political and is favouring a particular party." General Sangha goes on to say, "God bless the Country if that happens some day. We will be no better than Pakistan. But rest assured Dear Countrymen, we, the Indian Army, rather, we the Indian Defence Forces, will make sure that it does not happen, ever*. The Army has lodged an FIR and a complaint with the Election Commission but ironically the Ministry of Defence (MoD) remained mum on the issue. Not a murmur from Defence Minister Nirmala Sitharaman either on this deplorable incident, who otherwise goes vocal on every sundry issue and is electioneering all over the country. But where General Sabgha contends that the concerned political parties and their goons were not aware that soldiers are permitted to vote at their place of posting, the converse is likely the case.
This is not the first time that soldiers were voting at the place of their posting. One can be rest assured that all political parties know this fact. The goons must have been specifically briefed to disrupt voting by military personnel and their families because it throws their calculations out of gear. Army and the military are not political parties where commanders issue a directive whom to vote for. To avoid the Jabalpur-type incidents, polling booths need to be established in the cantonments. In 2007, during the UP State Elections, military-men and families of the Mathura headquartered Strike Corps exercised their franchise. Voting booths were established in the army cantonments at Mathura, Lucknow and Kanpur. Not only should exercising franchise be compulsory for Armed Forces, polling booths in cantonments should be the norm. None the governments and political parties in power have ensured this. NDA II has been equally lackadaisical. Will the next government ensure this?