| | |
| --- | --- |
| | The Author is Former Director General of Information Systems and A Special Forces Veteran, Indian Army |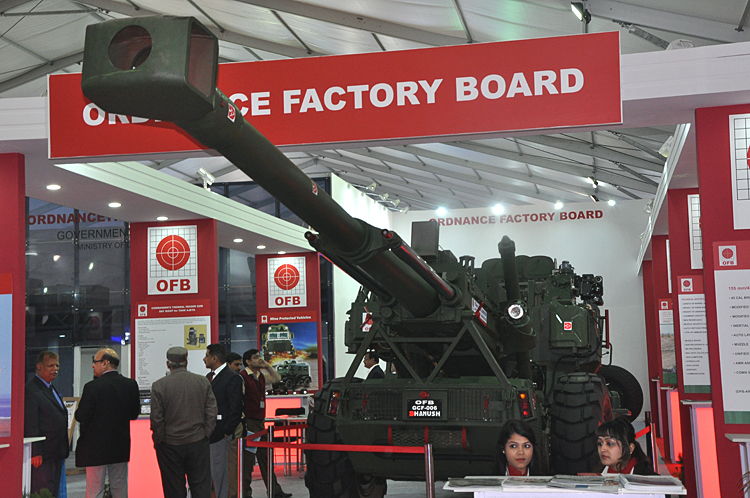 Dhanush' a 155mm 45-calibre gun
National dailies reported on August 22, government's decision to turn the Ordnance Factory Board (OFB) into a public sector corporate for increasing exports, self-reliance, add latest technologies and innovations. OFB, comprising of 41 Ordnance factories, nine training institutes, three Regional Marketing centres and four Regional Controllers of Safety, is subordinate to the Department of Defence Production (DoDP) under MoD. Presently, annual budgetary support to OFB is around 6,500 crore, both through indents by Army and direct defence budgetary support. OFB has 82,000 employees and holds over 60,000 acres of land. More than 80% orders for OFB come from the Army though OFB barely meets 50% of Army requirements. OFB's archaic structure is not conducive to productivity. Every decision from modernising plant and machinery to entering joint ventures is subject to government regulations and red tape, reducing leverage and flexibility needed by any dynamic production unit. In addition, OFB lacks technical and managerial flexibility, making competition with private industry difficult. There is little scope for innovation and modernising within the existing structure. There is unaccountability and the work culture leaves much to desire. In 2001, OFB was to set up a plant in Nalanda to manufacture bi-modular charges for the Army with an initial investment of 600 crore, which later went up to 2000 crore. However, the plant has still not been set up. OFB products hardly match those available commercially-off-the-shelves (COTS) and are exorbitantly expensive, which the military has to accept. For example: Army has been suffering casualties because of faulty ammunition; thousands of crore worth of rejected ammunition is lying around, and; Vehicle Factory, Jabalpur, only 'assembles' Tata trucks for the military that costs much more than the trucks supplied by Tata Motors directly to the military. The high cost of OFB products is due to high overhead charges and there's minimal innovation and technology development. Since the past decade and a half, three government committees had suggested corporatising OFB: Year 2000 - TKA Nair Committee recommended converting OFB to Ordnance Factory Corporation Limited; Year 2004 - Vijay Kelkar Committee recommended corporatisation with 'Nav Ratna' status, like BSNL; and in Year 2015 - Vice Admiral Raman Puri Committee recommended corporatising OFB and splitting it into 3-4 segments - each specialising in distinct area like weapons, ammunition and combat vehicles. As Defence Minister in NDA-1, Arun Jaitley was keen on privatising OFB. Some instructions for part-privatisation were issued but these efforts came to naught due to strikes and threats by employee unions. However in 2018, government notified 275 non-core items which the Armed Forces could buy from the open market. Fearing more such 'privatisation', some 60,000 OFB employees launched a month-long strike from August 20, 2019. The strike was called by the Confederation of Defence Registered Associations comprising multiple unions, including the BJP-affiliated Bhartiya Pratiraksha Mazdoor Sangh (BPMS), Left Front-affiliated All India Defence Employees' Federation (AIDEF) and Congress-affiliated Indian National Defence Workers' Federation (INDWF). OFB's 1,500 Class 'A' officers attended office but some 6,000 'junior works managers' though not part of the strike, did not come to work. Government announcement of corporatisation of OFB came concurrent to the strike. Following several rounds of talks between government and employees union, the strike was called off through a statement by the employees union that read, "After considering the statement/assurance of the Secretary DP (Defence Production) that no final decision has been taken yet about converting the OFB into a corporation and that a high level official committee will be constituted by the government... employees will resume work from 6 AM on 26/08/2019." Government is now setting up a committee to examine aspects of corporatising OFB and work out modalities. A government official says, "A high-level committee will study the issue and take a call on what needs to be done". MoD visualises that corporatising the OFB will increase annual turnover from the current 14,000-16,000 crore to above 30,000 crore by 2025. Also, the move will need little government investment since Indian private and foreign firms will invest in joint ventures. Government has allayed employee union fears of privatization; corporatisation will not mean privatisation but will bring about functional autonomy and make them accountable. This appears to the best option, given that political and systemic considerations would not permit complete privatisation of the defence industry like in America and other western nations.
On 'face value' the government move to corporatise OFB is good but multiple questions remain, like:
Will the high-level committee start afresh or use the earlier three reports as base to cut short time;
Will the committee working in concert with employee unions affiliated to political parties, commit to no layoffs on corporatisation due to vote-banking;
If there are no layoffs, how will it attract private and foreign investors;
How will the target of increasing annual turnover (from 14,000-16,000 crore to above 30,000 crore by 2025) be met when 80% of demand comes from the Indian Army, OFB cannot even meet 50% of these Army requirements and government has shown little inclination to hike the defence budget;
What is the plan to change the work culture in OFB – why does it not even meet 50% of Army's requirements, and;
Is setting up another committee, a cover to delay taking hard decisions even though indigenous defence industry is vital for India.
Periodic CAG reports point to sub-standard products, exorbitant prices and governmental defence-industrial complex not meeting demands of Armed Forces. CAG reports also indicate rampant corruption in the governmental defence-industrial complex, which is hardly possible without complicity of DoDP and MoD officials. In such an environment, how much corporatisation of OFB will be possible remains a question mark. Will it meet the fate of earlier committees? At best, the government could open 49% FDI in all entities of the OFB to retain control, leaving rest of the changes in OFB to later years. This would not amount to much but representation of private firms in the boards of management should gradually force structural changes, boost innovation, R&D and productivity. Till that happens, not much benefit would accrue to the Armed Forces. Ironically, both MoD and DoPD too lack defence specialisation.