| | |
| --- | --- |
| | The Author is Former Director General of Information Systems and A Special Forces Veteran, Indian Army |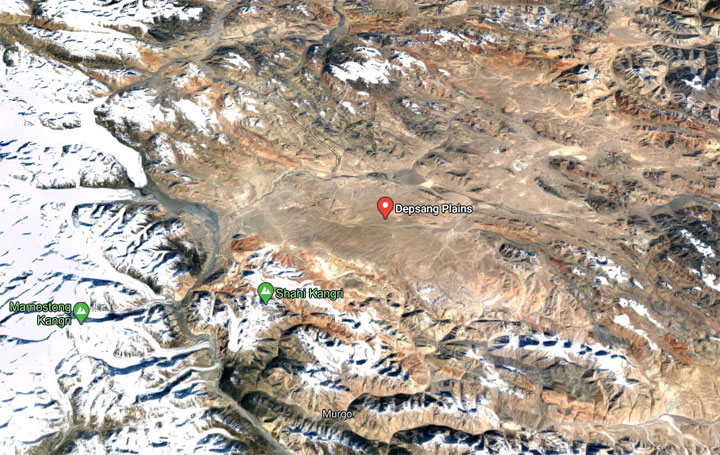 Google Map showing the Depsang plains and the surrounding terrain
In the current India-China standoff in Eastern Ladakh, China has once again displayed its strategy of surprise ambiguity and deceit. The surprise aggression was made under the garb of an exercise, followed by a quick move forward. It is widely known that despite agreement for de-escalation during high level military to military talks, PLA attacked a Commanding Officer and his escorts with swords, spears and clubs with iron spikes. The ensuing scuffle between our troops and Peoples Liberation Army (PLA) left 20 Indian Army personnel and 43 PLA killed. China did not acknowledge the PLA killed earlier but finally agreed PLA did suffer casualties after uproar on Chinese social media. They have still not revealed the number of PLA casualties. Obviously China would not like to admit PLA attacked first and yet suffered more than double the casualties of Indians. It is possible they attributed bulk of their casualties to COVID-19 so that the bodies can be buried anywhere with the parents just informed.
Importantly, despite agreeing to de-escalate, the PLA has not only, not moved back, they have re-established at the place in Galwan where their tent had been removed by our soldiers. PLA continues at Patrol Point 14 from where it can monitor movement along the Darbuk-Shyok-Gaulat Beg Oldi (DSDBO) Road and the airstrip at DBO. At Pangong Tso, PLA has blocked the movement of Indian troops beyond Finger 4; our troops used to earlier patrol till Finger 8. The manner in which PLA has dug down, it is unlikely they will move back from areas of Galwan, Hot Springs and Pangong Tso (Finger 4). The Chinese media continues to brand India as the aggressor. More significantly, China is now claiming the entire Galwan Valley as Chinese territory. There has been a third India-China military to military meeting at Corps Commanders level on June 30, this time at Chushul. But India should again expect deceit by China – which may be looking for an excuse for further forward move despite agreeing to de-escalate. If all this was not enough, China has mobilised troops into the Depsang plains where PLA had intruded in the area of Raki Nala in 2013 before the visit of Chinese Prime Minister Li Keqiang to India and continued thereafter, eventually withdrawing only after the ITBP was forced to dismantle its cameras and structure at Chumar which was 400 km south of the PLA intrusion area at Raki Nala in Depsang plains. Indian media had mentioned the intrusion in 2013 was 19 km deep.
The current PLA intrusion in Depsang plains is in the area of 'Bottleneck' proximate to Raki Nala and PLA has blocked Indo-Tibetan Border Police (ITBP) patrols going to Patrol Points 10, 11, 11A, 12 and 13. In effect PLA is denying Indian patrols the entire area of LAC from Patrol Point 10 to Patrol Pont 14 further south in Galwan, in addition to the intrusion in Pangong Tso area where PLA has constructed number of bunkers on the spur of Finger 4 overlooking the Indian post. Between Finger 4 and Finger 5, a huge inscription showing China's map with an accompanying symbol in Mandarin - large enough to be spotted by satellites. This clearly shows that China has no intention of withdrawing from this intrusion and same can be applied to other areas as well. How have we become so gullible to believe China will abide by protocols and promise like disengagement and deactivation when China broke protocols long-time back including the preplanned ambush on June 15 striking our troops with barbaric weapons? Why do we continue to believe China who has done everything against India since 1962?
The 'Bottleneck' point in Depsang is located some seven kilometers from Burtse adjacent to the DSDBO Road which is manned by the ITBP. From 'Bottleneck' one Indian patrol route leads northwards along the Raki Nala towards Patrol Point 10, then turning east to Patrol Point 11 and 11-A and finally south towards Patrol Point 12. Another Indian patrol route leads south-eastwards towards Patrol Point 13. By occupying Bottleneck and denying movement of ITBP along the patrol routes, China has opened a new front which is major escalation. Notably, these patrol points are the Limit of Patrolling which have been patrolled by India troops deployed in the area over the past decades. The proximity of Burtse, DBO and DSDBO Road to Bottleneck occupied by PLA makes it all the more dangerous. China has been eyeing the capture of DBO and further push west along the Shyok River to join up with Gilgit-Baltistan in Pakistan occupied Kashmir (POK). In the words of former Army Chief General N.C. Vij, the mere fact that China is now claiming the whole of Galwan Valley indicates there is more than meets the eye.
A China-Pakistan handshake along the Shyok River would imply loss of Siachen Glacier and the Saltoro Range jeopardising the defence of Ladakh at great strategic disadvantage to India. The Indian government maintains is not seeking conflict but coming days will indicate what Xi Jinping has in his devious mind. He appears to have already tested India's redlines and seems tempted to force conflict on us. China already has a PLA Brigade stationed 14 km from Skardu in Gilgit-Baltistan. Should China force conflict and protégé Pakistan makes some moves, it would be ideal opportunity for US-NATO to hit the CPEC and cut Pakistan's access to the Arabian Sea.