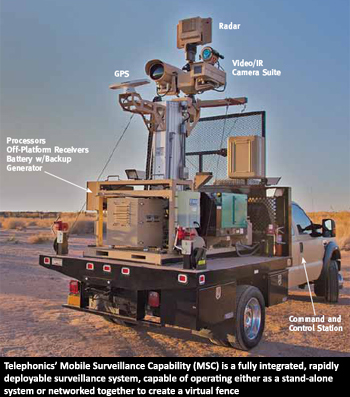 As the asymmetric war is likely to heighten with the implosions within Pakistan and fallout of post-2014 withdrawal of US troops from Afghanistan on the region, there is an urgent need to upgrade our border security, using the best technology. Our DRDO and private industry should focus on this aspect. The policymakers need to review this critical requirement.
India has a land border of some 15,072 kilometres with six countries—5,852 km combined with China-Nepal-Bhutan, 3,431 km with Pakistan, 1,452 km with Myanmar and 4,337 km with Bangladesh. A major portion of the land border is along difficult terrain and passes through high and very high altitudes. Then there is a coastline of 7,863 km that needs to be guarded, in addition to an exclusive economic zone of 102 million square km with 97 per cent of our trade done by sea. Our unstable and volatile neighbourhood coupled with Pakistan being the epicentre of global terrorism and waging a proxy war against India, we have been subjected to transborder terrorist strikes over past two decades both across the land border and coastline. Difficult terrain and hostile weather make the task of border security difficult. Infiltration and illegal immigrants are occurring at rapid frequency. The land borders are manned by a mix of forces like the Army, Border Security Force, Indo Tibetan Border Police, Assam Rifles, Sashastra Seema Bal, etc—all not operating under, the Army or for that matter under one Ministry. Then there is the issue of guarding the airspace to prevent recurrence of incidents like the clandestine arms drop at Purulia. This article primarily examines the role of technology in securing our land borders excluding the 'designer technology' being used by most nations at airports, ports and official land crossings for individuals and cargo.
Telephonics MSC: A Tool to Secure Borders

When the borders are vast, such as in India, deployment of human resources to man them is next to impossible. Technology is the answer and in developed parts of the world they have been used to good effect. Take, for instance, the US Customs and Border Protection (CBP) which has successfully deployed technology in the southern border of the United States. From the desert of the US, south-west to the forest of the northern border or the open waters of the Great Lakes, the mobile surveillance capability (MSC) systems of Telephonics Corporation has effectively detected, identified and tracked items of interest, helping the authorities in securing the nation.

The expansive Indian borders need to be secured, considering the growing threats from across the borders and massive investment in technologies is part of the answer.

The Telephonics MSC is a fully-integrated, rapidly deployable surveillance system, capable of operating either as a stand-alone system, providing detailed information of a selected region or networked together creating a "virtual fence". System flexibility allows the MSC to be equally effective in all terrains and environments.

Command and Control
As surveillance requirements grow, so does the need for expanded command and control (C2) capabilities. Telephonics integrates the critical information needed by operators, using state-of-the-art C2 software. Operators can manage a wide area of surveillance with multiple targets of interest, all within the click of a mouse. Proactive surveillance, knowing where a target is coming from and where it is headed, gives the operator the advantage. Interventions can be coordinated to the operators' advantage based on each individual threat. Built-in scalability and compatibility provide for system growth and interface with legacy sensors. The C2 software also supports a seamless integration of new and existing assets.

Support and Training
Known as "Best in Class", Telephonics provides a complete package: technologies, system components, training and maintenance support. The design takes into consideration reliability, endurance and quality, as reflected in its Mil 810F testing. Understanding the importance of training to maximise the effectiveness of the MSC in the field, it provides detailed user training for both the C2 software and sensor suite. Operators receive classroom training as well as hands-on field training and support to ensure a successful start.

One of the highlights of Telephonics is it designs and implements a tailor-made integrated logistics support and preventive maintenance programme that ensures continuous operation in the harshest of conditions. No matter what the environment, Telephonics provides the end-user with an assurance that the MSC operates at maximum performance, providing unparalleled surveillance coverage.
Border Fencing
India began fencing 190 kilometres border with Pakistan in Jammu and Kashmir (J&K) during 2001. In 2001, about 40 kilometres of fencing was laid and the overall task as per government officials is likely to be completed in the next two years. However, there have been numerous impediments to laying this fence. Work has been stalled many times due to firing by Pakistanis. Pakistani infiltrators have been using improvised explosive devices (IEDs) to make entries for infiltration and clandestinely laying mines to hinder construction. Portions of the fencing get destroyed in avalanches every year and need to be laid again. Heavy snows in North Kashmir during winter also cause major portions of the fence to get buried completely, rendering it ineffective. In the plains sector, Pakistan has resorted to tunneling under the fence for both purposes of infiltration and smuggling. On the India-Bangladesh front, of the 3,000 kilometres fencing sanctioned, close to 75 per cent of the work has been completed but disputes between the two countries have arisen over some 180 sites on the border, where fencing needs to be done up to 150 yards of the zero line. Laying of IEDs or mines along the fence is not feasible because of agriculture in many areas permitted right up to the border, as even locals reside in close proximity to the border. Abroad, in no conflict conditions, fences have extensive provision of floodlighting. Solar panels, rechargeable batteries and diesel generators provide the system with enough power to run off the power grid. Operators can pan and tilt the cameras remotely whenever any suspicious activity is observed. However, such arrangements are not feasible along an active border with an enemy like Pakistan that resorts to unprovoked firing repeatedly.
Electronic Monitoring
While the age-old tripwires are very much in use, modern electronic surveillance involves detection of movement and is largely based on seismic, acoustic, inductive sensors and infrared sensors. Seismic sensors detect vibration in the ground and they can distinguish between people and vehicles. Inductive sensors detect metal in an object that is moving, while an infrared sensor can detect human body heat from a distance of up to 100 metres. There are many kinds of conventional sensor technologies, each having its advantages and disadvantages. The unattended ground sensors (UGS) are mostly imported and primarily meant for guarding houses/premises in the West. These are ineffective with snowfall. Unfortunately, the Defence Research and Development Organisation (DRDO) has not been able to come up with one suitable for snow conditions.
Surveillance
The fencing along the border has been fitted with cameras and the consoles are with requisite commanders though limitations exist during adverse weather and visibility conditions. This capability is beefed up with night vision devices (NVDs), night vision goggles (NVGs) and hand-held thermal imagers (HHTIs), but these are always in limited supply and not across the board with every boot on ground. Use of radars as done abroad to detect smugglers as along the US-Mexico border, has the danger of giving away the electronic signatures of the equipment to the enemy. Besides, radars also have a dead zone. Significantly, electronic surveillance with border dogs is a very successful mix.
Use of unarmed aerial vehicles (UAVs)/drones for border surveillance is being done but is in limited numbers due to paucity of resources and restrictions on flying multiple UAVs simultaneously in the same area/zone. Additionally, the induction of the battlefield surveillance system (BSS) and battlefield management system (BMS) in the Indian Army are still a few years away and hence, the UAV picture cannot be delivered directly to the cutting-edge soldier on ground who can prevent the breach or intrusion. The UAV picture goes to the ground control station and only then the information is conveyed to the cuttingedge soldier, by when its actionable value may be lost. More importantly, what has been lacking is the delayed induction of the mini-aerial vehicles (MAVs) that are hand launched and are planned to be inducted into the infantry.
Digital imaging technology, miniaturised computers and numerous other technological advances over the past decade have contributed to rapid advances in aerial surveillance hardware such as micro-aerial vehicles, forward-looking infrared and high-resolution imagery, capable of identifying objects at extremely long distances. For instance, the MQ-9 Reaper, a US UAV used for domestic operations by the Department of Homeland Security, carries cameras that are capable of identifying an object the size of a milk carton from altitudes of 60,000 feet and has forwardlooking infrared devices that can detect the heat from a human body at distances of up to 60 kilometres. Britain is working on plans to build up a fleet of surveillance UAVs ranging from micro-aerial vehicles to full-size drones with MAVs capable of carrying tasers for "crowd control", or weapons for killing enemy combatants. The latter actually implies weaponised MAVs, which would be invaluable against terrorists infiltrating across the borders. The US military is developing swarms of tiny unarmed drones that can hover, crawl and even kill targets. These micro UAVs will work in swarms to provide complex surveillance of borders and battlefields. Besides a laser weapon they can also be armed with incapacitating chemicals, combustible payloads or even explosives for precision targeting.
While our DRDO too is developing UAVs and MAVs and produces the 'Razzler Dazzler' for crowd control, it should actually work on mating the 'Razzler Dazzler'/weapon with the MAV ab initio. Rather than looking into this aspect after a few years at least we land up with a situation of trumpeting the development of the underwater BrahMos test while the compatible submarine to fire is a decade away. Interestingly, there is a whole range of micro mini UAVs available off the shelf that can tremendously boost surveillance capabilities at the cutting-edge. For example, the lighter than air surveillance (LTAS ) systems have almost unlimited flight time, can carry up to 200 pounds (plenty for a point-and-click SLR camera or full-size high-definition video camera) and can reach up to 2,500 feet in the air. Then there are a range of fixed-wing and rotary-wing MAVs that are also available in the world market: