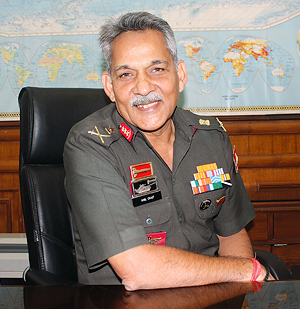 Lt General Anil Chait took over as the new Chief of Integrated Defence Staff to the Chairman Chiefs of Staff Committee (CISC) on July 1, 2013. In an interview with Lt General (Retd) V.K. Kapoor, Editor, SP's LandForces, Lt General Chait elaborated on the Uttarakhand disaster which was handled by him as the Army Commander of Central Command. He spoke about the exemplary role and performance of the 8,000 soldiers deployed in the flood affected areas.

SP's Land Forces (SP's): When was the first formal indication given to the armed forces about their likely employment for relief and rescue operations in Uttarakhand? Was the severity of the disaster known at that time and did the local units and formations start the relief and rescue work even before the formal 'Operation Surya Hope' was launched?
Chief of Integrated Defence Staff (CIDS ): On June 16, there were heavy rains and cloud bursts on higher reaches. On June 17 morning, forward troops in Tilwara, Harsil, Kedarnath, Badrinath and Dharchula sectors reported heavy rains and cloud bursts. Reconnaissance (recce) parties of Army were moved forward proactively and immediately to assess the situation. No headway could be made as the bridges had been washed away and the recce parties had got stuck. This necessitated launch of additional parties. Weather did not allow flying of helicopters on recce missions either. Since inputs started arriving piecemeal, it was decided to prepare an intelligence preparation of the situation and preliminary estimates.
Simultaneously, local administration of the state too started making assessment of damage with the help of limited police network that remained functional. Inputs were obtained and fused into the matrix.
The picture started to become clear by the afternoon of June 17. In the evening, D.M. Rudraprayag requisitioned the local Army formation/units in aid to civil authorities. Overall therefore the severity of the disaster was not known initially, but as the inputs started to be collated on June 17 and 18 regarding threat to human lives, damage to bridges, formation breaches and cut off roads; it became possible to build, initial and preliminary estimates of the overall damage and put in place an adaptive planning process.
SP's: When did the Army formally deploy troops and equipment for the rescue and relief operations in the affected areas of the state of Uttarakhand and what was the scale of initial deployment? How did the plan evolve and what changes did you have to make as you went along with the operations?
CIDS: On June 18, all formations of Central Command were simultaneously mobilised and then deployed without awaiting formal orders of requisition. The aim was to cover each of the four axes leading to forward area where damage had been reported and inputs were being received about the threat or loss of human lives as early as possible, as time was on premium.
GOC Uttar Bharat Area was tasked to move from Bareilly and deploy the Advance Headquarters of the area at Dehradun. He attended the first meeting of the State Crisis Management Committee on June 18 itself and ensured coordination and intimate cooperation with civil administration. His anchoring at Dehradun provided order and coherence to the overall plan.
On June 19, I met the Chief Minister and assured him of every possible help from the Army. The basic concept was to save every human, evacuate all pilgrims; provide medical aid/relief to the injured, establish camps/medical camps; provide food to people who were stuck in these areas and establish communication links so that rearward evacuation could be done.
The Army plan comprised of five phases which were not sequential but ran concurrently based on geographical area:
Phase I: Intelligence collection, reconnaissance, preparation of estimates and deployment of advance parties. It also included deployment of forward logistics and administrative node at Gauchar.
Phase II: Deployment of soldiers/columns and evacuation along with insertion of troops in the area of Kedarnath valley. Preparation of area and shaping of land routes for ground evacuation.
Phase III: Continued evacuation through alternate land route as well as land and air means.
Phase IV: Facilitate security and handing back of areas for running of routine civil administration.
Phase V: Restoration and consolidation of military posture.
SP's: What were the main stages of deployment and employment of Army troops and in which areas?
CIDS: On June 18, all formations of Central Command were mobilised along each of the four axes (Gangotri, Kedarnath, Badrinath and Dharchula). The mobilisation and rescue and relief operations were coordinated by a Brigade Headquarter commanded by Flag Rank officer along each axis. On commencement of operation, initially about 5,600 troops were deployed but two days later, the strength was reinforced to approximately 8,000 troops on ground and 150 Special Forces Personnel.
SP's: What was the level of information available with the Army when the operation commenced?
CIDS: As I had said earlier, the initial information was scanty and inadequate when the operations started. Obviously the state government took time to start the process of collecting information. However, we the armed forces pressed both ground and aerial resources to carry out assessments.
SP's: What was the overall command and control established on the ground to take care of the coordination between different agencies and with the IAF?
CIDS: The Army established the Advance Headquarters at Dehradun under the GOC, Uttar Bharat Area, on June 18 itself. That set me free. I along with a core team moved forward to command and lead rescue operation in this area which spanned nearly 40,000 sq km. Evacuation, rescue and relief work along each axis was being monitored/supervised by a Brigade Headquarters with control centres being established at Dehradun, Uttarkashi, Rudraprayag and Chamoli/Joshimath. Evacuation hubs at Harsil, Bardinath and Sonprayag were handled by forward troops at the level of battalion.
Simultaneously, the Air Force was requisitioned on June 17. An Air Cmde rank officer was nominated as Air Task Force Cdr and stationed at Jolly Grant. AF HQ later detailed an AVM rank officer for coordinating the air effort.
The coordination between different agencies was carried out during daily evening meetings chaired by the Chief Secretary of Uttarakhand and attended by members representatives/all stakeholders in which the daily progress was monitored and next day's schedule was worked out. In the forward areas, I was myself in touch with the head of civil administration at Chamoli/Joshimath, Rudraprayag/Gaucher and Uttarkashi/Pithoragarh to ensure implementation of strategy.
SP's: What communications did you have with the forward troops and rearwards to Army HQ/Integrated Command Centre, if any, at Delhi?
CIDS: Radio sets, mobiles, Inmarsat, audio and video were used for communication. My forward presence ensured intimate coordination between military commanders and local administration. Data links were reinforced by signals and I could directly address those waiting to be evacuated through video conferencing especially in those areas which I could not visit. Since I was in touch regularly with those waiting, it became very reassuring to evacuees in spite of their pain and suffering.
We exploited mobile communication. Satellite communication was also very effective. We could not use radio sets as generators could not be moved forward and charging facilities were scanty.
SP's: Did the National Crisis Management Committee get in touch with you through the CISC? How were their instructions, if any, conveyed to you? What was the system followed?
CIDS: No. But our own Army and Air Force command and communication channels were active and we followed our procedures.
SP's: What was the role of the National Disaster Management Authority (NDMA) in the entire operation? Were the NDRF battalions employed for rescue and relief?
CIDS: NDMA is the apex national body for disaster management and is entrusted with the responsibility of laying down policies, plans and guidelines for disaster management. NDMA also moved forward one of its members to Dehradun, to lend a helping hand and provide expertise.
Two NDRF Battalions with 14 teams were deployed for the rescue and relief operations. At present nine teams are still deployed for assisting the state government.
SP's: What was the state of preparedness of Uttarakhand state which is a disaster prone region? How did the state administration react to the news of the disaster?
CIDS: I think the disaster preparedness process is still evolving. As I said earlier, the state administration initially took some time but later they quickly aligned to the situation. The State Crisis Management apparatus was activated. They put an Additional Secretary level officer to coordinate various aspects, to critically identify resources and coordinate with us.
SP's: What were the medical facilities established in various areas to take care of the sick and the wounded, both humans and animals?
CIDS: Twenty four medical teams were deployed by the Army in the affected areas from military hospitals located in Dehradun/Uttarkhand and services of two psychologists (specialists) from Military Hospital Bareilly and Military Hospital Jabalpur were employed to counsel the pilgrims.
Medical aid has been provided by the Army to approximately 30,000 people till date. Medical officers were tasked to give advisories to locals and pilgrims on hygiene as also on prevention measures against outbreak of any disease. Seven medical camps were deployed by the Army units in Harsil, Rudraprayag, Joshimath, Govindghat, Gothi, Dharchula and Gwaldam.
Veterinary teams of the Army were pressed into service for providing aid to wounded and injured cattle and animals.
SP's: What was the arrangement for handling the aid/relief items flowing in from the hinterland? How was the entire logistics handled?
CIDS: The handling of relief being a state subject was taken care of by the civil administration. Requirements sought by the Army were provided. However, there was coordination by the Air Force and Army Aviation to airlift and drop loads from load centres located at Jolly Grant, Pithoragarh and Sarsawa to affected areas. Total tonnage dropped so far is approximately 460 tonnes by Air Force and 30 tonnes by Army Aviation as on date. Handling of logistics was a challenging task as the loads had to be secured properly and delivered in difficult areas in bad weather conditions. We have to look towards training of concerned agencies for air dropping palletised loads especially in view of induction of new generation aircraft/helicopters by the armed forces.
SP's: What were the major tasks performed by the Army in terms of road opening, construction of bridges, reconnaissance of remote areas/ravines, logistics including distribution of aid items, etc?
CIDS: Army did all conceivable tasks whether chartered or not, starting from saving every human life, evacuation of the stranded, providing immediate succour, food, clothing, establishment of communications, connecting people to their near and dear ones, and facilitating in every way, every citizen and human being to come out from the jaws of imminent death.
The Engineering Task Forces were deployed along each axis and tasked to clear the landslides/breaches. The troops were tasked to construct ropeways, makeshift rope bridges and foot-over-bridges. The BRO today are employed in reconstruction process and about 100 plant equipment to include dozers, JCBs and excavators have been pressed into service in the affected areas. They have constructed two Cl III bridges at Lambagarh and Sonprayag.
One of the important decisions taken was to permit landing of helicopters being operated by civil operators at the Army helipads. At present Army patrols are providing assistance to villagers in inaccessible areas of Elagad, Tawaghat, Sobla, Chhirkilla, Bugdyar, Dharchula, Gothi, Dedang and Jibti.
The most important task however was to trudge every trail and comb the area of responsibility—find survivors, lift and assist our countrymen and shift them to relief centres. After that it was easy to evacuate them safely to the rear. I salute my soldiers to have done this task in a most exemplary manner to the satisfaction of our countrymen.
SP's: What were the total numbers evacuated by roads and by air from various regions and what were the arrangements made? Please give us the statistics of the sorties flown by the IAF and Army Aviation?
CIDS: The rescue and relief operation in Uttarakhand was one of the biggest relief and rescue operation ever undertaken wherein more than 1,00,000 people have been evacuated from affected areas by air and road. The Army has evacuated 38,720 people by road and Army Aviation helicopters. Army Aviation employed about 14 helicopters and flew 737 sorties. They have also airlifted about 30 tonnes of load. IAF has evacuated 21,000 people and flew 2,630 sorties employing about 45 aircraft/helicopters. They have also airlifted about 460 tonnes of load.
SP's: What were the major weaknesses in the civil administration and armed forces observed by you during the entire operation?
CIDS: The initial response of the civil administration was non-existent. The state administration was not visible in the forward areas and resources, warning systems and communication in forward areas were non-existent.
There is the need for one Task Force Commander in the armed forces to coordinate all resources including armed forces, Indo-Tibetan Border Police (ITBP), NDRF and other agencies, preferably under the Army. There is also a need for establishing Unified Operational Emergency Control Centres which could become communication hubs.
SP's: What have been the extent of damage to existing assets and roads and the residences of locals in Kedarnath and Badrinath sectors and elsewhere in Uttarakhand?
CIDS: All 13 districts of Uttarakhand have been affected. Out of 1,603 villages affected, 59 villages have been ravaged. About 1,000 pukka houses have been completely damaged and 2,000 partially damaged. Six hundred fifty animal sheds have been damaged and people have lost about 700 big animals and 8,500 smaller animals.
As per the assessment of BRO, there are about 270 landslides and breaches with cumulative road damage of about 8.5 km and 38.7 km respectively. Out of 140 all types of bridges damaged, 14 big bridges have been totally washed away. Initially, about 960 water schemes were damaged and about 3,760 villages affected by power cut offs. The restoration of water schemes and power supply is in progress.
There are reports of about 1,000 people dead and about 4,000 still missing.
SP's: Media has reported the employment and deployment of Special Forces for some tasks. Could you elaborate these?
CIDS: The induction of these soldiers with special skills was with a view to locate, guide, assist and bring evacuees from inaccessible places to helipads. They are capable of living off the land and are self contained to operate in hostile environmental conditions for limited durations.
The Special Forces have capability to traverse down the cliffs. Both Garhwal and Kumaon Scouts who also have similar capabilities and skills were already committed on ground in Joshimath. Army HQ sanctioned the deployment of 150 Special Forces personnel and the High Altitude Warfare School (HAWS) instructors.
We managed to reconstitute and deploy about a column in the area of Sonprayag and Jangal Chatti and shape the space for employment of Special Forces.
SP's: What is your overall impression of the gigantic task undertaken by the nation? Could you give us your personal views?
CIDS: The nation has responded well to this disaster situation. Armed forces and government ministries and departments also reacted to the situation in a most professional manner.
SP's: What are some of the major lessons that can be derived from the experience of handling this operation?
CIDS: The states are aware of the possible likelihood of the types of disaster which may occur in their respective regions. To provide relief material in a timely manner, it is important that the states identify helipads for MI-17 helicopters, where airdrops by fixed-wing aircraft can also be undertaken if helicopters cannot land due to any reason. There is a need for training and awareness of first responders; and mapping of local assets such as dozers and JCBs should be known. All stakeholders need to sit together and conduct an audit of what they claimed and what they did. May be actual lessons will then emerge.