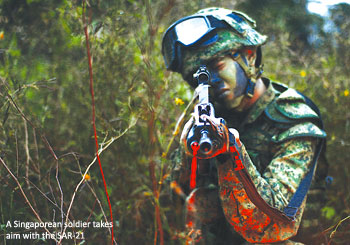 Over a period of time not only have some of the South East Asian nations upgraded and modified the infantry weapons but they have also been successful in developing indigenously their own small arms industry
Driven by internal and external threats to their security, the militaries of South East Asia have been modernising and upgrading their small arms arsenal in a variety of ways. Not only they face insurgencies which are either ethnic or religion based, the littoral countries of the South China Sea and the Indian Ocean have also to deal with piracy, gun-running and other such activities which challenge the authority of the state.
Broadly, the South East Asian nations since the colonial times had imported various versions of their infantry assault rifles from the US, Soviet Union, European nations and in the later period even from China. Over a period of time have not only some of the South East Asian nations upgraded and modified the infantry weapons but they have also been successful in developing indigenously their own small arms industry.
Singapore
Singapore remains in the forefront with a defence industry and armed forces which can be said to be technologically most advanced among the Association of South East Asian Nations (ASEAN) states. Aside from its Integrated Knowledge-based Command and Control project, the Singapore armed forces have made numerous acquisitions over the past decade that indicates a shift towards both precision strike capabilities. Improving the performance of infantry soldier and its equipment has been a priority mission.
Much like the Indian Army's project of future Indian soldier as a system (F-INSAS), the Singapore Army has commissioned an advanced combat man system (AC MS), with delivery of the first complete unit equipment set handed over to the fifth Singapore Infantry Battalion for evaluation and trials. Besides a variety of electronic gadgetry required for a networked soldier, the weapon systems is a shorter barrelled, modified version of the locally assembled Singapore Assault Rifle-21st century (SAR -21), designated the modular mounting systems as part of the AC MS. According to the Singapore Army, the objective is to meet the challenges of urban operations and improve survivability, situational awareness and the avoidance of civilian casualties and collateral damage.
The SAR-21 has a laser sight and target acquisition capabilities. The rifle is a replacement for earlier M16S1 based on American design and offers many improvements on the same. SK Kinetics, a Singapore-based company (well known in India), is also exporting it besides manufacturing it for domestic consumption. In fact, a whole range of small arms arsenal based on SAR-21 has been developed, which includes SAR-21 light machine gun, SAR-21 light weight carbine, SAR-21 Sharpshooter and even a round the corner firing (RCF) module that has been developed for urban operations.
Indonesia
Indonesia has its small arms family based on the indigenously manufactured Pindad series of assault rifles which are in turn largely based on Belgian small arms designs. The Indonesian Senapan Serbu 1 (SS1), Assault Rifle 1 is the standard assault rifle which is manufactured by PT Pindad, with a bore of 5.56mm. It is being phased out by Pindad SS2 which has many modern features. However, Indonesian Army's Sniper Rifle is Pindad SPR with 7.62mm bore. Further this series also has Pindad SM2 which is a general purpose machine gun with 7.62mm calibre. On the other hand it has a light machine gun Pindad SM3 which has 5.56mm calibre. These weapons are of high performance and are light in weight. Indonesian infantry and Special Forces have a variety of sniper rifles including anti-material rifles obtained from the UK, US, Germany and Austria.
Malaysia
After Singapore and Indonesia, it is Malaysia that is located astride the Malacca Straits and has been paying attention to modernisation of its armed forces. Even though it has just about four infantry divisions, it has taken steps to provide maximum punch to the Army. Because of its association with the US and western armies, its infantry weapons are of American/western origin. The standard assault rifle used is Steyr AUG A1 (5.56mm) which is of Australian origin and is a standard NAT O issue. This is being manufactured locally under licence. The other assault rifle/carbine that is being used is the American M4 A1 (5.56mm) is also manufactured indigenously. Another older version of the well-known American assault rifle M16 is being gradually phased out and being handed over to paramilitary forces.
Malaysian Army's sniper rifles of American (.50 BMG, Harris Gun Works m96) and UK origin 7.62mm is also a standard NAT O weapon. The anti-material rifle is Denel NTW-20, a very potent weapon, is of South African origin. Anti-material rifles can be used against a variety of hard targets like bunkers, communication masts or towers, command posts, gun emplacements, radar installations, missile sites and parked aircraft/helicopters utilising a variety of munitions in its inventory.
Philippines
Philippines, another significant military power in South East Asia, because of its erstwhile alliance with the US, has a small arms family which is largely of American origin with some weapons having been imported from the western nations. However, since 2011, it has started manufacturing pneumatic valve and rod rifle (PVAR) also known as UDMC PVAR because it is being manufactured by the United Defence manufacturing Corporation of Philippines. This is a much improved version of the American M16 and Armalite AR-15 rifles. Besides introducing PVAR, the Army has a variety of assault rifles like M16, M4 carbine, German G36C, Australian Steyr AUG A1 and Israeli IMI Galil. Some of these (M4, AR-15 and G36C) are being used by the Special Operations Command Units.
The standard sniper rifle is the Philippines Marine Scout Rifle which has been developed from American M16A1 and has been issued to the Army units also. This has been particularly found useful in counterinsurgency and counter-guerrilla operations. There are four other varieties of sniper rifles like M14, M21, Barrett M82 and TAC - 50 which are all of American origin and have been in use by the Army for a long time.
Thailand
The Royal Thai Army of Thailand (which has never been colonised by any foreign power) has a family of small arms which are all of western origin except that it has recently gone in for Singapore manufactured SAR-21 which initially has been given to Special Forces. It also has some rifles of Chinese origin which were possibly taken from the rebel forces of Thai Communist Party (supported earlier by China). However, the standard infantry rifle used by the Royal Thai Armed Forces and Army Reserve Forces is the Thai version of the Heckler and Koch HK33 (German origin) being manufactured under licence. Other infantry rifles in use are IMI Travor 21, Australian Steyr AUG A1 and Israeli IMI Galil. Legacy weapon like M16A1 is being phased out with IMI Travor 21 in an effort to modernise the infantry arsenal. Sniper rifles being used are the Swiss Sig Sauer SSG 3000 and SR 25 of America. Light machine guns in use are Heckler and Koch HK21 and FN Minimi of Belgium. However, IMI Negev LMG from Israel is a recent acquisition. General purpose machine guns in service are American M60 and M2 Browning machine gun. Some old Chinese machine guns are also in use.
Vietnam
Vietnam People's Army in contrast has largely Russian origin assault rifles because of historical reasons. Its standard issue is AKM assault rifle which is being locally manufactured and is a modified and upgraded version of the much famous AK-47. It is also using the Czech assault rifle VZ 58 which seems to have been imported last year. Some AK-74 and AKS-74 (for Special Forces) are also in service. Special Forces also use XM-177E2 which is an American variant of AR-15. Sniper rifle that is a standard issue is SVD (Dragunov sniper rifle) is of Russian origin. Another Russian Sniper rifle that is in service with Special Forces is SVU. Sub-machine guns in service are PM 63, MPA4 (Polish origin), Uzi, Mini Uzi and Micro Uzi (all of Israeli origin). Standard issue LMGs are RPD-44 and RPK of Russian origin and heavy machine guns NSV and DsHKM/DsHK38 are also from the same country. PKM is the general purpose machine gun issued by the infantry units.
Myanmar
The Myanmar Army also has a variety of small arms which are now being manufactured locally by the Myanmar Defence Industries (largely owned by the Tatmadaw). It is manufacturig automatic rifles, sub-machine guns and machine guns along with their ammunition. The small arms in service are EMER K-1 assault rifle that is manufactured by Myanmar Heavy Industries and it has a modern design. Other assault rifles in use are Heckler & Koch G3 (of German-Spanish origin) and Belgian FNFA L. Machine gun with Myanmar Army is Rhinemetal MG3 (German general purpose machine gun) still in service with even German Army. Heavy machine gun in service is the old reliable M2 Browning. The Myanmar Army has been considered as the most battle tested armies among the ASEAN as it has been involved in fighting counter-insurgency and other operations since its inception.
Other Armies of ASEAN Region
The other armies of the ASEAN are Cambodian, Laos and Brunei armies. The Brunei Army's infantry is equipped with modern infantry weapons like the search and rescue (SAR) and has acquired Pindad 2 of Singapore and Indonesian origin it also has versions of M16; being an oil rich Sultanate, possibly the armed forces have adequate access to funds. However, same is not the case with its poorer cousins Cambodian Army and Laos People Army who have a mix of Russian, Chinese and even American small arms, and are moving gradually towards modernisation effort of their infantries.
Overall, in South East Asia, most of the infantries have been able to modernise successfully and some like Singapore are even getting ready for the wars in the information era. Keeping the likely nature of internal and external threats in mind, it can be said that the efforts of the South East Asian countries towards upgrading their small arms arsenals have been quite satisfactory barring perhaps Laos and Cambodia.

The author is a Senior Fellow at the Vivekanand International Foundation in New Delhi