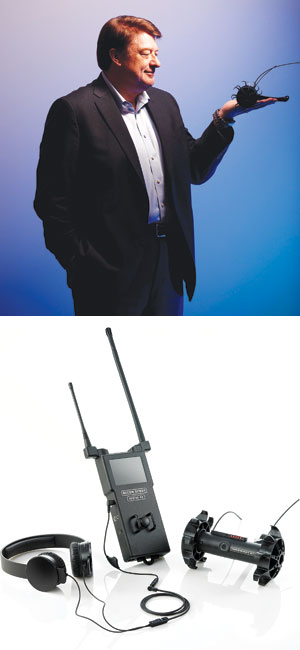 In an interview with the Editor-in-Chief of SP's Land Forces Jayant Baranwal, the President & CEO of ReconRobotics Alan F. Bignall outlines the success of ReconRobotics as the company believes in "giving the warfighters precisely what they need." Excerpts of the interview:

Jayant Baranwal (SP's): In about seven years time since inception of your company, you have emerged as the second largest producer of military and police robots in the world. What do you attribute to this huge success?
Alan F. Bignall (Bignall): Seven years ago, all military and police robots were very large – 20+ kilograms – and very complex with articulated arms, large control units. They were transported in a vehicle and operated only by trained experts, primarily during counter-IED operations. In 2007, we introduced a .5-kilogram personal robot that was a game changer. It could be carried in a small pouch, deployed in five seconds, thrown up to 35 metres and operated by anyone. Military and police operators quickly realised that this micro-robot would save many lives by providing immediate situational awareness. This innovation led to great success in the US and ultimately in more than 30 countries worldwide. We now have more than 4,100 of our Throwbot XT (TXT) sensor systems deployed with military and police forces.
SP's: ReconRobotics (RR) has participated in the counter-terror expos in UK and USA, has your company explored the Asian market and participated in exhibitions or demonstrated your products in Asian countries?
Bignall: We participated in DSA in Kuala Lumpur in 2011, and in the Land Warfare Conference in Melbourne in 2012. In addition, our resellers have participated in country-specific exhibitions in many Asian countries, including China, South Korea, India and Indonesia.
SP's: Besides the US, which countries account for healthy sales of RR products? Do you have a distribution network in India and if yes, what is the contact point and who have you marketed your products?
Bignall: Our strongest international markets to date have been Canada, the UK, Switzerland, Italy, Norway and China. Our distributor in India is AudoViso Private Limited, managed by Ashim Kumar. +91 11 4584 0000; military@audoviso.com
SP's: From its description, Throwbot XT would be of good use to locate terrorist in NLOS conditions but in situations where they do not have overhead cover, is it possible to manoeuvre this micro-robot through openings made by fire or through an open window in order to cover the situation within the building?
Bignall: The Throwbot XT is designed to be thrown – through a window or door, onto a rooftop, or over a wall. It can even be dropped from the top of a three-storey building onto concrete and still send back clear video and audio reconnaissance. The micro-robot operates at low frequencies, enabling the transmissions to and from the robot to propagate through walls, windows and doors. No other robot in the world delivers this unique set of capabilities. It is also important to note that the Throwbot XT is an important tool for maritime interdiction and ship-boarding teams. Because of its unique transmitting frequencies, the TXT can be used to search one- and two-levels below the top deck of a ship, and the operating standing on the top deck is able to still receive clear video reconnaissance. We also make a SearchStick that converts our Throwbot XT into a pole camera, which can be used to search over walls or into attics, crawl spaces and even into the holds of a ship.
SP's: What would be the effect of rain, snow and wind on the operation of the Throwbot XT since there are many occasions of counter-terrorist operations being conducted in adverse weather conditions?
Bignall: The Throwbot XT is highly water resistant and can easily withstand immersion in up to 30 cm of water for up to 10 minutes. It can also be decontaminated following use in HAZMAT situations, and can be used in temperatures well below freezing. More than 1,000 of these micro-robots have been used in all kinds of weather for more than three years in Afghanistan, and they continue to save lives and help soldiers perform their missions without fail.
SP's: What technological edge does Recon Scout have over its nearest competitor?
Bignall: Our edge has always been strongest in giving warfighters precisely what they need. They wanted a throwable audio and video sensor that was ultra-lightweight, quick to deploy, simple to operate, easy to carry, extremely durable and quiet in its operation. The Throwbot XT delivers all of these capabilities and costs thousands of dollars less than any other military robot. It has been battle-tested now for three years and many foreign militaries are now equipping their warfighters with this unique capability.
SP's: Since the Throwbot XT can be thrown up to 120 feet (35 metres), can it be useful for surveillance in high altitude areas as elevated surveillance platform as a supplement to UAV cover?
Bignall: The Throwbot XT can be used at any altitude, and we see no reason why it would not work on an elevated surveillance platform.
SP's: As described, the Recon Scout Throwbot delivers situational awareness about what lies behind a door, down a hallway, or over a wall before the force enters a location. What is not clear is what can the Throwbot XT tell what is "behind the door" and how?
Bignall: Once a TXT is deployed into an environment, an operator can direct the robot to move deep into the structure, down hallways and into rooms, and the video and audio signals will still propagate through several walls to the hand-held operator control unit. This gives the operator tremendous standoff distance, which keeps him safe from hidden threats.
SP's: Is ReconRobotics prepared to undertake transfer of technology to Asian countries including India and help establish production line in the buyer country?
Bignall: We have not been asked by any country to establish production in their country. Our international buyers in police and military seem very pleased with the superb quality of our American-made micro-robot systems, and have not expressed a desire to change our manufacturing system.
SP's: Has the Recon Scout IR been used in actual combat situations? Aside from use in counterterrorism tasks in built-up areas in urban environment, how can this be used in open and forested terrain? Can it be used for surveillance in border areas by night?
Bignall: Both the Recon Scout IR and Throwbot XT have been successfully used in hundreds of military operations, including route- and building-clearing missions, urban warfare operations, IED reconnaissance and remote surveillance. It can be placed along a trail at night to watch for dismounted enemy troops, and is also exceptional when used at vehicle checkpoints to inspect vehicle undercarriages for explosives or narcotics. The TXT's infrared optics allow it to see in complete darkness.
SP's: Are you also developing IED detection equipment that can be mounted on vehicles leading a convoy and which can remotely detonate various types of IEDs before the convoy reaches the danger zone?
Bignall: That would be an excellent capability to deliver to warfighters, but we have no plans to develop such technologies.
SP's: Can these micro-robots survive IEDs?
Bignall: The Throwbot XT is not designed to withstand an IED explosion, but it all depends on how close the robot is to the IED and the force of the explosion. The Throwbot XT operates very low to the ground, so in that respect it is somewhat protected.
SP's: What further research is going on in the company to enhance life-saving reconnaissance capabilities of micro-robots? What percentage of your overall business is invested in research?
Bignall: We are continually receiving ideas from military and counter-terrorism teams about new technologies to add to our microrobots, and our design and engineering group is very good at bringing them to market. We redirect the overwhelming majority of our profits back into product development and this strategy of continuous innovation has served us very well. In 2013, we were named one of the 50 Most Innovative Companies in the World by Fast Company, an outstanding US-based business magazine. We are proud of this recognition, which placed us on the list with Google, Apple and Amazon, and it motivates us to keep our innovative edge.
SP's: Could you give us some examples of the extraordinary work the micro-robots have done in saving lives of warfighters?
Bignall: We get letters and e-mails all the time from both warfighters and police indicating that "Your Throwbot XT saved our lives last night." The "Know Before You Go" capability that our micro-robots provide not only protects warfighters but also innocent civilians. This knowledge motivates everyone at our company to excel in designing and building game-changing products for those men and women who put their lives on the line in military and police service. There are many SWAT profiles on our website that contain such testimonials, including this one from the French Counter Terror RAID team: http://www.reconrobotics.com/pdfs/ReconRoboticsw_RAID_microrobot_Toulouse.pdf