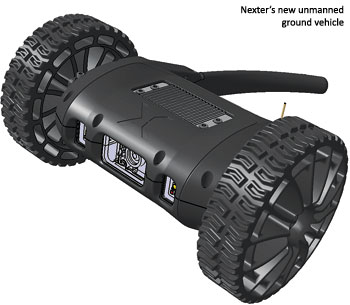 This year, the show attracted over 30,000 of the global defence and security industry professionals to source the latest equipment and systems, develop international relations and generate new business opportunities
Despite the slash in defence spending by several European countries and also the US, the market for defence and security equipment is growing with demand surging from other parts of the world. However, there is a gloomy global trend, but that did not deter the Defence Systems and Equipment International (DSEi) event which is held biannually in London.
DSEi 2013 has carved a niche for itself and has become the most definitive global military equipment show. This year, it attracted over 30,000 of the global defence and security industry to source the latest equipment and systems, develop international relations and generate new business opportunities.
There were nearly 1,500 international exhibitions from over 50 countries, showcasing specialised equipment in air, naval, land, security, medical and unmanned zones. Notwithstanding the continuing dull economic climate, companies were aggressive in marketing of their products, some of them being launched only at DSEi.
The UK Prime Minister David Cameron gave a major boost to the show by launching a new document "Securing Prosperity – A Strategic Vision for the UK Defence Sector" which identifies the industry's core strengths and sets out how the government and industry can work more closely together to catalyse growth.
London being the host, the focus was also on how the defence industry was charting its path. The UK defence sector is currently worth over £22 billion a year and employs well over 1,00,000 people. The UK is also a leading defence exporter, with overseas sales close to £9 billion last year. The strategic vision for the UK defence sector has been developed through the Defence Growth Partnership (DGP) which was set up in 2012.
Single Platform Solution to Counter IEDs
Pearson Engineering (Stand S4-360) has completed development of its route opening and clearing capability (PEROCC) system, which is being shown at DSEi for the first time and is fitted with a fully integrated roller system and arm-mounted ground penetrating radar arrays.
PEROCC has already undergone company trials in the UK, with extensive tests carried out at the subsystem level. These have included blast trials to the three-person crew capsule and integration of all key countermine systems, most of which have already been proven for other applications. The new system leverages extensive experience gained from the design, development and production of a wide range of counter-mine equipment of the roller and plough type, which has seen extensive operational use.
Nexter Launches Low-cost UGV
Nexter Robotics, a subsidiary of the French Nexter Group, launched NERVA S unmanned ground vehicle (UGV), small, low-cost, fourwheeled UGV optimised for use in the reconnaissance role and in confined spaces. It is essentially a smaller version of the NERVA LG UGV, which was first revealed in mid-2012 for military applications. The development of the NERVA S UGV now enables Nexter Robotics to offer a wide range of products to meet different user requirements.
Saab Introduces Modular Barracuda Mobile Camouflage System
Defence and security company Saab introduced a further improved modular mobile camouflage system; Barracuda MCS. Already in use by more than 20 nations, Barracuda MCS is now offering even better flexibility with possibilities to customise the vehicle protection solution to specific customer needs.
Also on display was Skeldar V-200 maritime UAV system, which can hover for hours while providing real-time information to a control station or a remote video terminal.
Rolls-Royce Maritime Patrol Craft
Rolls-Royce unveiled a new design of maritime patrol craft. The first of a 'protection vessel family' of designs, the new 55-metre craft features a range of equipment from Rolls-Royce (stabilisers, thrusters, steering gear, fixed-pitch propellers) and MTU (diesels, diesel generators, Callosum IPMS), offering a cost-effective capability that can be tailored to mission requirements.
FLIR Systems' Security Solutions
FLIR Systems Inc showcased 360° maritime security solutions to detect, identify and track threats to critical coastal infrastructure and maritime assets such as ships and yachts, as well as coastal borders. Already deployed around the world, this capability, powered by CommandSpace adaptive C2 software for maritime solutions, integrates FLIR Systems' imaging and radar technologies with underwater sonar and other sensors to create a full, 3D maritime situational awareness shield around an asset.
Airbus Military Pitches C295 as Multi-role Airlifter
Airbus Military made a pitch of its C295 as multi-role airlifter as the platform for a possible UK maritime patrol aircraft requirement. Airbus Military's C295 offers an affordable and versatile platform for the MPA/ASW mission and is already operating in these duties with Chile. Its fullyintegrated tactical system offers a truly open architecture system that can integrate many systems and sensor types.
Lockheed Martin Presents Fury UAV
Lockheed Martin showcased Fury UAV in the UK for the first time. The company is proposing the air vehicle as a multi-intelligence platform, with low visual and acoustic signatures but high range and endurance performance. It is classed as a Group 3 UAV , for tactical and expeditionary applications. Lockheed Martin claims it has the biggest payload capacity and volume of any runway-independent UAVs.
Atlas Elektronik's Minesweeper
Atlas Elektronik UK unveiled its new Atlas remote combined influence minesweeping system (ARCIMS) suite. The company has also disclosed that it will shortly deliver an initial two ARCIMS to meet the needs of an undisclosed customer. Designed to address requirements for a next-generation of networked off-board unmanned mine countermeasures (MCM) systems, ARCI MS has built upon Atlas Elektronik UK's long pedigree in MCM. This includes the rapid development and delivery of the Royal Navy's shallow water influence minesweeping system for operations in the northern Arabian Gulf in 2003.
Cassidian Launches X-band Naval Radar
Cassidian, the defence division of EADS, launched an X-band naval surface surveillance radar optimised for the detection of extremely small objects and countering asymmetric threats. Based upon the latest active electronically scanning array (AESA) radar technology, the company's tactical radar for surface surveillance (TRS) system is claimed to "substantially increase the detection capabilities, and thus the protection level of navy ships and coast guard vessels".
Rafael Presents Typhoon
Rafael showcased the Typhoon MLS NLOS for the first time, having unveiled this new iteration of its popular stabilised marine weapon station earlier this year. This version mounts eight launchers for the company's Spike-NLOS missile, the longest-range member of a popular family of guided missiles. Typhoon MLS NLOS also carries a Toplite observation and targeting sensor turret. Related systems developed by Rafael are the Typhoon 30 with a 30mm ATK Mk 44 Bushmaster cannon, and Typhoon MLS-ER with machine gun and Spike-ER missile launchers.
Cassidian's High-grade Encryption Device
Cassidian, the security and defence arm of EADS launched its latest high-grade encryption device. The Ectocryp Blue v2 solution—the core product in the Ectocryp family—can transfer information classified up to top secret across public networks, allowing organisations to minimise the risk of cyber attack. Blue is Europe's fastest, high assurance Internet protocol encryptor (HAIPE) certified remotely operated cryptographic device. Ectocryp solutions have already found application in the UK and US. Ectocryp Yellow, the next stage in sovereign UK cryptographic development, is a portable, low-cost, interoperable basis for highly secure strategic and tactical networks.
BAE System Air-to-air Refuelling for Tanker Missions
BAE Systems Regional Aircraft revealed its proposal for an air-to-air refuelling (A2R) version of the BAe 146/Avro RJ regional airliner. With its high wing and T-tail configuration, the 146 is considered an ideal platform for the tanker mission, and could be well suited to refuelling tilt-rotor aircraft. BAE Systems has carried out proximity trials with a Hawk trainer and other 146 aircraft to confirm that the aerodynamic environment behind the 146 is sufficiently benign for tanker operations. With a large number of pre-owned 146s and RJs available for refurbishment and conversion, the types could represent a cost-efficient means of providing a tanker capability, either for frontline operations or for training receivers without using larger, more expensive tankers.
CTruk Presents THOR
Making its first public appearance, the twin-hulled offshore raider (THOR) highspeed vessel developed by CTruk starred in the twice-daily water-borne demonstrations. Designed to meet requirements for a fast, stable multi-role force protection craft, THOR has been developed by CTruk in partnership with a number of allied companies under the banner of the CTruk collaborative amphibious project (CAP) consortium. This industry group has been established with the intention of competing in a market traditionally dominated by larger companies.
THOR has been conceived as an affordable multi-role craft that can be used in a variety of applications, ranging from force protection and riverine patrol, to disaster relief and casualty evacuation. Built from lightweight composite material and with a speed in excess of 40 kts, the twin-hull THOR craft is able to operate for sustained periods at long ranges.
As the complexity of war increases, so does the equipment and companies have showed the technological prowess as witnessed at the show.