Globally, Special Forces are being used to further national interests of respective countries. Their employment is an extension of foreign policy of the concerned country.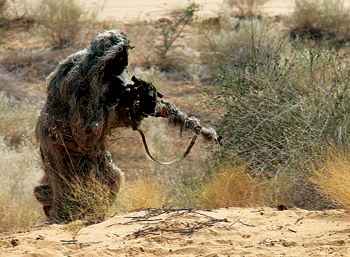 A soldier camouflaged
Special Forces in action
The surgical strikes conducted by the Indian Special Forces in the Pakistan-occupied Kashmir (PoK) on September 28 in response to the Pakistan-sponsored terror attack on an Army base in Uri has been much talked about, debated, dissected and politicised for vote-bank politicking by political parties of all hues. They sure gave a political message to Pakistan but considering the manner and distances, these were well within capability of regular infantry troops. Despite being subjected to decades of proxy war by Pakistan, India has failed to optimise its considerable Special Forces potential. Incidents like these surgical strikes raise the fervour about Special Forces in India momentarily, after which everything returns to routine.
Employment of Special Forces
Globally, Special Forces are being used to further national interests of respective countries. Their employment is an extension of foreign policy of the concerned country. Leading nations employing Special Forces proactively trans-frontiers include the United States, Russia, UK and Israel. US Special Forces (USF) are operating in some 120 countries including USF presence in diplomatic missions in foreign countries. Since China has already positioned PLA troops in development projects abroad including in Pakistan, PoK, Nepal, Myanmar, Bangladesh, Sri Lanka, Seychelles and other countries in garb of workers and technicians, we can safely posit a sizeable section being Special Forces. Pakistan has employed the Special Services Group (SSG) actively in Afghanistan, J&K, Nepal and Bangladesh, and is forging links with extremist/terrorist organisations in India.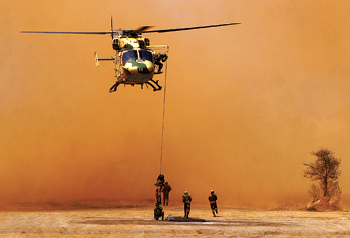 Special Forces in action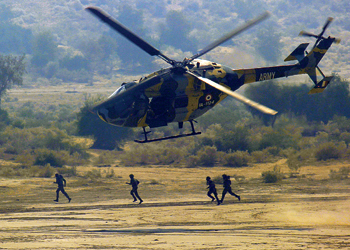 Heliborne operations
Despite India being subjected to decades of proxy war, our hierarchical understanding of trans-border employment of Special Forces ironically is limited to short distanced physical or direct type of actions executed at unit or subunit level. Special Forces potential in asymmetric wars in furthering national security objectives and employment as extension of foreign policy is little understood. Special Forces should actually be central to our asymmetric response, which does not necessarily imply operating in units or subunits. In most cases, such Special Forces response does not even automatically relate to physical attack, physical attack being only the extreme and potentially most dangerous expression of asymmetric warfare. The key lies in achieving strategic objectives through application of modest resources with the essential psychological component. Stephen Cohen aptly summed up the concept when he wrote in his book The Idea of Pakistan, "The task of Special Forces is the proxy application of force at low and precisely calculated levels, the objective being to achieve some political effect, not a battlefield victory." In India, we have been looking at battlefield victory at tactical level.
Indian Special Forces
We have a variety of Special Forces including Army's Parachute (Special Forces) Battalions, MARCOS (Marine Commandos) of Navy, Garuds of Air Force, Special Action Groups (SAG s) of the National Security Guard (NSG) under the Ministry of Home Affairs (MHA), and Special Groups (SGs) of the Special Frontier Force (SFF) under the Cabinet Secretariat; all of which comprise the Special Forces of India. However, no integration has been affected yet despite the Naresh Chandra Committee recommendation to establish a Special Operations Command (SOCOM). There is no concept of 'support elements' including dedicated intelligence, fire support, air support, etc.
India has consistently ignored four global Special Forces truths: humans are more important than hardware; quality is better than quantity; Special Forces cannot be mass produced; competent Special Forces cannot be created after emergencies arise
India has consistently ignored four global Special Forces truths: humans are more important than hardware; quality is better than quantity; Special Forces cannot be mass produced; competent Special Forces cannot be created after emergencies arise. Authorised annual expansion rate of US SOCOM is generally1.8 to a maximum of 2.5 per cent, which includes 'support elements'. In our case, the Army alone went in for 120 per cent increase. Expansion at this scale is proven recipe for diluting the manpower of Special Forces, their equipping and most importantly their overall combat capacity including without adequate means for advanced specialist training.
Equipping Special Forces
Special Forces equipping must be 'packaged', not piecemeal since it is directly related to the quantum of success of any operation. Hand-held laser target designators have been authorised to Army's Special Forces since year 2001 but have not been provisioned yet. The Army also has the problem of re-supply / replacement of imported special equipment since concurrent action of 'introducing' the equipment into service has not been taking place. There is lack of standardisation of equipment in our Special Forces – no centralised special equipment procurement for the military and non-military Special Forces. The absence of corner shots with the NSG employed during the 26/11 Mumbai terrorist attack was conspicuous although this equipment was held with the Special Group of the SFF past few years. Surveillance, communications and night vision equipment though authorised can be improved both in quality and quantity. Presently, equipping voids exist from the very basic to bigger operational requirements. The basic rucksack provided officially is so inferior that Special Forces units are using own funds to buy good quality rucksacks. Similarly, no worthwhile rappelling gloves and rappelling ropes are officially supplied, both in quality and quantity. A major void exists in the provision of a battlefield information system that would enable multiple Special Forces detachments operating widespread over long distance and deep inside enemy territory communicating with a special operations command post at the parent battalion headquarters, Corps level FMCP (Force Multiplier Command Post) and directly to the air force for calling air strikes. Equipment must have all-weather, all-terrain operability and survival capacity for strategic tasks including surveillance and target designation in areas of strategic interest.
Special Forces of modern armies act as vanguard for induction of futuristic weapons, equipment and technologies into the rest of the armed forces. Indian Special Forces have no such concept.
Rapid expansion has left Army's Special Forces units holding mix of Tavor assault rifles and AK-47s. There is severe shortages in supply of training ammunition for Tavors which is entirely dependent on import. There is also total void against authorised quantities of hardware, major ones being: heavy machine guns; underwater rifles; 60mm mortars, disposable anti-tank rocket launchers; disposable flame throwers; satellite phones; airborne SAR systems; VHF repeaters; solar panels for charging; light strike vehicles; GP delivery system (GPADS) 2-tonne category; GPADS 4-tonne category; underwater cameras; underwater driver propulsion vehicles; digital compasses; GPSs; laser target designators; video cameras for HX transmission; still cameras for HX transmission; night scope with adapter; remote detonator transmitters; remote detonator receivers, and radio controlled detonators. In addition, major deficiencies exist in assault rifles with night sights; GPMG with night sights; AGL with night sights; 40mm UBGL; pistols; ATGM with TI; SAM with night sight: carbines with night sight; tactical computers; ground-to-air LUP; radio transmitter beacons; combat military free-fall parachutes and compatible oxygen equipment; high resolution binoculars; passive night vision binoculars; night vision binoculars with communication and range finder; HHTIs, and passive night vision goggles.
Special Forces of modern armies act as vanguard for induction of futuristic weapons, equipment and technologies into the rest of the armed forces. They have inbuilt R&D facilities that not only undertake research but are capable of customising available commercially available off the shelf (COTS) weapons and equipment to Special Forces needs. Indian Special Forces have no such concept. Special Forces of modern armies wear body armour made of revolutionary materials, carry armourpuncturing knives, and don visions systems that can combine visual data with infrared and feeds from UAVs overhead. Their helmet mounted night vision goggles fuse imaging systems that combine a thermal camera with night-vision light intensification, allowing the shooter to seamlessly track a target from daylight to a dark tunnel. The system also allows the shooter to transmit and receive real-time colour video and other battlefield information. Their combat uniform and jackets are breathable (providing various levels of wicking, temperature control) and have space for wearable batteries. Bullet proof vests have been replaced by Tactical PICO Assaulters Plate Carrier given the increasing weight of sensors, batteries and other tools. However, the operator can add armour for his sides, groin, etc, the new PICO can be configured as a dynamic load carrying system that transfers some of the weight to a belt that rests on the hips. PICO is made of new material called PV; combination of military spec nylon and Dupont Kevlar that decreases material weight by 20-50 per cent but is about 10 times stronger than standard tactical nylon material. The Emerson CQC-15 is folding blade that is 'armour piercing' capable of tremendous cutting, slicing, piercing capability, which can be opened by one hand. There are special gloves and boots as well. But the revolution is in lightweight electronics, foolproof communications and information systems.
Requirement
We need integration of our considerable Special Forces potential for better response to modern-day challenges. The highest central agency must oversee their strategic tasking, manning, equipping, training, consolidation, operational and intelligence inputs, inter-agency synergy and the like. An urgent requirement is to establish a Special Forces Command with both publicised overt capabilities (to serve as deterrence) and deniable covert capabilities in order to create the necessary deterrence against irregular/asymmetric, fourth-generation warfare launched by our adversaries. Therefore, the command and control of Special Forces with access real time national intelligence will need to be well thought out. A national policy for employment of Special Forces needs to be evolved and put in motion. We must go for incognito deployment of Special Forces in areas of India's strategic interests for strategic surveillance, controlling the fault lines of our adversaries, targeting the sources of cross-border terrorism and continuous shaping of the battlefield in furtherance of national interests and objectives.
Conclusion
Increasing asymmetric threats and national security challenges indicate use of SF more for strategic roles rather than tactical roles within own leaders. We must optimise this potential, ensuring we give them the best (equipping included) and take the best out of them.