The proxy war by Pakistan started in 1989 and has continued since then. India has continued to fight it defensively since then.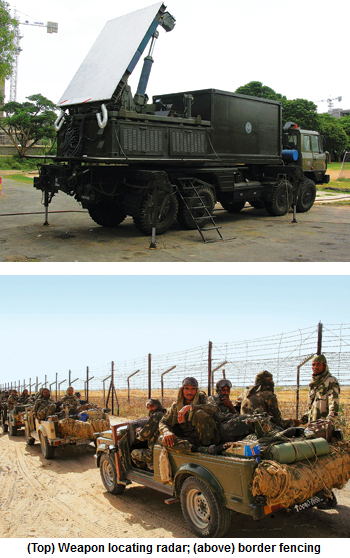 Late 1980s and early 1990s saw the emergence of a 'proxy war' in the state of Jammu and Kashmir launched by the Pakistan-based terror groups supported in all respects by the Government of Pakistan and their military. In due course it became amply clear that Pakistan had adopted the socalled strategy of "bleeding India through a thousand cuts" by sending terrorists from various jihadi tanzims like the Lashkar-e Toiba, and Jaish-e-Mohammed who were equipped, trained, funded and launched across the line of control (LoC) and at times across the international land and maritime borders by the Pakistan Army and their ISI (Inter-Services Intelligence) to destroy targets in India. This proxy war started in 1989 and has continued since then. India has continued to fight it defensively since then. The intensity of attacks have varied from year to year. Since 2015, the militants have increasingly undertaken high-profile fidayeen attacks against the Indian security forces. In July 2015, three gunmen attacked a bus and police station in Gurdaspur and on January 2, 2016, four to six gunmen attacked the Pathankot Air Force Station. Indian authorities blamed Jaish-e-Mohammad for the latter attack. On September 18, 2016, four heavily armed terrorists attacked an Indian Army brigade headquarters in Uri, near the LoC in a predawn ambush. They lobbed 17 grenades in three minutes. As a rear administrative base camp with tents caught fire, 18 army personnel were killed and many more were injured. A gun battle ensued during which all the four militants were killed. The heavy casuallties among the soldiers caught unawares, generated anger among the people compelling the government to take note of it.
India retaliated on the night of 28/29 September by launching what the Indian Army termed as "surgical strikes" by India's Special Forces (SF). It seems that 8 teams of about 20 to 30 SF personnel each, over a frontage of about 200 km infiltrated across the LoC and destroyed the terrorist camps where the terrorists were waiting to be launched into operations on India side of the LoC. Substantial number of casualties were caused among the terrorists. The Uri terror strike by the terrorists from Pakistan and subsequent surgical strikes by India once again highlighted the need for strengthening the border security with effective fencing and use of various types of sensors and other aids.
Indo-Pakistan Border Fencing
India-Pakistan border (IPB) measures 3,323 km and its subdivision is 1,225 km in J&K out of which 740 km constitutes the LoC (which is an undemarcated border), 553 km in Punjab, 1,037 km in Rajasthan and 508 km in Gujarat.
Presently, 609 Border Out Posts (BOPs) are already existing along the IPB and additional 126 BOPs (including upgradation of 38 BOPs in Jammu) along the Indo-Pakistan border have been sanctioned to reduce the inter-BOP distance to 3.5 km. The construction of these additional BOPs will provide the entire necessary infrastructure for the accommodation, logistic support and the combat functions of the Border Security Force (BSF) troops deployed on the Indo-Pakistan borders. The project was targeted to be completed by 2013-14. However, there is spillover in works due to constraints like public protests, delay in the land acquisition and statutory clearances, etc.
In addition to the newly sanctioned BOPs as mentioned above, 70 BOPs were sanctioned under the composite scheme for Gujarat sector of the Indo-Pak border.
The wire fencing on the international border with Pakistan has been completed however it has not proved to be foolproof due to gaps caused by terrain difficulties in riverine terrain and in recent decisions it seem that India is now likely to install an Israel type of border fence along our western border. Home Minister Rajnath Singh who had visited Israel in November 2014 has seen the fence and its effectiveness in Israel. He has announced the government decision to seal the entire stretch of 3,323-km-long Indo-Pak border by December 2018. Intelligence inputs indicate that Pakistan is all set to infiltrate large number of terrorists into India. The Home Minister has also said that the work will be done in a planned way, with a monitoring framework set up to review the progress, monthly, quarterly, biannually and annually. On the question of securing the riverine belts, and areas where it is geographically unfeasible to put a physical barrier along the border, he said that the government will look into technological solutions to ensure every inch of our land is guarded. Infiltration has also been attempted through the international border in Punjab and J&K in addition to trans-border smuggling of goods, narcotics and fake Indian currency in Punjab, Rajasthan and Gujarat.
Flood Lighting
In order to curb the attempt of infiltration and cross-border crimes along the Indo-Pakistan border, the government has sanctioned 2,030.44 km of floodlights along the international border in the states of Jammu & Kashmir, Punjab, Rajasthan and Gujarat. The work has been more or less completed except for some portion in Jammu and in Gujarat.
Laser Fencing
During the Pathankot attack on January 2, 2016, the terrorists had used one of the riverine tracts located 5 km downstream of Bamiyal near Tash border outpost in Punjab to enter the Indian territory. Hence, for such areas BSF had decided to install laser fencing two years ago.
There are 45 such vulnerable spots along the Indo-Pak border in Punjab and Jammu and Kashmir where it will be installed and as of April 29, 2016, eight infrared and laser beam intrusion detection systems have started functioning in the porous treacherous and riverine tracts along the international border in Punjab.
What is Laser Wall?
The laser wall is a mechanism that detects objects passing across the line of sight between a laser source and a detector, and sets off the alarm if it's breached.
The laser walls are equipped with night and fog operability tools to ensure functioning in low visibility conditions.
The laser sensors are connected through satellite-based signal command system to ensure remote monitoring.
Although expensive, but it is an effective solution to plug the loopholes and checkmate the enemy.
Technologies Employed in Israeli Border Fencing
Home Minister Rajnath Singh had visited one of the border outposts in Gaza and was "greatly impressed" by the technology used in the highly sophisticated border security system of Israel which includes highquality long-range day cameras along with night observation systems employing thirdgeneration thermal imagers.
Israeli Prime Minister Benjamin Netanyahu had reportedly told Singh that Israel was "ready and willing" to share with India its technology for border protection. Israel is hailed to have the best border protection system in the world, and depends more on technology than humans to protect its border. The technology includes high-quality longrange day cameras along with night observation systems, third-generation thermal imagers, long-range detection radars, electronic touch and motion sensors on the fence as well as underground sensors to detect any tunneling attempts. The Israeli border fencing along West Bank, Gaza and Egypt also consists of latticed steel, topped and edged with razor wire, extending at least two metres below ground and in some sections reaching seven metres above the ground. Ditches and observation posts with cameras and antennae line the route. In an electronic fence, an electronic pulse runs through the fence, setting off an alarm on contact that will allow security guards to locate the exact spot of attempted infiltration.
Line of Control Fencing and Sensors used
The Indian line of control fencing is a 550-km barrier along the 740-km disputed 1972 LoC (or ceasefire line as it was called earlier). The fence, constructed by India, generally remains about 150 metres on the Indian side. Its stated purpose is to exclude arms smuggling and infiltration by Pakistani-based terrorists. The barrier itself consists of double-row of fencing and concertina wire 2.4 to 3.7 metres in height, and is electrified and connected to a network of motion sensors, thermal imaging devices, lighting systems and alarms. They act as "fast alert signals" to the Indian troops who can be alerted and ambush the infiltrators trying to sneak in. The small stretch of land between the rows of fencing is mined. The construction of the barrier was begun in the 1990s, but slowed in the early 2000s as hostilities between India and Pakistan increased. After a November 2003 ceasefire agreement, building resumed and was completed in late 2004. LoC fencing was completed in Kashmir Valley and Jammu region on September 30, 2004. According to Indian military sources, the fence has reduced the numbers of terrorists who routinely cross into the Indian side to attack targets by 80 per cent.
Gaps between posts exist along the LoC and can only be covered through patrolling or ambushes which spreads the security forces thin on the ground and is not 100 per cent foolproof despite best efforts especially in hours of darkness, fog and adverse weather. Pakistan has been employing heavy cross-border firing to assist infiltration and terrorists have also been using explosives to make gaps in the fencing or dig tunnels under the fence. In addition, heavy snow buries the fence especially in north Kashmir and large portions are also destroyed annually because of avalanches. The new fence tried out in consultation the Snow and Avalanche Study Establishment (SASE) uses stronger material and will have night-vision cameras, alarms and visual map displays integrated with the fence, all linked to a monitoring room, giving the local military commanders realtime data enabling quick reaction against any attempt to tamper with the fence. The fence is also proposed to be lit up using LED lighting where feasible.
Technologies Available Globally
Optical Surveillance
This is is one of the oldest surveillance technologies around mainly made up of night vision, telescopes, binoculars and spotting scopes.
Night Vision. A night vision device (NVD) is an optical instrument that allows images to be produced in ultralow levels of light virtually approaching total darkness. They are most often used by investigations agents, the military and law enforcement agencies, but are also used by civilians like hunters and wildlife photographers. Night vision devices were first used in World War II and the technology has evolved greatly since then, leading to several "generations" of night vision equipment with performance increasing and price decreasing.
Spotting Scopes and Binoculars. Although everyone is familiar with binoculars, spotting scopes are less known. Spotting scopes are generally a single scope, or monocular with a greater magnifications and are generally used by investigators and nature watchers.
Telescopes. Whether you are looking at Mars, the moon or in open terrain you don't get much better magnification than a telescope to see those finer details and this could be used to advantage for surveillance along a fence.
Electronic Fencing
Electric fences are designed to create an electrical circuit when touched by a person or animal. A component called a power energiser converts power into a brief high voltage pulse. One terminal of the power energiser releases an electrical pulse along a connected bare wire about once per second. Another terminal is connected to a metal rod implanted in the earth, called a ground or earth rod. A person or animal touching both the wire and the earth during a pulse will complete an electrical circuit and will conduct the pulse, causing an electric shock. The effects of the shock depend upon the voltage, the energy of the pulse, the degree of contact between the recipient and the fence and ground and the route of the current through the body; it can range from barely noticeable to uncomfortable, painful or even lethal.
Perimeter Surveillance Radar (PSR)
This is a class of radar sensors that monitor activity surrounding or on critical infrastructure areas such as airports, seaports, military installations, national borders, refineries and other critical industry and the like. Such radars are characterised by their ability to detect movement at ground level of targets such as an individual walking or crawling towards a facility. Such radars typically have ranges of several hundred metres to over 10 kilometres.
Battlefield Surveillance Radars
It is generally a man-portable battery-powered electronic short-range battlefield surveillance radar to provide all-weather surveillance against intrusion. The radar is capable of searching a specified sector and performing track while scanning for multiple targets. The radar detects, tracks and aids in classifying the moving targets. Such radar systems can be carried by one or two soldiers. They are compact and can be set up within a few minutes to match the speed and requirements of the users. The radar has sophisticated built-in software algorithms to detect, track and classify targets like crawling man, group of walking men, light and combat vehicles, and low flying helicopters. It also has a built-in interface for automatic transfer of target data to remote locations and capability of integration with imaging sensors. The radar is amenable for mast-mounted role on any light vehicle.
Unattended Ground Sensors
For the detection of movement at a border crossing, Self-Powered Ad-hoc Network (SPAN) nodes may be equipped with ground-vibration or acoustic sensors, while for structural-integrity applications, stress sensors would be employed. According to Lockheed Martin, several undisclosed agencies within the US Government are currently testing the ability of unattended ground sensors to protect personnel stationed in war environments, and to assist with border surveillance.
Lockheed Martin is not the only company providing wireless-sensor mesh networks for government use for military purposes or border protection. Since 2008, aircraft and defence company Textron has been providing its battery-powered MicroObserver Unattended Ground Sensors with built-in vibration sensors to track the presence of intruders on foot or in vehicles. More than 1,000 such sensors are presently in operation.
Unattended ground sensors may be in the form of IR devices, pressure devices, magnetic devices, electromagnetic devices, or acoustic devices.