Army Air Defence (AAD) has the responsibility of providing Point AD to the national strategic assets like nuclear plants, oil refineries, military airbases, military industrial complexes, communication nodes, logistic nodes, gun areas, surface-to-surface missiles and so on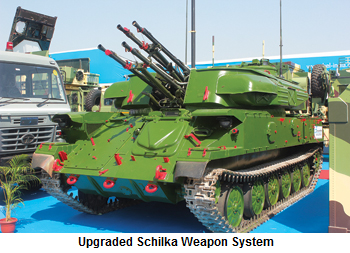 Air Power has been growing since the Wright Brothers conquered flight at Kitty Hawk on December 17, 1903. Making modest beginnings during World War I, military air power has manifested itself in multiple platforms ranging from fixed-wing aircraft, helicopters, UAVs, ballistic missiles to cruise missiles. The role of air power includes reconnaissance, patrolling, command and control, deterrence and destruction of targets. In the current war scenario it has become a formidable instrument of military might. Threat to India has thus grown accordingly and the security environment around it is always on a short fuse. Viewed this in the backdrop of cross border terrorism, the situation becomes even more mercurial. In such an environment it is essential that all aspects of air defence (AD) become more operationally effective.
Current AD Capability
Army Air Defence (AAD) has the responsibility of providing Point AD to the national strategic assets like nuclear plants, oil refineries, military airbases, military industrial complexes, communication nodes, logistic nodes, gun areas, surface-to-surface missiles and so on. It also provides Area AD to army offensive assets like armour and the strike corps. The current holding of AD weapons are of varying vintage ranging from 50 years old (L/70 gun) to more than three decades (Kvadrat Missile System-SAM 6). Tangushka was the last gun/missile system inducted about 25 years ago. Induction of Akash missile system has started in 2016 but it has been thrust on the Army for a different role as it could not carry out the mobile role it was originally developed for.
Appraisal of Current Weapon Systems
The technology, especially in the field of ammunition, missiles, sensors and active seekers, has advanced very rapidly thus it is necessary to upgrade and replace the existing AD weapon systems at least every 15-20 years so that they remain current. Apart from the aspect of weapon obsolescence, there is a factor of shelf life of ammunition and missiles which effects their lethality, accuracy and safety. Considering the vintage, the current AAD picture is rather dismal when reviewed system by system.
L/70 Gun System
L/70 is the mainstay of AAD since 1964. When it was heralded as the most modern gun system with a fire control radar. It was effective against the air threat of the 1960s but it now completely obsolete. It is a miracle and sterling quality of production at Ordnance Factory (Gun Carriage Factory in Jabalpur) that the guns are still firing and fit in all aspects. The requirement is of a gun with a rapid rate of fire of about 2,000 rounds/min and an effective range of about 2,500 metres. L/70 gun provides Point AD to all the national strategic assets thus without a more modern gun, the AD to these assets becomes very weak. L/70 was to be replaced by 2000, however there is no progress. The Defence Research and Development Organisation's (DRDO) development effort has also failed. Not many gun systems are currently available but a possible choice was Skyshield of Rheinmetall AD but unfortunately the company has been blacklisted by India thus there is no hope even in the distant future for a successor system. The Army is looking at some of the systems available in the erstwhile East European nations but nothing concrete has emerged. Even if a gun is shortlisted, it may take at least a decade for the delivery to start under 'Make in India' programme. Notionally if 10 regiments have to be provided with the new guns then at the rate of one regiment per year, it will take 10 years to equip all the 10 regiments. That takes it to 2040 or so and if the gun remains current for even three decades, the time frame will be 2070. It is unlikely that the current guns and ammunition will be able to counter the air power of 2040-70. L/70 has also been upgraded jointly by the Bharat Electronics Limited (BEL) and the Gun Carriage Factory in Jabalpur; with electric power lay and electro-optical sighting system but this has not improved the effectiveness of the gun except that it does not need a fire control radar. The process of induction of this system is yet to start.
23mm Twin Gun
This is a fair weather gun system of Russian origin which is more than three decades old however its rate of firing of 2,000 rounds/minutes is very good. It is a light and mobile gun and ideally suited for supporting the field formations in plains and mountains. It was upgraded by BEL and Punj Lloyd in competition. Punj Lloyd has got the tender and they have joined hands with EVPU of Slovakia to provide the electro-optonic system. The upgrade includes power lay and electro-optical sighting system which will enhance its capability manifold and also provide it with night-firing capability.
Schilka System
It is a highly mobile system for supporting armour formations and is in service since the early 1970s. It came into limelight during the Yom Kippur War of 1973. Its successor was Tangushka, one regiment of which was procured, but for some reason no further procurement was carried out. The result is that the AAD is stuck with limited equipment which is obsolete and difficult to maintain. The Schilka upgrade is being carried out jointly by BEL with Elbit of Israel which includes a new powerful engine, digital computer, better electro-optical sighting system and a new fire control radar. The four barrel 23mm gun with a rate of fire of 3,400 rounds per minute has been retained and there is a provision for firing shoulder-fired missiles. 48 Schilkas will be upgraded. The induction has also started but it is very slow and may take more than a decade to upgrade all the 48 systems. It will be employed for another 20 years that means the gun and chassis will be about seven decades old and may not be employable. Thus it necessary to identify more modern systems to complete the existing voids and also to replace the old systems.
Quick Reaction SAM (QRSAM) System
The current system is OSA-AK which is a highly mobile system for the AD of armour formations. This system is more than 30 years old and needs to be replaced. DRDO's effort to develop Trishul system did not succeed and a request for proposal (RFP) had been issued twice. The expected parameters of QRSAM are a range of not less than 15 km, altitude of more than 6 km and the ability to engage targets flying at 0-500 metres/seconds as well as hovering helicopters. QRSAM System should not be mixed with Low-Level Quick Reaction Missile System (LLQRM) which is an Indian Air Force (IAF) System. Following systems are available globally:
Spyder SHORAD Missile System of Rafael-IAI (Israel). Spyder name is a combination of Python and Derby missiles which are integral to the Spyder System. Python has an IR dual waveband electrooptical imaging seeker with lock-on after launch, with infrared counter-countermeasures. Derby has an active radar seeker, lock on before launch and advanced programmable ECCM. Spyder has a maximum range of 15 km and altitude of 20-9,000 metres, can carry out simultaneous engagement of multiple targets, carry out ripple firing, is allweather and highly immune to countermeasures. The system is claimed to effectively counter all modern aerial threats including aircraft, helicopters, cruise missiles, UAVs and precision guided weapons. IAF has already acquired the system.
Tor-M2 9M331 SHORAD Systemdesigned by Almaz-Antey of Russia. Tor-M2 is a fully-automated surface-to-air missile (SAM) system manufactured by Almaz-Antey's Izhevsk Electromechanical Plant Kupol, to deliver effective air defence in jamming environments. The system can counter a wide range of targets including unmanned aerial vehicles, guided missiles, cruise missiles, aircraft, helicopters and high-precision weapons flying at very low to medium altitudes. The Tor-M2U SAM System is armed with 12 9M331 surface-to-air guided missiles as compared to six missiles in the earlier version. The missile's high-explosive fragmentation warhead and an active proximity fuse allow it to destroy targets moving at speeds of 700 metres per second and altitudes of six km, within a range of 12 km. It can fire targets with a short stop of three to five seconds. The Tor family of SAM Systems is in service with the armed forces of many countries including China, Egypt and Russia. This is most suited to be a successor to OSA-AK.
Surface Launched Advanced Medium-Range Air-to-Air Missile (SLAMRAAM). SLAMRAAM is a key player in Raytheon Integrated Defense Systems' state-of-the-art integrated air and missile defence systems which can counter current and future cruise missile threats, and a wide range of air breathing threats. SLAMRAAM is capable of defending manoeuvring land forces, high-value fixed assets and mass population centres. SLAMRAAM is the US Army's domestic variant of the Norwegian Advanced Surface-to-Air Missile System (NASAMS System). SLAMRAAM System uses the AMRAAM fire-and-forget missile, a surveillance radar, a fire distribution centre (FDC) and AMRAAM launchers. The SLAMRAAM launcher mounts six AMRAAM missiles on a turreted High-Mobility Multipurpose Wheeled Vehicle which provides 360° coverage.
Hawk-AMRAAM AD System. Raytheon and Kongsberg Defence have jointly developed the Hawk-AMRAAM AD System, which combines the capabilities of Hawk and AMRAAM missiles by integrating the system with FDC. The system can include the Sentinel radar and the Hawk AN/MPQ-61 high power illuminator for target tracking and illumination, although it is possible to hook up with any number of radars and missile systems to the FDC. It has been reported that Hawk has been upgraded and named Hawk21 with the FDC developed by Kongsberg as part of NASAM System. Raytheon jointly with Kongsberg Defence and Aerospace, continue to integrate new capabilities into NASAMS to develop and field highly capable and fully integrated solutions.
So far, no headway has been made for the QRSAM System. Earlier media reported that QRSAM System Maitri will be developed jointly between DRDO and MBDA but it has made no progress. Another report mentioned Maitri with a 40-km range which was meant for the IAF but in view of the induction of Akash SAM System, also could be considerd are upgraded Tunguska and Pantsir of Rusia. IAF indicated that it is no longer required.
Medium Range SAM (MRSAM) System
Kvadrat is the current system which is more than 35 years old and has the technology of early 1960s thus an RFP has been issued but later on withdrawn due to poor response. As DRDO's Akash has not been found suitable for mobile role thus two regiments of Akash have been contracted for semi-static role. Meanwhile, DRDO has signed an MoU with Israel for the joint development of a missile system of about 70 km. So far, the Navy has carried out successful trials of the system embedded on a ship. This can easily be employed by the Army by mounting, it on suitable mobile platforms. Meanwhile, in the interim phase, the AAD may explore the possibility of importing a few regiments of Patriot Advance Capability-3 (PAC-3) from the US through the FMS route. PAC-3 is the obvious choice as it is warproven; has hit to kill technology; can engage aircrafts, helicopters, UAVs, cruise and tactical ballistic missiles. It is also deployed with many nations including the US.
Shoulder-fired SAM System. The current system is Igla which is also in service with the Indian Navy and the Air Force. Russia has a improved Igla-S which is a natural successor to the current system.