Attempts are now being made to resurrect and fulfil its long-postponed 1999 Field Artillery Rationalisation Plan (FARP), under which the army aims to import, locally develop, and licence-produce around 3,000, 155mm howitzers of various categories to equip 220-odd artillery regiments for an estimated 56,000 crore to 63,000 crore
As pa rt of its artillery modernisation plan, the Indian Army is looking at inducting several types of howitzers through in-house manufacture by the Defence Research and Development Organisation (DRDO)/Ordnance Factory Board (OFB), inter-governmental pacts and global tenders. The last major acquisition of towed gun-howitzers was that of 400 pieces of 155mm/39-calibre FH-77B howitzers with a range of 30 km from Bofors of Sweden in 1987. This gun proved its mettle in the Kargil conflict. After about 25 years of neglect the artillery modernisation continues to stagnate.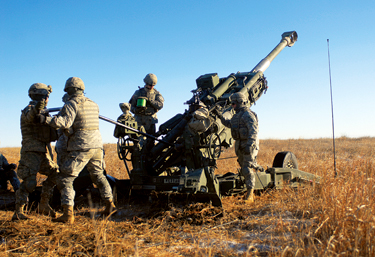 M777 Towed Howitzers (155mm/39-calibre)
Mobile forces require quality systems that are quick and easy to transport. Through the innovative use of titanium and aluminium alloys, the M777 is rapidly deployable and consistently accurate.
Highly portable by land, sea and air, the system features a minimal logistical footprint alongside maximum reliability. This means that it can be frequently moved and re-deployed, maximising survivability, without encountering the IED risks that selfpropelled systems face. The weapon can strike over extended distances, regardless of terrain and obstacles. It is compatible with all standard ammunition types, as well as advanced rounds such as Bonus and Excalibur.
Its strengths have been proven in battle, particularly in Afghanistan where it has been in service since 2006. Over 40,000 rounds fired have proven its simple, dependable operation, even in harsh desert climates.
Technical Data
Range
Maximum Unassisted: 24.7 km
Maximum Assisted: 30+ km
Rate of Fire
Intense: 5 rounds per minute for upto 2 minutes
Sustained: 2 rounds per minute
Into/Out of Action
Emplacement: < 3minutes
Displacement: < 2minutes
Pointing limits
Elevation: +1,275mm
Depression: -43mm
Traverse (on carriage): 400mm left and right (6,400mm through quickswitch)
Ammunition
All current developmental US and NATO standard 155mm projectiles and charges including Modular Artillery Charge System
Mobility
Maximum Road Speed: 88 kmph (55 mph)
Cross Country: 24 kmph (15 mph)
Towing Vehicles: MTVR, FMTV, M800, M900, 5 tonne Trucks, any 2.5 tonne Truck, HMMWV in Local Area
Fixed-wing: C130, C141, C17, C5, Roll-on, Roll-off/LVAD
Rotary-wing: CH53E, CH47 D, MV22.
Source: BAE Systems
Attempts are being made to resurrect and fulfil its long-postponed 1999 Field Artillery Rationalisation Plan (FARP), under which the army aims to import, locally develop, and licence-produce around 3,000, 155mm howitzers of various categories to equip 220-odd artillery regiments for an estimated 56,000 crore to 63,000 crore. These include 1,580 towed gun systems (TGS), 814 mounted gun systems (MGS), 100 self-propelled howitzers (SPHs) — all of which are 155mm/52-caliber, and 145 BAE Systems M777 155mm/39-calibre lightweight howitzers for the mountains. Locally upgraded and retrofitted guns will make up additional numbers.
Trials of 155mm Towed Howitzers of Nexter and Elbit Systems
Trials involving two competing 155mm/52-calibre towed guns for the Ministry of Defence's (MoD) 2011-12 tender for 1,580 such platforms concluded in November 2015. The two guns are currently undergoing General Staff evaluation by the army before one is shortlisted and price negotiations begin. Trials for two systems namely the Nexter's "Trajan" 155mm/52-calibre howitzer, and Israels ATHOS 2052 gun built by Elbit were required to undergo the supplementary trials from mid-2015 after completing desert and high-altitude firings in 2013-14. The army plans to acquire 400 guns under the Defence Procurement Procedure's (DPP) 'Buy and Make' category and licence-build the remaining 1,180 howitzers. Nexter is a French Government company formerly called GIAT has a tie-up with Larsen & Toubro (L&T) and Elbit from Israel has tied up with the Kalyani Group/Bharat Forge in Pune, but who will be the designated manufacturer of the shortlisted howitzer is presently not known.
Self-Propelled Howitzers (SPH)
K9 Vajra-T: In December 2015 the MoD began price negotiations with Larsen & Toubro for 100 modified South Korean SPHs, worth around 5,600 crore. The K9 Vajra-T, an L&T version of Samsung Techwin's K9 Thunder 155mm/52-calibre gun customised for India's 2012 SPH tender, was shortlisted for acquisition in late September 2015 following trials the previous year. In these the K9 bested Russia's MSTA-S selfpropelled gun, which had been modified to 155mm/52-calibre standard and mounted on a T-72 tank chassis.
According to industry sources the K9, which is being procured under the DPP 2012 'Buy Global' category, will be built at L&T's Talegaon facility near Pune in Maharashtra. This classification permits domestic companies to enter into tie-ups with the original equipment manufacturers (OEMs) to offer cooperatively developed equipment and platforms to the Indian military. The K9 is expected to contain some 13 major indigenous subsystems, including its fire control, ammunition handling, and nuclear, biological and chemical (NBC) system and muzzle velocity radar, to help it bypass the 30 per cent offset obligation. Military sources say the SPH deal is likely to be signed during the upcoming financial year, beginning April 1, and includes a follow-on option for an additional 50 K9 guns.
Catapult the Interim Solution: In the interim the army is expected to induct 40 indigenously developed Catapult Mk II SPHs, which mount a 130mm gun on the chassis of the locally designed Arjun MBT. These will replace an equal number of Catapult Mk Is, designed in the early 1980s by mating the M-46 weapons onto the lengthened chassis of an OFB-built Vijayanta (Vickers Mk 1) MBT.
145 Ultra Light Howitzers (M777)
In May 2015 the MoD approved the import of 145 M777s along with Selex Laser Inertial Pointing Systems (LINAPS) via the US foreign military sales (FMS) programme. On November 16, 2016, the Cabinet Committee on Security chaired by Prime Minister Narendra Modi cleared the acquisition of the guns from the US in a government-to-government deal worth $737 million (approx 5,000 crore). Of the 145 M777 howitzers, 120 will be assembled, integrated and tested in India with BAE Systems selecting Mahendra as its business partner. The first two howitzers will be delivered after six months of the contract being inked, with the others following at the rate of two per month.
The United States submitted its letter of acceptance (LoA) sanctioning India's purchase of 145 M777s in December 2016. Other than the upwardly revised tender price, the LoA included delivery schedules, guarantees, and after-sales technical, material, and spares support. BAE Systems is also believed to have submitted to the MoD its list of offset agreements with local companies, valued at 30 per cent of the overall contract value and estimated at around 1,400 crore ($215 million). The deal involves a significant 'Make in India' component. Mahindra is expected to bag a major share of the contract. The M777 purchase is meant to equip the army's 17 Mountain Strike Corps, which is presently being raised for deployment along the line of actual control (LAC) with China.
The M777 matches the firepower of current generation 155mm towed systems at less than half the weight. The howitzer is equipped with a 39-calibre barrel. The muzzle velocity (at Charge 8 super) is 827 m/s. The maximum firing range is 24.7 km with unassisted rounds and 30 km with rocketassisted rounds.
Excalibur Munitions: The M777A2 can fire the Raytheon/Bofors XM982 Excalibur GPS/Inertial Navigation-guided extended-range 155mm projectiles using the Modular Artillery Charge Systems (MACS). Excalibur has a maximum range of 40 to 57 km and accuracy of 10 m. The M777 is able to deliver up to five rounds a minute under intense firing conditions and is able to provide a sustained rate of fire of two rounds a minute.
Indigenous Efforts to Manufacture 155mm Howitzer (Dhanush)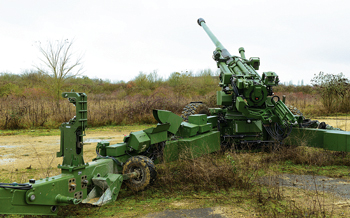 Trajan 155mm/52-calibre towed gun from Nexter Systems
The Ordnance Factories Board has been tasked to produce a 155mm/45-calibre howitzer based on the transfer of technology (ToT) obtained from Bofors in the 1980s. The Defence Acquisition Council (DAC) approved a proposal from the OFB to manufacture 144 pieces of 155mm/45-calibre howitzers with the option to acquire another 400 provided the prototypes successfully meet the army's GSQR in user trials. Meanwhile, the DRDO has embarked on its own venture to design and develop a 155mm howitzer in partnership with a private sector company.
Acquisition of 814 Truck-mounted Guns
This has been approved by the DAC in November 2014 will be undertaken under the 'Buy and Make in India' category with transfer of technology. While the first 100 guns will be imported, the remaining 714 will be produced in India. Tata Power SED with its 155mm truck-mounted gun system and L&T-Ashok Leyland-Nexter with their 155mm gun are among the private companies in India that are likely to submit proposals for the project, as reported by the media. The total project cost is estimated to be 15,750 crore.
Infantry Modernisation
The Future Infantry Soldier as a System (F-INSAS) project was mooted in 2005 and it aimed at deploying a fully networked, all-weather, and all-terrain infantry, with enhanced firepower and the mobility to operate in the digitalised battlefield. This involved a mix of imported and locally developed systems, to equip all battalions of infantry and Rashtriya Rifles with a modular, multi-calibre suite of weapons and body armour.
The entire capability desired includes target acquisition, communications, and portable surveillance equipment — including third-generation night-vision devices, as well as computers capable of transmitting and uploading voice, data, and video clips on wrist displays for soldiers and clipboards for commanders. Additionally, integrated ballistic helmets with head-up displays (HUDs), miniature radios, global positioning systems, and portable power packs complete the F-INSAS makeover. The concern is that not even a single part of the project has made any progress.
In December 2015 the MoD began price negotiations with Larsen & Toubro for 100 modified South Korean SP Hs, worth around 5,600 crore
Assault Rifles
Army is on the lookout for assault rifles (AR) to replace the INSAS 5.56mm rifles with technologically superior weapons. The MoD issued the tender for 66,000, 5.56mm multi-calibre assault rifles (with interchangeable barrels of 5.56mm and 7.62mm calibres) out of a total requirement of about 2,00,000 assault rifles in November 2011 to 43 overseas vendors. Five vendors responded positively. However, all five vendors comprising Italian manufacturer Beretta's ARX160, the Czech Republic-based CZ's 805 BREN, Israel Weapon Industries' (IWI) ACE, and US-based Colt's Combat Rifle were rejected by the army following field trials in the western Rajasthan desert and in high-altitude regions.
The military wisdom till now was that the 5.56mm rifle was better for conventional war because it generally injured an enemy soldier, tying down at least two of his colleagues to carry him in the battlefield. Conversely, the 7.62mm rifle was better for counter-insurgency since terrorists had to be killed at the first instance, eliminating the risk of "suicide bombing". Soldiers largely use the 7.62mm AK-47 rifles for counterinsurgency operations in Kashmir and the North East, even though the infantry is saddled with the indigenous glitch-prone 5.56mm INSAS (Indian small arms system) rifles. The fully-automatic DRDO designed Excalibur, which fires 5.56 x 45mm ammunition, is a much-improved version of INSAS rifle that entered service in 1994-95. But the army now wants 7.62mm rifles for greater lethality. Thus the army has re-launched its quest for a modern imported assault rifle, after recently rejecting the indigenous Excalibur, in order to plug a vital operational gap. The army is once again sending out its global request for information (RFI) for 7.62x51mm assault rifle.
The issue that was discussed in April 2016 during the Army Commanders' Conference was whether the force required a 7.62mm rifle that could kill the enemy or a 5.56mm rifle that could incapacitate the enemy soldiers and the decision was in favour of the former calibre. The Army Commanders unanimously opted to import the more powerful 7.62x51mm rifle for its infantry battalions and its100 odd counterinsurgency units (both Rashtriya Rifles and Assam Rifles).
The indigenous Excalibur is an upgraded version of the DRDO-designed Indian Small Arms System (INSAS) 5.56x45mm assault rifle. The INSAS was rejected by the army in 2010 for being "operationally inadequate". The gas-operated, fully automatic rifle has a foldable butt, a Picatinny rail for sights, sensors and bipods, and its polycarbonate magazine is superior to that of the INSAS rifle, known to frequently crack in extreme hot and cold climates. The Excalibur's barrel is 4mm shorter than the INSAS model and its hand guard is smaller. The DRDO is also designing a second version of the Excalibur, the AR-2 that fires 7.62x39mm rounds used by AK-47. The AR-2 will be offered as an alternative to the AK-47, Russian origin, assault rifle. Till the new assault rifle becomes a standard weapon Excalibur may be used in the interim to replenish stocks.
Carbines
For over five years the Indian Army has operated without a CQB carbine, a basic infantry weapon, essential to a force which claims to be among the best in the world, ever ready to take on any challenge.
The Ministry of Defence cancelled the December 2010 tender for 44,618, 5.56mm close quarter battle (CQB) carbines and 33.6 million rounds of ammunition on September 29, 2016. Official sources said the MoD now aims to 'fast-track' the long-delayed CQB procurement for the Indian Army via an 'empowered committee', within the next 12-14 months. But the request for proposal (RFP) for the same quantity of carbines and ammunition, likely to be dispatched by early 2017 will not include reflex and passive night sights and visible and invisible laser spot designators that will be acquired separately.
The original procurement, for which the Israel Weapon Industries (IWI) ACE carbine was shortlisted along with the rival Italian Beretta's ARX-160 model following the 2011-14 trials, was terminated following differences over the weapon systems sights and irregularities in the evaluation process. The MoD's Directorate General of Quality Assurance (DGQA) had certain objections which scuttled the procurement process.
The proposed CQB carbine RFP is expected to be on the same lines as the earlier one in which the carbine was required to weigh less than 3 kg, fire 600 rounds per minute to a distance of 250-300 metres and be capable of operating in extreme cold and hot temperatures. It would also need to be fitted with a Picatinny rail for the sights, which would be procured separately, and multipurpose detachable bayonets. The weapons will be acquired under the Defence Procurement Procedure (DPP) 2016 'Buy and Make' category. The selected CQB vendor would be required to transfer technology, in all likelihood, to India's state-owned OFB to licencebuild some three to four lakh carbines. These would equip the Indian Army's 359-odd infantry battalions and its 66 specialised Rashtriya Rifles or counter-insurgency units and eventually India's paramilitaries and provincial police forces.