The Nation's military prowess and achievements in different fields, state-of-the-art defence platforms, its diverse cultural and social traditions, and the government's emphasis on self-reliance and indigenisation were showcased before the public at the historic Rajpath when the country celebrated its 68th Republic Day on January 26, 2017.
The parade ceremony commenced at the Amar Jawan Jyoti at India Gate where the Prime Minister Narendra Modi paid homage to the martyrs by laying a wreath. As per tradition, after unfurling the national flag, the national anthem played with a 21-gun salute. The parade then commenced and the President Pranab Mukherjee took the salute. This year's chief guest at the parade was Sheikh Mohammed bin Zayed Al Nahyan, the Crown Prince of Abu Dhabi and Deputy Supreme Commander of the United Arab Emirates (UAE) Armed Forces.
The highlights of this year's parade were a 149-member UAE Presidential Guard, the Air Force, the Navy and Army contingent. For the first time a contingent of the National Security Guard (NSG), popularly known as the Black Cat Commandoes, marched, past the Rajpath. The parade also saw the fly-past of three LCA Tejas aircraft and the Airborne Early Warning & Control System (AEW&C) developed by DRDO.
The Indian Army's missile firing capability, T-90 'Bhishma' tank, infantry combat vehicle BMP-2K, mobile autonomous launcher of the BrahMos missile system, weapon locating radar 'Swathi', Akash weapon system, CBRN reconnnaisance vehicle and Dhanush gun system were the main draw in the mechanised columns. The marching contingents of Army included horse-mounted columns of the 61st Cavalry, the Machanised Infantry Regiment, the Bihar Regiment, the 39 Gorkha Training Centre, 58 Gorkha Training Centre, the Madras Engineering Group and Centre and 103 Infantry Battalion (Territorial Army) Sikh LI. The parade was commanded by Lt General Manoj Mukund Naravane, General Officer Commanding of Delhi Area. Major General Rajesh Sahai, Chief of Staff, Headquarters, Delhi Area, was the parade second-in-command.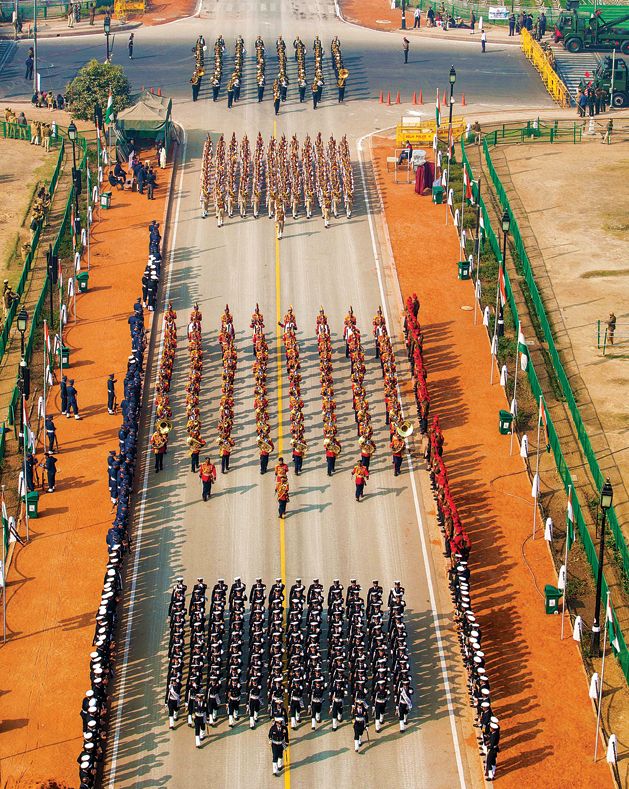 Various contingents marching down Rajpath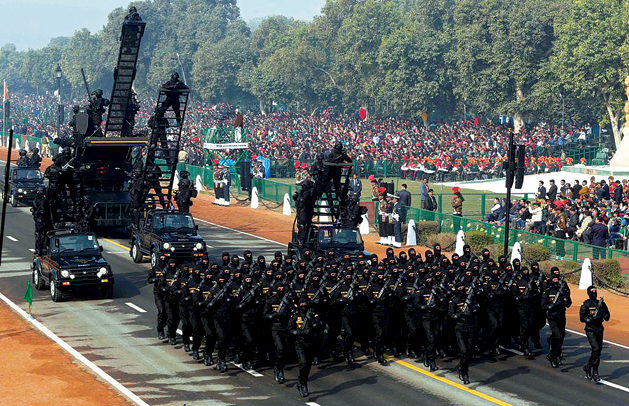 The National Security Guard (NSG) marching contingent debut at the Republic Day parade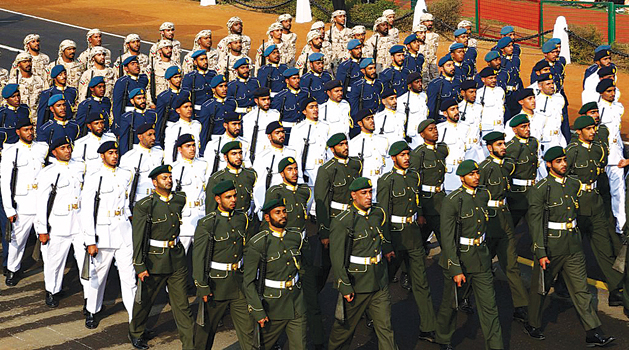 Contingent of the UAE Armed Forces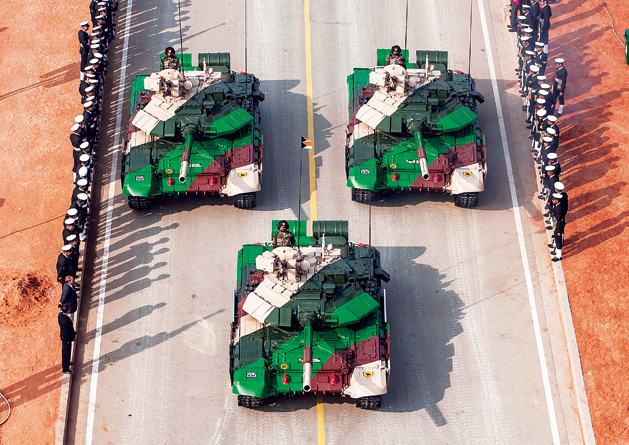 T-90 Bhishma tank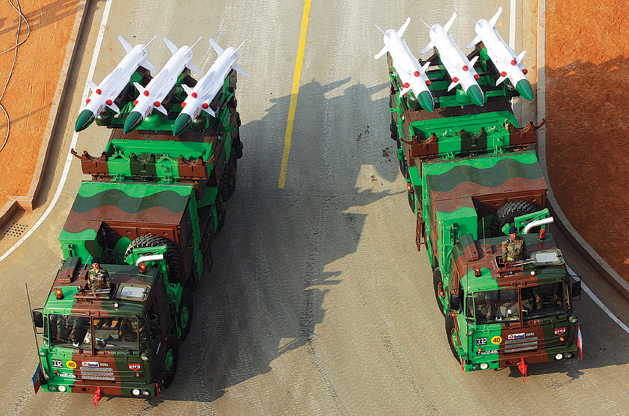 Akash launcher systems