The standing Committee noted that allocations made for the Services are "not supportive to the inevitable needs of the Army, with "huge deficiencies and obsolescence of weapons, stores and ammunition existing in Indian Army".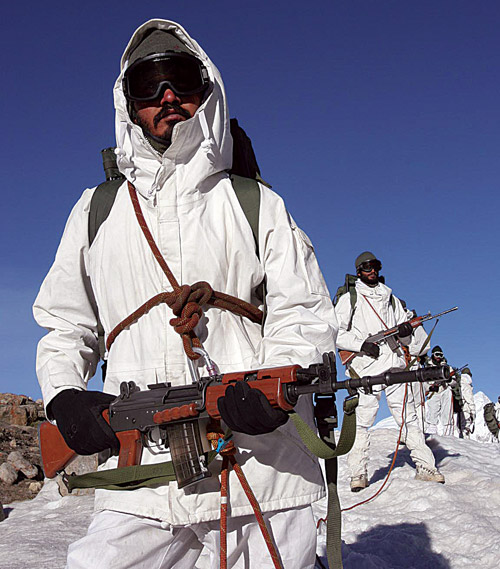 Indian Army soldiers on Siachen Glacier
The public was shocked to readmedia headlines on March 14 like 'DEAT H BY BUDGET: Is This Indian Army's Angriest Report to the Government?', referring to the 41st report by the Parliamentary Standing Committee on Defence presented to Parliament on March 13, 2018, which lambasted the government for inadequate defence budget allocations. The news report brought out reasons why Army is distraught: 21,338 crore for modernisation insufficient to cater for 29,033 crore committed payment of for 125 on-going schemes, emergency procurements, 10-days intense fighting ammo and other DGOF requirements; 4.5 per cent increase in revenue allocation consumed in 7th CPC implementation; balance over just 3 per cent doesn't even cater for inflation – adversely affecting routine maintenance, emergency procurements and ammunition for war; additional burden of 5,000 crore on account GST not catered; some on-going schemes may have to be foreclosed and no money for 23 new schemes; MoD delegated financial powers to VCOA S and sanctioned 1487 crore for beefing security of camps and posts but no separate budget allotted; even with reprioritising total shortfall 21,578 crore (12,296 crore for capital and 9,82 crore for revenue).
Indictment by Parliament's Standing Committee on Defence
The Standing Committee indicted the government on all the above-mentioned issues (part of Army's 13-page input), the most scathing observations with respect to Army's equipment being: 68 per cent is vintage; about 24 per cent current, and; only 8 per cent state-of-the-art. The standing Committee noted that allocations made for the Services are "not supportive to the inevitable needs of the Army, with "huge deficiencies and obsolescence of weapons, stores and ammunition existing in Indian Army". The Committee also pointed out that 2.84 per cent in the Navy's budget would not even cater to inflationary pressure-maintaining requisite armament level and emergency procurements would require more funds, and; shortfall of 6,440 crore in revenue budget of the Indian Air Force is likely to impact operational preparedness, ability to procure spares and fuel, apart from leaving gaps in training program, serviceability of older systems and provision of basic amenities to Air Force personnel.
Periodi Indictments
This is not the first time the Standing Committee has indicted the government. The Committee has been putting forth the state of affairs periodically. In its report tabled in Parliament on March 9, 2017, it had slammed Government for its adhocism, casual and lackadaisical approach saying it would adversely affect the country's defence preparedness as well as morale of armed forces. Highlights of this report included: in terms of modernisation demands for FY 2017-2018, Army, Navy, and Air Force have only received 60 per cent, 67 per cent and 54 per cent respectively; only 86,488 crore earmarked for modernization from the total defence outlay of 2,74,000 crore – what makes matters worse is bulk of this capital will be used to pay "committed liabilities" of earlier arms contracts instead of new projects. The Committee asked the government to allocate additional 13,000 crore for defence in the current financial year ending Marh 31, 2018, but nothing has been allotted.
Critics on Social Media
There is criticism on social media why the Army is cribbing now and why such issues not raised during the UPA II. But the political hierarchy and MoD bureaucrats are fully apprised of the criticalities through periodic written reports, in addition to briefings during the Unified Commander and Army Commander- level conferences every six months. General V.K. Singh, then Army Chief 's letter Prime Minister Manmohan Singh in 2012 described critical voids of Army? V.K. Singh was not the only Service Chief who wrote to the Prime Minister, many others did similarly. Neither V.K. Singh's letter nor current inputs to the Standing Committee was given to the media by the Army. But who would know better than the present Defence Minister in her former avatar as MoS (Commerce and Industry) with website of the Ministry of Commerce and Industry showing till late 2016 that 50 per cent of Indian Military defence equipment holdings were 'obsolete'.
Negative Defence Budgets
Defence Budget for 2018-2019 at 1.58 per cent of GDP is the lowest since 1962. The purported increase over previous year in all budgets under NDA II have been 'negative' in actual terms without catering for inflation and abovementioned associated issues. It may be recalled that defence allocation for FY 2015-2016 and FY 2016-2017 were same 2,46,727 crore. Media was quick in calling the allotment of 2,74,114 crore for FY 2017-2018 as a 6.2 per cent hike. But it was naïve to not view this defence allocation in backdrop of the rupee depreciation and yearly inflation rates of defence procurement. It may be noted that defence allocation of 2,46,727 crore in fiscal 2015-2016 also stood at $40 billion, while 2,46,727 crore in last fiscal (2016-2017) went below $40 billion in actual terms. As to surrender of funds, reform announced 'Roll On' plan for fresh acquisitions to overcome 'surrendering' funds at the end of every FY is misnomer, as it still leaves loopholes.
Relevance of Standing Committee on Defence and Debating Defence Allocations
The Chairman of the Parliamentary Standing Committee on Defence, General Khanduri is from BJP, but it is an All Party Committee, which needs to be taken seriously. There were some serious TV debates on evening of March 13, where government was represented by young spokesperson trying to defend defence allocations sheepishly. It would be appropriate for the Defence Secretary and Finance Minister to justify recurring poor defence allocations. The Finance Minister has been arbitrarily capping defence budget projections, without considering operational imperativs, as pointed out by Standing Committee on earlier occasion. The Defence Secretary (not Defence Minister) continues to be charged with defence of India under Allocation of Business & Transaction Rules Act 1961, which has not been changed for dubious reasons.
Why Poorly Equipped Armed Forces?
Not only is the MoD without any military professionals, an internal inquiry in MoD found: 'Make in India' floundering, entire weapons acquisitions process badly broken and beset with huge delays, with only 8-10 per cent of 144 proposed deals in the last three FY fructified within the stipulated time periods; average time taken by 133 schemes 52 months (more than twice the laid-down time-frame) and average time taken to clear files "120 weeks" (2.3 years) against stipulated 37 weeks by MoD in 2016. This was part of presentation by Dr Subhash Bhamre, MoS (Defence) to Prime Minister Modi in end 2017. The presentation pointed out: tendency to find faults rather than facilitate process; entire 'Make in India' policy in defence production sector continues to languish due procedural delays, without taking off in any concrete manner; arms procurement process dogged by multiple and diffused structures without single-point accountability, duplication of processes, avoidable redundant layers doing the same thing again and again, delayed execution, no real-time monitoring and no project-based approach.
DRDO's focus should be future technologies but instead is on commercialisation
Dr Bhamre's presentation also contended more than a year after the new Defence Procurement Procedure (DPP) pushed for domestic defence manufacturing, acquisitions under the Buy and Make in India category still take longest to fructify, while least time is taken in Buy Global category. The presentation projected that Armed Forces continue to view MoD's Acquisition Wing "as an obstacle rather than a facilitator" and pointed to the need for a "tectonic change" in mindset of the ministry's officialdom, also stressing that the tendency to accept delays should be unacceptable. MoD contacted by media could not elicit any response from MoD officials because the presentation is a tight slap on face of the MoD with all the noise of having simplified procedures every year and despite the Prime Minister's push for 'Make in India'.
What Dr Bhamre may not know is that these procedural delays are 'deliberate', intended to create criticalities and facilitate imports for money making. That is the very reason the Buy Global Category always has smooth sailing. Sponsored media accuses Armed Forces of favouring foreign armaments but every decision for weapon/ weapon-system procurement is taken by MoD. More importantly, the qualitative requirements (QR) if changed, is done 'by MoD' with the gun fired from the shoulder of the concerned service. Decisions are also manipulated. Moreover, this state has persisted in MoD right since Independence – past 71 years.
FDI in the defence sector from 2014 to December 2017 was measly 1.17 crore compared to the overall FDI inflow of 3,86,885 crore in the country only during 2016-2017. As per SIPRI, India continues to be largest arms importer having spent $100 billion plus in last 10 years, with defence imports gone up 24 per cent during 2013-2017 compared to preceding five years. Ironically, this is the state despite the sprawling governmental defence-industrial complex comprising DRDO-DPSUs-OFs. To top this, CA G reports over the years have been pointing massive across-the-board corruption, 30 per cent indigenous defence equipment sub-standard and excessive costing. This, despite Joint Secretary-level officers of MoD and Department of Defence Production (DoDP) on all boards of DRDO, DPSUs and OFs. The future, therefore, may even be bleaker.
Army jawans are short of requisite small arms, surveillance means, communications, and protection and survival equipment. Camps and installations continue to be without adequate protection despite heightened proxy war. There is need to augment artillery, armour, air defence, anti-tank capability, helicopters, induct drones. Ammunition needs to be built up. Army's Battlefield Management System (BMS) pursued for 13 years has been foreclosed for lack of funds. Other information systems like Battlefield Management System (BSS) and Command Information and Decision Support System (CIDSS) are crawling at snail's pace. The Tactical Communication System (TC S) required 20 years back is still not in place. Border infrastructure continues to be in poor state as seen during recent Chinese intrusion in Tuting area. Most tanks and infantry combat vehicles are not fit for NBC environment due to non-availability of particular type air filters and rubber seals. Procurement of new ICVs has just been cleared but execution may take years. The FICV project is yet to be cleared. The MoD-DRDO nexus has not permitted private sector participation in defence sector to come up the way it should have. The Dhirendra Singh Committee had recommended Strategic Partnership purely for private sector, but the DRDO is coming into every project through the backdoor because of MoD. DRDO's focus should be future technologies but instead is on commercialisation.
Security of Camps and Installations
Post the terrorist attack on IAF's Pathankot base in January 2016, the governmentappointed Phillip Campose Committee submitted its report to MoD in May 2016, pointing out gaping holes in security and asking for funds besides other measures. These should have been met on "emergent basis" but after many more terrorist attacks, it finally took the terrorist attack at Sunjwan Army Camp on February 10, 2018, that expenditure of 1,487 crore was approved, with Defence Minister demanding completion within one year, without allotting any funds. The Finance Minister says periodically there is no dearth of finances for Armed Forces but simultaneously caps defence projections arbitrarily without considering operational imperatives.
Security Environment
Aside from the crying need for military modernisation and making up critical deficiencies, operational requirements indicate expanding China-Pak nexus resulting in heightening proxy war against India. China's PLA has made strategic lodgment in Gilgit-Baltistan with the CPEC and Gwadar port. Nepal, Maldives and Sri Lanka have opened their arms to China. China supports Pakistani radicals at the UN, has occupied North Doklam and its state media threatens China can destabilize our northeast if India pressurizes Pakistan in Kashmir. With our poorly equipped military, China will likely make intrusion, especially in Arunachal Pradesh where our border infrastructure is weak. There is perception building there will be no conflict, forgetting the maxim 'if you want peace, be prepared for war'. Army Chief General Bipin Rawat said at Vivekananda International Foundation on March 13, 2018, "Chinese have finally arrived... They did not forget that military power should rise simultaneously with the economy. That is why they stand strong today in the international world order, challenging the might of USA…. There is a belief (in India) that the defence expenditure is actually a burden on the state. They believe that whatever is put in defence it is something that comes without any returns. I want to dispel that myth. If your economy has to rise, your military power has to rise simultaneously to deter potential adversaries."
Defence Budget India Needs
The Long-Term Integrated Procurement Plan 2012-2027 approved by government and the 12th Five Year Plan were based on defence allocation at 3 per cent of GDP but the allocation of defence has always been much below. When Charles de Gaulle became French President in 1959, France was militarily weak. De Gaulle ensured French Defence Budget remained greater than 2 per cent-touching 5 per cent of the GDP, resulting in France emerging as a militarily strong power. Current French military expenditure is 6.2 per cent of GDP. India needs a sustained defence allocation of 3-5 per cent of GDP for the present and coming years, in addition to allocations catering for inflation and associated expenditures.
Pre-Budget Delibrations
Lastly, In the US, all Theatre Commanders and Commander SOCOM make pre-budget presentations to a Congressional Committee; covering present operational capabilities, funds requested given those funds what their future operational capability would be. It is the Congressional Committee that projects budget requirement to the Congress. India needs to institutionalise Parliament's Standing Committee on Defence in the loop similarly. The Standing Committee should project budget requirements to the government with operational justifications. This would streamline the defence allocations replacing current ad-hoc arrangements.