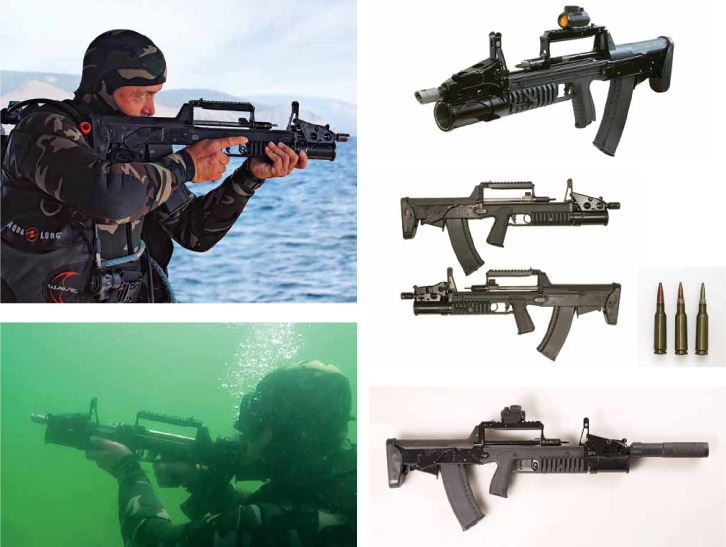 Combat diver units appeared in our country in the latter half of sixties. In 1967 an Inshore Undersea Warfare Unit was organized (IUWU) at the Black Sea fleet. The reason for this was active foreign development work on regular combat diver units to perform commando-type reconnaissance operations. Fresh in the memory was the wreck of the Novorossiysk battleship happened in the bay by Sevastopol on 29 October of 1955. Although assumption of sabotage was least probable (even now), to write off such danger was impossible. The divers of counter underwater warfare support required a weapon capable of undersea firing.
The 5.66-mm APS assault rifle and 4.5-mm SPP-1 pistol designed for this purpose are of particular interest in the range of underwater weapons due to unusual engineering solutions.
Despite the advantages of the systems, a significant shortcoming with them is ineffectiveness when firing on land. In addition, it must be noted that life of the APS assault rifle when firing on land is just 180 shots. Therefore, special forces going on a combat mission both underwater and on land, had to take two weapons: undersea for water and regular for surface combat.
Modern marine special forces are multifunctional because they mostly comprise universal combat divers capable of performing any tasks: underwater sabotage in enemy's seaports, protection of water areas against enemy underwater swimmer saboteurs and while doing so, act as normal scout saboteurs on land. Russian and foreign experience of using by such units confirms that they fulfill their tasks on land in 80 – 90 % cases. Therefore, such units required to have special multipurpose (underwater and above water) in-service weapon, a sort of universal amphibious rifle. Its firing effectiveness (accuracy, grouping, armour penetration), however, must equal the 5.45-mm AK-74 assault rifle on land and 5.66-mm APS assault rifle under water.
In 2007, KBP Subsidiary TsKIB SOO completed its development work on the 5.45-mm ADS special amphibious assault rifle, designated as ADS that solved the problem of firing under and above water.
The objective of developing the ADS assault rifle was to create a special amphibious assault rifle and special underwater cartridge to replace the in-service APS assault rifle as a combat weapon for special forces of the Russian Navy.
The assault rifle is designed for enemy manpower engagement and fire weapon neutralization:
on land – when firing assault rifle with any standard 5.45 x 39 mm cartridges and underbarrel grenade launcher with standard 40-mm VOG-25 and VOG-25P rounds;
under water – when firing special underwater 5.45 x 39 mm cartridges.
It was made possible by developing a new underwater cartridge with the same overall dimensions as standard land cartridges.
The ADS special amphibious assault rifle with integrated underbarrel grenade launcher features bull-pup layout that enables shorter assault rifle length in comparison to conventional layouts (with the same barrel length), enhanced manoeuvrability, better balance and eliminates unfolding/folding of the buttstock.
Forward ejection of fired cases with sealed receiver reduces gas contamination at shooter's face, prevents from injuring by a case when working in a group, also (unlike sideward ejection) makes it possible to fire by a left or right-handed shooter without swapping any parts.
Use of impact-resistant plastic, special materials and coatings contributes to enhanced corrosion resistance and lower weight of the weapon.
A gas regulator added to the gas system enables to switch between "water" and "air" gas operation.
At present, the ADS assault rifle is being tested by marine special forces subunits of the Northern, Black Sea and Pacific fleets of Russia. It has been positively evaluated by the units employing it for its versatility and compact size.
For the first time in global practice, one weapon allows the combat diver to perform missions under water and on land.
The advertorial is based on article of V.I.Bolotnikov and B.A.Volkov