Interview with Mahendra Nahata, Managing Director, Himachal Futuristic Communications Ltd (HFCL)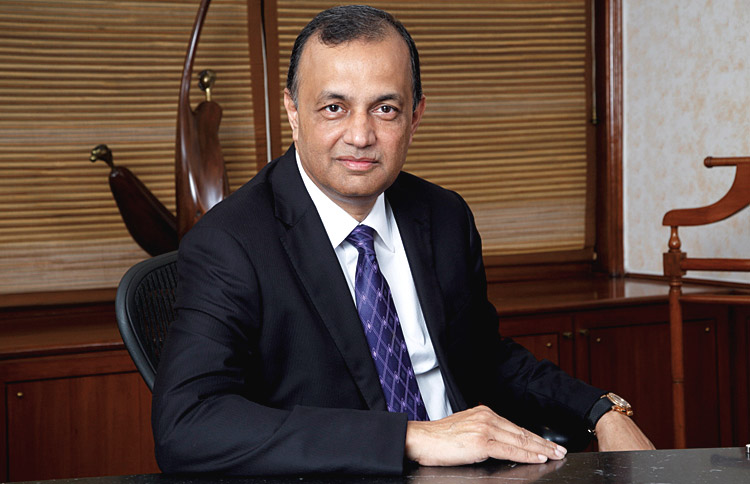 SP's Land Forces (SP's): Can you give brief details of your company's profile?
Mahendra Nahata (Nahata): HFCL is a leading telecom company in India, both in the field of manufacturing and telecom infrastructure. In the manufacturing segment, our offerings range from wireline/wireless products, Optical Fibre Cable and Intelligent Power Systems. In the field of telecom infrastructure, the Company provides end to end solutions to telecom service providers both in public and private sectors. We have implemented several Greenfield telecom projects in the past, including setting up of wireless networks, satellite communications, wireless spectrum management, DWDM optical transmission network, etc.
We provide end to end infrastructure solutions to its Customers, from designing to development, execution, integration and maintenance of networks. The Company is uniquely positioned to contribute to Government's major initiatives towards pan-India connectivity through 'BharatNet – National Optical Fibre Network (NOFN)' and 'Rural Wireline Broadband Scheme' programmes. Our solutions are well accepted and recognised both nationally and internationally for quality, robustness and cost competitiveness. The Company has secured a number of orders from defence sector that include installation of pan-India backbone networks in remote borders and island territories.
In addition, the Company has now commenced development, indigenous manufacture and supply of critical equipment and surveillance systems for security forces, Homeland Security, Railway Communications and Smart City Projects.
HFCL is the second largest producer of Optical Fiber Cable in the country. We manufacture about 2,25,000 km of cable each year and export to over 45 countries in Europe, South America, Africa, Middle East, South and South East Asian countries. HFCL recently added another Optical Fibre Cable manufacturing unit at Chennai and is setting up a basic raw material, 'Fibre' plant at the Fab City, Hyderabad. The Fiber unit shall have an annual capacity of 6.4 million fibre kilo metres. The new manufacturing facility will strengthen our optical fibre cable business with capacity, capability and market expansion.
SP's: HFCL has acquired a wide range of commercial licenses to manufacture products ranging from electronic components, communication equipment, radars, aircrafts and helicopters. What is your strategy to manufacture these products?
Nahata: We had decided on a full-fledged entry into defence industry as part of our diversification strategy in the year 2014. Leveraging the strength in telecom manufacturing, infrastructure end to end solutions and strong project management, HFCL is actively participating in Government of India's 'Make in India' initiative. As per the vision of present Government, Defence industry is the centrepiece of 'Make in India' programme. We are committed to participate in emerging eco-system in the country to meet the indigenisation effort and manufacture equipment of global standards. Our soldier should be equipped with the state-of-the-art weaponry and equipment to meet the challenges of the security environment in the subcontinent. Our efforts are aligned with the policy framework of the Government and are optimistic of carving a sizeable defence manufacturing business for our Company. To achieve this, we are forming new strategic partnerships and joint ventures with global OEMs.
In the last two years, through collaborations and joint ventures with global OEMs, we are in the process of manufacturing technologically superior and essential equipment for our Defence Forces that include Opto Electronics equipment, Electronic Fuses, Radio Communication and Unmanned Aerial Vehicles (UAVs).
"Leveraging our above strengths, we are well positioned to work collaboratively with international technology majors to design and manufacture cost efficient products for Indian industry. With this backdrop, we are confident of delivering state-of-theart technologies and unsurpassed equipment vide 'Make in India' programme.
In addition, we are actively pursuing the Border Management and Surveillance System due for implementation by the Indian Government and have signed an MOU with a French MNC as our Technology Partner for Portable Opto Electronics to manufacture a wide range of Portable Night Vision Devices. Our solutions are customized as per the terrain requirements in India. Also, a facility for manufacturing of Opto Electronics equipment is underway to fulfil our vision of transforming India into a net exporter of defence equipment.
SP's: What are the defence products HFCL manufactures and are they in service with the defence forces?
Nahata: HFCL has made entry in four fields, namely Opto Electronics, Electronic Fuses, Radio Communication and Unmanned Aerial Vehicles (UAVs) to actively support Government's indigenization program. Some of our equipment has been technically tested by Defence Customers and is approved. We have responded to a number of RFPs in above mentioned domains and expect our equipment to be introduced in the Defence services very shortly.
SP's: Can you give some details of Projects implemented by HFCL in Northern Command and 'Network for Spectrum'?
Nahata: HFCL commissioned a turnkey microwave network in the Northern Command to provide vital communications to the Field Army operating on the Line of Control. The project was executed in the Counter Insurgency environment. The network comprised of 24 links and extended from Nagrota to Poonch all along the Line of Control. It provided the mainstay communication for the troops fighting insurgency in the state of J&K. This network is functional till date. In addition, the Company executed a satellite based project in the mountainous terrain of Ladakh to provide VSAT based reliable communications to remote posts in High Altitude regions where landline communications are prone to frequent disruptions.
In 2013-15, HFCL executed Optical Fiber layout for Defence Forces in the Central region as part of project 'Network for Spectrum' (NFS) on behalf of TCIL.
In 2014-15, the Company bid for pan-India NFS projects and is presently executing these projects on pan-India basis, in the remote undeveloped corners of the country including high altitude areas. These projects are most challenging, keeping in view the difficulties of the harsh terrain and the SLAs.
The other major projects on our horizon are Cellular CDMA, MINT, AWAN 2, HCR and remaining projects of NFS. We have already technically qualified on the AWAN 2 project.
SP's: What OEMs – both Indian & Foreign – you plan to have strategic partnership under the 'Make in India' initiative?
Nahata: Defence communication infrastructure projects are complex and challenging, involving multifarious systems for switching, graphic displays, processing, test, power and environment equipment. A large quantity of these equipment are indigenous, but yet a substantial component is imported. HFCL is making all possible efforts to follow the Preferential Market Access (PMA) policy of Government of India and ensure minimal import content. However, at this stage, some of the equipment has to be imported. For the imported content, we have partnered with major global OEMs and are simultaneously interacting with them to transfer technology to the country, for indigenous manufacture.
SP's: Does your company have designing, research and development capability, skilled manpower and infrastructure to match the 'Make in India' vision?
Nahata: In the past 30 years, HFCL has successfully manufactured wireless/wireline equipment with ToT from several leading global OEMs. Today, HFCL is fully equipped to absorb most sophisticated technologies. In addition, HFCL has acquired in-house expertise in design, development, planning and execution of complex projects.
The skilled manpower on permanent rolls of HFCL has vast experience in handling state-of-the-art technologies. We have extensive tailor-made training program to skill the dedicated teams for handling and exploiting inducted technologies. In addition, the company has formed a Defence Team comprising of competent experts with over 30 years of experience in defence, as a guiding force for understanding peculiar requirements of the Defence Forces. Through our network building and execution knowledge, we understand the criticality of functions under extreme terrain and harsh operational conditions. Human resource coupled with strong EPC (engineering, procurement and construction) capabilities, in-house power management and strong project execution skills, makes HFCL suitable to compete for the 'Make in India' programmes.
Leveraging our above strengths, we are well positioned to work collaboratively with international technology majors to design and manufacture cost efficient products for Indian. With this backdrop, we are confident of delivering state-of-the-art technologies and unsurpassed equipment vide 'Make in India' programme.