MTV Roadies winner goes down the memory lane with his experiences in the cantonment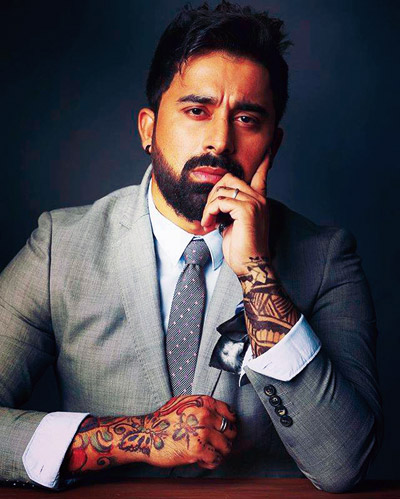 Though actor Rannvijay Singha may not have carried on his family legacy of joining the forces, he still thinks fondly of his days spent in the cantonment. With six generations of family in the defence forces, including his dad Lt General Iqbal Singh Singha, Rannvijay says, "I was actually a boarding school child after the 8th standard. But I remember dad's Samba (Jammu & Kashmir) posting because I was still living with them at the time. We were staying about eight kms away from the Line of Control and I had a very 'Famous Five' kind of a life. We used to get on the cycles, go to the river, then the mango orchard or go pluck berries...it was an amazing life."
Of DMS Boots and Croquet Parties
Rocking the chunky, very punk-rock DMS boots is something most defence progeny aspire too. And, the former Roadie earned his pretty early. "I had my first DMS when I was going into the 7th standard, I think so, because my dad's in the Infantry and everyone was wearing DMS, so I got them really early," he says. In the Capital to host the firstever sneaker festival, Soledition, with his pal Siddharth Pal, the actor even gave a tried and tested tip to break into your DMS boots. He says, "DMS actually means double moulded shoes and are something that all the army people wear for almost everything. When I got mine, I did what all the guys used to do - you got to wet it and put your feet in it for like five hours. It takes the shape of your foot, so you can do anything you want. But you can't play a lot of specialised sports in it like basketball."
And though, it's been a while since he lived the life out of an Enid Blyton book, Singha still has fond memories of the Officers Mess parties, the unit picnics, croquet matches, dart throwing competitions and the works. "Later on, when I grew up, I felt blessed that we had so many opportunities to actually do whatever we wanted...like 'Oh you want to go rock-climbing? Just go to the uncle posted in Siliguri' or 'Wanna play basketball? Just go to the RajRif, the team is practicing, just practice with them'. Playing tennis, golf, going for a swim...the kind of infrastructure we had as an Army officer's kid is unbelievable. I really value that," he says.
Almost Got the Maroon Beret
The first-ever winner of the insanely popular reality show, Roadies, in 2003, Singha's original plan was to follow his dad's footsteps. And, he was almost on track with that too having cleared the SSB, qualified for the IMA as well as the OTA . But then, he took two months off to win his favourite motorbike in a television show and never looked back. And, clearly he has thought about the what-ifs too.
"I would have loved to join the Rajputana Rifles, like my dad, but the debate was that my Chacha is from Grenadiers and dad's really close family friends were from Guards, Arty, Armoured this and that. They were all arguing over which regiment I would join. I would have loved to join my dad's regiment unless of course, if I had got through to Para (Parachute Regiment), which I would have...," he says.