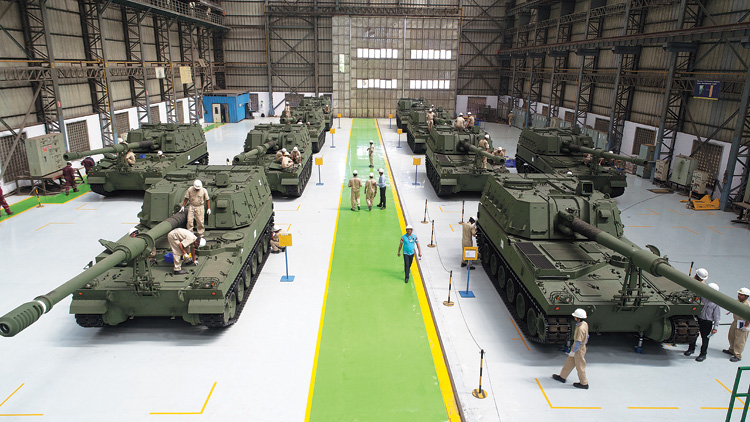 K9 VAJRA-T, 155mm/ 52 Cal Tracked Self Propelled Guns at L&T's Hazira facility
Artillery is inarguably the most lethal form of land-based armament currently employed. Today India has made significant progress in the field of indigenous Artillery with the complimentary skill sets of public and private sector enterprises.
Larsen & Toubro (L&T) is the Indian Artillery's biggest partner for equipment supply. The Company is executing orders for 100 Tracked SP Guns K9 VAJRA-T, 6 Regiments of Pinaka Launchers with Command Posts and 100 Grad BM 21 rocket launcher upgrades. L&T is building a state-of-the-art Armoured Systems Complex at Hazira (Gujarat) equipped with test track and obstacles to evaluate gun system mobility.
The Company has invested many years in R&D and both with DRDO as well as independently, and has developed various technologies for Artillery Systems. L&T has introduced technologies like the all-electric drives, ganged electro-mechanical actuator systems, silent watch capabilities in its rocket launch systems like the Pinaka and the Grad BM-21 Upgrades. Leveraging its indigenous design, development and production capabilities, L&T has effectively adapted worldclass artillery weapons for the Indian environment. A typical example is the K9 VAJRA – 155mm/52 calibre gun system which had fourteen (14) indigenously developed critical systems like the Fire Control Systems, Direct Fire System, Ammunition Handling System, etc. even at the user evaluation phase. L&T has also developed and implemented various other systems like the Auxiliary Power Packs, Air-conditioning Systems, Fire Fighting Systems, NBC Protection Systems, Ammunition Handling Systems, etc., as per specific requirements of Indian Artillery.
L&T has also successfully developed the complete Undercarriage Systems for 155mm/52 calibre towed artillery guns. Such systems include very high power density power packs, suspension cum retraction actuators for deploying the guns, various critical but light weight structures like the trails and other structures. These indigenous developments have successfully completed qualification and user trials, thus affirming L&T's indigenous development capability.
With its experience and capabilities, L&T is ready to support the Indian Artillery with custom- built Artillery solutions like the mounted guns or ultra-light guns, extended range multi-purpose rocket launchers, guided rockets and tactical UAVs.

Contributed by L&T