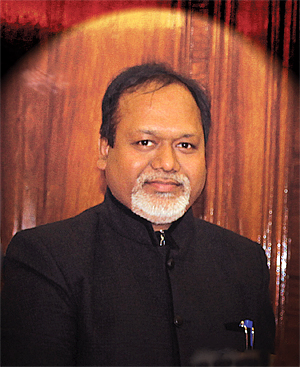 The lead article in this issue is an interview with the Director General of Artillery, Lt General P.K. Srivastava on the occasion of the 191 Gunners' Day on September 28, 2018. It is to commemorate the raising of the first Indian Artillery Unit, 5 (Bombay) Mountain Battery on this day in 1827. He started by explaining the changing role of Artillery from 'Neutralising to Degradation or Destruction'. Neutralising the enemy aims at basically restricting his observation and hampering his mobility for a limited period of time which can be achieved by inflicting approximately 15 to 20 per cent casualties. Degradation or destruction on the other hand, aims at causing 50 to 60 per cent or more casualties to the enemy forces and equipment making them useless for a protracted period of time. This shift has risen out of the need to win battles while minimising physical contact. He then expounded on the Field Artillery Rationalisation Plan which was first perceived in the year 2000 wherein, medium guns with 155mm calibre were made the standard gun system.
This lead to mediumisation of artillery, which is very much on track. He stressed that they have adopted a multipronged approach wherein strengths of the public and private sectors have been leveraged along with limited procurements from foreign agencies to usher in state-of-the-art technology. This has lead to the successful procurement of gun systems like 155mm/39 calibre ultra light howitzers from US and 155mm/52 calibre tracked (self-propelled) artillery guns from L&T. The article titled 'More Muscle for Artillery' gives out the status of the modernisation of Artillery.
Indian Army has always strived to reduce the 'tooth to tail ratio' and there have been many such endeavours in the past like the Krishna Rao Committee (named after the former Chief Gen Krishna Rao who also chaired it); Gen Joshi Committee (again named after a former chief who also headed it); Vijay Singh Committee (named after a former Vice Chief who also headed it). A large portion of India's borders are unresolved thus leading to conflict situation and the need for maintaining a large force level with adverse effect on the budget.
The current exercise being carried out by the Army presumably aims to address the force levels, organisation structures, capabilities and related shortfalls of the Indian Army with a view to optimally transform it, over a defined period, into an a lean, agile, versatile and technology enabled combined arms modular force, capable of meeting current and future operational challenges. Thus an depth analysis on the subject is included in this issue.
The other key event was the Indo-US 2+2 Dialogue where discussions were held over a wide ranging of subjects covering the geopolitical and geostrategic developments. US Secretary of State Michael. R. Pompeo emphasised that "all countries in Asia and south-east Asia can benefit from a free and fair Indo-Pacific and that will be our priority."
Image intensification is the basis of night vision thus an image intensifier is a device for increasing the intensity of existing light in the environment for an optical system to enable to operate in low-light conditions. Night vision devices would become more effective if the image intensifier and the thermal imager is combined to bring out the best attributes of both. This issue includes a feature on Image Intensifiers.
More in this issue on joint military exercises, aid to Kerala during floods and News along with flag postings.
Wish you all readers a happy Dussehra!