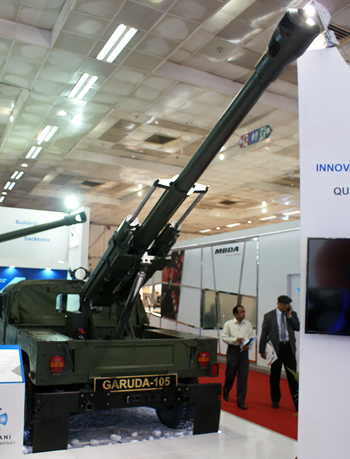 February 17, 2014: The Baba N. Kalyani-promoted Kalyani Group has managed to grab the attention of the Indian Army in a big way following its showing at the recent Defexpo show.
SP's can confirm that the company has a series of follow-on meetings with the Army over the next two-three weeks to fine-tune possible cooperation, as well as to discuss certain new unspecified requirements. The Indian Army will be doing this with other companies too, including L&T and Tata.
Interest in the private sector's capability in the field of artillery weapons is at an all-time high. Most prominent among the Kalyani Group's offerings this year was Bharat-52 155mm/52cal towed gun, that will be among the contenders for long-delayed Army requirements. Apart from the 'Project Karan' of the 130mm M46 guns to a 155mm/45cal standard, the other products being discussed included the Ultra-light Long-range howitzer (155mm/39cal) that the Kalyani Group proposes to develop and build in collaboration with U.S. firm Mandus.
The future programme, based on soft recoil technology envisages a 4500 kg gun with an assisted/unassisted range of 22.4/30 km, with an intense rate of fire of 4 rounds per minute for 3 minutes. Finally, the Army has also expressed interest in the Garuda 105 ultra-light field gun, which the Kalyani Group has called a 'paradigm shift in close support'. Once again in collaboration with Mandus, the platform is based on the 105mm Indian field gun (IFG), incorporates soft recoil technology, digital fire control, based on an all terrain vehicle with mountainous terrain manoeuverability, and adaptable for fitment on any current in-service vehicle.