Pakistan grapples with escalating attacks and regional tensions as Security Forces face massive surge in violence
| | |
| --- | --- |
| | The Author is Former Director General of Information Systems and A Special Forces Veteran, Indian Army |

Pakistan Air Force aircraft destroyed in Mianwali terror attack
News of October 2, 2023 cited a report by the Islamabad-based think tank, Center for Research and Security Studies (CRSS) which said: 57 per cent surge in violence across Pakistan; twin suicide attacks in Balochistan and Hangu in Khyber Pakhtunkhwa (KP) on September 29 alone killed at least 65 people; in the first nine months of 2023, 445 Pakistani security personnel lost their lives and 440 people were injured in 190 terror attacks and counter-terror (CT) operations; security forces accounted for 36 per cent of the 1,087 violence-related fatalities recorded in 2023 - an eight-year high; over the past five years, Balochistan and KP have witnessed a consistent and alarming increase in violence; KP and Balochistan accounted for 94 per cent of all fatalities and 89 per cent of recorded attacks.
A report by the Islamabad-based think tank, CRSS, reveals a 57 per cent increase in violence across Pakistan, with twin suicide attacks killing 65 people on September 29 alone.
A day after the twin suicide blasts on September 29, Pakistan's Army chief General Syed Asim Munir stated, "These terrorists and their facilitators, having no link with religion and ideology, are proxies of the enemies of Pakistan and its people. Our operation against terrorists would continue unabated and the Armed Forces, Intelligence and Law Enforcement Agencies shall not rest till the menace of terrorism is rooted out from the country."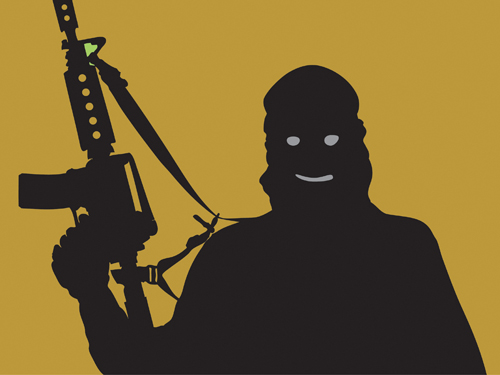 There have been continuous terror attacks in Pakistan this year resulting in significant casualties amongst civilians and security forces.
However, there is no let up in violence in the last quarter as well. Since January 2023 the number of Pakistani Army and Security Forces who have died in terror related incidents has risen to 470 plus. This has been mostly in KP and Balochistan, in addition to a few incidents in Punjab. The Tehrik-i-Taliban Pakistan (TTP) and its affiliates like the Tehreek-e-Jihad Pakistan (TJP) have been emboldened and encouraged following the Taliban takeover of Afghanistan. The TTP aims to rule Pakistan; transforming it into an 'Islamic Emirates' and imposing Sharia.
In the early hours of November 4, 2023, multiple 'suicide bombers' attacked the Pakistan Air Force Base in Mianwali in Punjab on Saturday. At least nine terrorists were killed in the retaliatory firing according to the Pakistan Air Force (PAF). Three planes parked inside the Air Force base were damaged in the attack, as also a fuel bowser, Pakistan Army's Inter-Services Public Relations (ISPR) said in a statement, adding, "A comprehensive joint clearance and combing operation is in final stages to completely clear the area." The responsibility for the attack was claimed by the TJP which has recently carried out multiple attacks in Pakistan, including killing 12 soldiers at a Pakistani military base in Balochistan in July.
In the first nine months of 2023, 445 Pakistani security personnel lost their lives in 190 terror attacks and counter-terror operations, marking an eight-year high.
Attack on the PAF Mianwali base came just a day after 14 troops were killed, when their convoy came under attack in Balochistan province. In addition, six civilians died following a targeted attack on a police van in KP, totaling 20, on November 3. The TJP claimed to have destroyed some 30 big and small aircraft at Pakistan's Mianwali Air Force Base on November 4. A senior veteran of the Indian Air Force (IAF) feels the ISPR is blatantly lying, based on his following observations:
A video showed a J-10C fighter aircraft burning in the Mianwali base.
Some aircraft are seen burning on the tarmac although how much of the tarmac is covered by the video is not known.
TJP fighters scaled the wall undetected and aircraft at Mianwali were operating from non dispersed locations.
Being a training base where the Karakoram trainers are located, there would be about 25 trainers with approximately 60 per cent of serviceability and 12-15 parked on the tarmac - very close to the point of militant ingress.
Mianwali also has a Combat Commanders School with 8- 10 aircraft, five likely parked on the tarmac.
In addition, Mianwali houses two fighter squadrons (one of JF-17s and the other converting from F7 (Chinese MiG21) to JF-17). Whether JF-17s are kept in blast pens is not known.
Arough estimate of the losses would vary from 20 to 40 aircraft damaged or destroyed.
In the aftermath of the attack on PAF's Mianwali, India reportedly deployed its RISAT-2B satellite to assess the damage caused. RISAT-2B is equipped with Synthetic Aperture Radar (SAR) and Imaging Intelligence (IMINT) capabilities. The satellite conducted a pass near the PAF base Mianwali, to capture high-resolution images of the area. The satellite's SAR has 0.5-meter resolution, enabling it to detect objects and debris, even when they are concealed or partially obscured. This indicates the importance of satellite surveillance.
The Tehreek-e-Jihad Pakistan (TJP) claims responsibility for multiple attacks, including the recent assault on the Pakistan Air Force Base in Mianwali, highlighting their increasing boldness.
Terror related incidents are continuing in Pakistan periodically, some recent ones include: Lt Col Muhammad Hassan Haider) and three Pakistani army soldiers killed in an intelligence-based operation (IBO) in the Tirah region of KP on November 7; two persons including a child died, and three injured including a woman in an Improvised Explosive Device (IED) blast in Bettani Lakki Marwat district in KP on November 8; one policeman wounded when terrorist fired on a police check post in Gul Imam area of Tank in Dera Ismail Khan on November 8; Assistant Director Inter-Services Intelligence (ISI) was injured during a kite-night intelligence operation in Manzarkhel area of North Waziristan on November 13.
In addition are the mounting Pakistan-Afghanistan tensions with Pakistan pushing back Afghan refugees across the border. Amir Khan Mutaqi, Interim Foreign Minister of the Afghan Taliban, told BBC that TTP is an internal problem that predates the Taliban regime in Afghanistan and by expelling refugees, Pakistan expects the Durand Line to be recognised as a mutual border. It is an issue beyond the control of any Afghan government and concerning the entire Afghan population. Taliban leadership has remained steadfast without bowing to any pressure, including incarceration in facilities like Guantanamo Bay and might of the US military. Afghan Taliban Deputy Foreign Minister Alhaji Sher Mohammad Abbas Stanakzai has said, "Pakistan should not force us to react because the world knows the reaction of Afghans."
Tensions between Pakistan and Afghanistan escalate, aggravated by the expulsion of Afghan refugees, as Pakistan faces internal challenges from the TTP and TJP amid economic and political instability.
Given the deteriorating relations between the Taliban-led Afghanistan government and the Pakistan government, backed by the Army, the security agencies are under pressure to deliver conclusively against TTP-TJP continued attacks in Pakistan as well as the Baloch independence fighters. That is why the Pakistan army is resorting to divert attention through unprovoked cross-border firing, infiltration bids and terrorist attacks in Jammu and Kashmir (J&K). But Pakistan appears set for increased instability and violence amid its economic woes and political instability, more so in the wake of upcoming elections.