| | |
| --- | --- |
| | The Author is Former Director General of Information Systems and A Special Forces Veteran, Indian Army |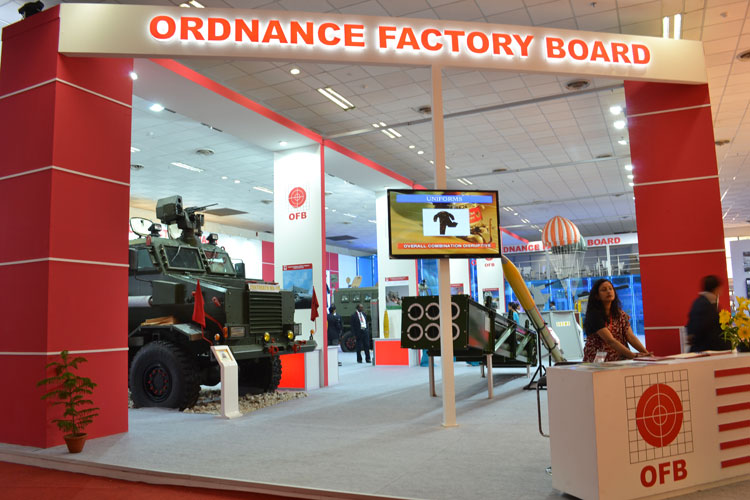 Multiple government-appointed committees in the past have suggested corporatisation of Ordnance Factory Board (OFB)
The Union Government on September 11 has set up an Empowered Group of Ministers (EGoM) headed by Defence Minister Rajnath Singh for corporatisation of the Ordnance Factory Board (OFB). Other ministers in the EGoM are the Home Minister Amit Shah, Finance Minister Nirmala Sitharaman, Minister of Law & Justice Ravi Shankar Prasad, Minister of State for Labour & Employment Santosh Kumar Gangwar and Minister of State for Personal, Public Grievance & Pensions Jitendra Singh. The EGoM is to oversee and guide the entire process, including transition support and redeployment plan of employees while safeguarding their wages and retirement benefits. The terms of reference of the EGoM include:
Decision on conversion of OFB into a single Defence Public Sector Undertaking (DPSU) or as multiple DPSUs.
Matters related to various categories of employees including protection of their salary and pension of existing employees.
Financial support that may be provided to the entity/entities to make them economically viable and self-reliant.
Grandfathering of orders already being executed by OFB or for which facilities created in OFB;
Treatment for land assets of OFB.
A statement issued by the Ministry of Defence (MoD) reads, "Consequent to the decision of the government to convert Ordnance Factory Board (OFB), a subordinate office of Ministry of Defence (MoD) into one or more than one 100 per cent government-owned corporate entities, the government has constituted an Empowered Group of Ministers (EGoM), under the Chairmanship of Raksha Mantri Rajnath Singh, to oversee and guide the entire process, including transition support and redeployment plan of employees while safeguarding their wages and retirement benefits." OFB is directly under the Department of Defence Production (DoPD) which is part of the Ministry of Defence (MoD).
It may be recalled that the Finance Minister had announced the government decision to corporatise the OFB through a TV address on May 14, 2020 when the stimulus package for rebooting the economy was made amidst the COVID-19 lock down crisis. Formulation of the EGoM instead of a committee is a good sign, which indicates government resolve to ensure corporatisation. Further, MoD has selected KPMG Advisory Services Pvt. Ltd. (Lead Consortium Member) with Khaitan & Co. Ltd. as another Consortium Member, as the Consultancy Agency for providing strategic and implementation of management consulting services to assist the DoPD in the process of corporatising the OFB. The composition of EGoM and the Terms of Reference have been communicated to the OFB and various Federations, Unions and Associations at Board/ Factory/Unit level and they have been requested to place all their suggestions, issues and concerns relating to corporatisation of OFB before the EGoM. Headquartered at Kolkata, the OFB runs 41 factories, nine training institutes, three Regional Marketing Centres and four Regional Controllers of Safety with an overall strength of some 82,000 employees. As per the parliamentary standing committee report of December 2019, the OFB's five-year order book position in June 2019 was Rs 26,487 crore ($3.6 billion) for supply of ammunition, weapons, troops comfort items and armoured vehicles.
Multiple government-appointed committees in the past had suggested corporatisation of OFB, which included: 2000 - TKA Nair Committee recommending converting OFB to Ordnance Factory Corporation Limited; 2006 - Vijay Kelkar Committee corporatisation of OFB with 'Nav Ratna' status, like BSNL, and; 2015 - Vice Admiral Raman Puri Committee recommending corporatising OFB and splitting it into 3-4 segments - each specialising in distinct area like weapons, ammunition and combat vehicles. In August 2019 also government announced the decision to corporatise OFB, following which 60,000 OFB employees struck work for a month. Similar moves also made earlier by Finance Minister Arun Jaitley were also stonewalled. Notably, the parliamentary standing committee report in December 2019 had also pointed out that nine of the Defence Public Sector Undertakings (DPSUs) including Hindustan Aeronautical Limited (HAL) and Mazagon Dock Shipbuilders Limited (MDL) have a corporate management structure though partial disinvestment has been carried out in some of them like in Bharat Electronics Limited (BEL) and Bharat Earth Movers Limited (BEML) over the past 10 years.
No doubt corporatisation can achieve efficiency and corporate accountability in the functioning of the OFB. The EGoM is tasked to convert either the factories into either a single DPSU or to split it into multiple DPSUs. But this should not boil down to simply "reorganising" the existing organisation of OFB which the bureaucracy and the workers will love. OFB has only had "patchy" success which hardly justifies the amount of funds pumped into the organisation. The EGoM needs to fully examine what successive reports by the Comptroller and Auditor General (CAG) have pointed out with respect to functioning of the OFB, like: largely sub-standard products; time delays and overpricing; endemic corruption, and; poor work culture. Denying all this is naïve because if this was not the case, the military would not be holding 68 per cent obsolete equipment and would have been equipped with at least indigenous weapons and small arms.
Above are issues that the EGoM must critically examine. Corporatisation therefore must be complete – vertically and horizontally. There is danger of corporatisation done in superficial fashion since the ministers are dependent on bureaucrats and this is what the bureaucracy will want more by design than default. That would be a tragedy.