| | |
| --- | --- |
| | The Author is Former Director General of Information Systems and A Special Forces Veteran, Indian Army |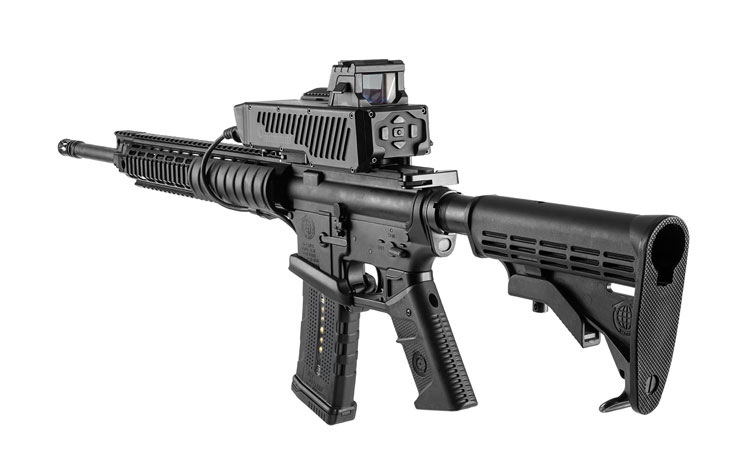 SMASH 2000 Plus
Chief of Naval Staff Admiral Karambir Singh in his annual press briefing on the eve of Navy Day in December 2020 has said that the Navy is procuring SMASH 2000 Plus as anti-drone equipment to protect against attacking drones. Media, citing defence sources, states that the Indian Navy has gone in for an unspecified number of Israeli, cutting-edge fire control systems that tackle drone threats from close range besides improving a soldier's accuracy and speed of hitting targets. The contract, awarded by the Ministry of Defence (MoD) is expected to increase operational effectiveness with quicker and more accurate strike abilities against drones.
Michel Mor, Chief Executive Officer of Smart Shooter stated on December 8, 2020, "SMASH 2000 Plus provides an inimitable hard-kill solution against the growing threats of drones, and delivers proven ability to hit any ground or airborne targets and eliminate the threat quickly and effectively. We will be happy to keep offering the Indian Military diverse cutting-edge solutions for protection against ground and aerial threats at land, air, and sea." A statement released by Sharp Shooter said it had been awarded a contract for the supply of its SMASH Fire Control Systems to the Indian Navy by the Indian defence ministry.
The contract calls for the supply of Smart Shooter's SMASH 2000 Plus fire control systems, which will be installed mainly on AK-47 and AK- 203 rifles. SMASH is a kind of electro-optic sight system. The SMASH 2000 Plus is based on the SMASH 2000 system and includes the whole feature set with an additional advanced Counter-UAS (Unmanned Aerial Systems) Mode, which provides accurate Hard Kill capability to counter the emerging drone threat. The electro-optic (EO) sight system fielded during 2019 provided a day/night rapid target acquisition capability to target small, fast-moving aerial threats such as incendiary balloons and kites. This (EO) sight system has now been upgraded to target small, moving drones from closer ranges of rifle.
Smart Shooter claims the SMASH 2000 Plus features built-in targeting algorithms that can track and hit very small drones skimming along at high speed, at ranges of up to 120 metres with the first shot. Also that SMASH 2000 Plus fully complies with the Indian needs and shall significantly improve a soldier's accuracy and speed of hitting targets and shooting down threats, hence dramatically maximising operational effectiveness. News report have not specified the number of SMASH 2000 Plus being acquired by the Navy. The cost and the time schedule for delivery too have not been given.

AK-47 and AK-203 assault rifles
Although media reports state that the SMASH 2000 Plus can be mounted on AK-47 and AK-203 assault rifles, it unclear whether the fitment requires modification to the rifle and whether the Navy is acquiring the complete weapon system as shown above, not just the EO sight. According to media, the Border Security Force (BSF) too is in talks with Israeli firms for anti-drone rifles. Apparently there are multiple issues that have not been given necessary focus at the national apex. These are discussed in succeeding paragraphs.
India has been at the receiving end of terrorism for over past three decades and this will keep growing with the China-Pakistan nexus. State sponsorship of terrorist groups also increases the likelihood of drone attacks, since states can provide the necessary equipment and training, ensuring that terrorist attacks featuring weaponised drones becomes almost fait accompli.
But significantly some terrorist groups have been mastering drone technology "without the help of state sponsors". Take the Islamic State that has successfully used drones in Iraq-Syria to conduct surveillance and reconnaissance in addition to carrying out offensive actions like dropping bombs and grenades from commercially available drones. Commercial off-the-shelf (COTS) technology can be used to lethally target individuals by the 'lone wolf' or small cells of terrorists, criminals, or insurgents effectively harnessing the tactical flexibility of a small drone to wreak havoc. There is no dearth of online videos and movies to educate terrorist on how to use unmanned systems for terror attacks.
On August 4, 2018, two drones, each equipped with a kilogram of powerful plastic explosives, were used in the attempted assassination of Venezuelan President Nicolas Maduro. Yemen-based Houthi rebels have successfully attacked the ARAMCO oil facilities in Suadi Arabia with swarm drones. Russian bases in Syria have been subjected to drone attacks by terrorist groups. Hezbollah too has been using drones. Drones played a major role in the recent conflict between Azerbaijan and Armenia in Nagorno-Karabakh.
Pakistan has been using drones to supply weapons and explosives to terrorists in India over past two years. Chinese-made drones are available to Pakistan-based terrorists. Indian intelligence agencies have recently exposed Pakistan's plan to supply weapons in terrorists based in Jammu and Kashmir and Punjab through Chinese drones. With the Pakistan-Turkey radical Islamist nexus, Turkish drones will also be made available to terrorists in the near future, if not already done.
Own intelligence agencies now warn of cross-border targeting of security forces by Pakistan using drones in J&K. But this does not mean that the hinterland is safe. Maoists have been using drones in Chhattisgarh for tracking the movement of security forces. In one instance, drones were seen hovering over a CRPF camp in the Maoist–affected Sukma district of Chhattisgarh. In future Maoists may graduate from surveillance to using drones for hitting security forces with bombs and explosives. Flights to London's Heathrow airport have been facing the menace of drones past years though these were flown by drone enthusiast, not terrorists. But the drones launched by terrorists could come in the flight path of a plane at any airports.
From the above it should be clear that we need a national-level plan to define the overall drone threat and countermeasures needed to be put in place. The Navy, BSF or CRPF individually going in for imports will not suffice. Despite the emerging drone threat over the years, what has our industry (defence and private) been doing? Why has the government not focused on the issue and given specific directions to develop counter-drone weapons like the SMASH 2000 Plus? How many such weapons will be required by the Armed Forces, CAPF and police forces? Can the EO sight be fitted as an 'add-on' on the AK-203 being manufactured in India? Similarly, can the EO sight be an add-on to the Tavor assault rifles in service with the Army without modifications? And finally, why has a counter-drone rifle not been given top priority under 'Make in India'?