SFJ's websites being managed from Karachi with assistance from Pakistan's ISI and Pakistani army veterans linked to the Khalistanis in Canada are proof of Pakistan's ongoing support to Sikh separatists
| | |
| --- | --- |
| | The Author is Former Director General of Information Systems and A Special Forces Veteran, Indian Army |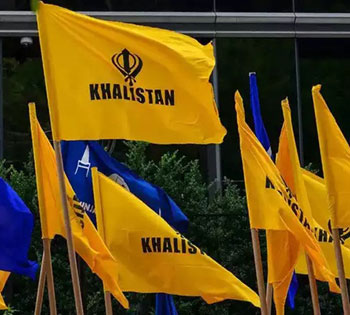 Much before Pakistan Army Chief Qamar Javed Bajwa proposed opening of the Kartatarpur Corridor at the swearing in ceremony of Prime Minister Imran Khan on August 18, 2018, the Sikhs For Justice (SFJ) office was established in Karachi with blessings of the Pakistani army, which also provided all the support to publicise SFJ's demand for a Sikh Referendum to establish an independent Khalistan. SFJ's websites were being managed from Karachi with assistance from Pakistan's ISI. The online presence of the 2020 referendum seeking secession of Punjab threw up enough traces that led to Pakistan with two websites linked – www.sikhsforjustice.org and www.2020referendum.org with https://snip.pk; browsing through SFJ and other 2020 related websites led to the snip.pk website. Bajwa's aim was to use the Kartarpur Corridor for infiltration of terrorists and weapons, which has not worked out for Pakistan.
In 2020, Pakistan formally aligned the SFJ with Chinese intelligence. Pakistan has connived with China in latter's aggression in Ladakh. On April 8, 2009 an article posted on Chinese website iiss.cn (International Institute of Strategic Studies) had called for splitting India into 20-30 pieces with China bringing into its fold counties like Pakistan, Nepal and Bhutan. According to a report by Terry Milewski of Canada's Macdonald-Laurier Institute, Khalistani terrorists have sworn their allegiance to Pakistan, who in turn is pledged to play the tune of China. He adds that the proposed Khalistan map under the 'Referendum 2020' campaign shows several part of India including Punjab, Himachal Pradesh, Haryana, Delhi and Rajasthan but no territory of Pakistan, which clearly shows that these Khalistani terrorists are nothing more than Pakistani stooges and in fact an insult to Sikhs. Milewski also says his report has exposed the Khalistan extremists and Pakistan where real Sikhs continue to suffer from forcible conversion to Islam, attack on Gurudwara, abductions and killings.
Khalistani operatives are a minority in the 6,00,000-strong Sikh community in Canada. But they do have a voice in the cabinet and administration of Justin Trudeau, because of which they have a free hand. Terry Milewski has criticised liberal nations like Canada for waiting for the Khalistani terrorists to strike and kill its citizens rather than to act pre-emptively despite past tell-tale signs of their plot against an Air India flight. Canada has a large number of Pakistani army veterans who are linked to the Khalistanis. On December 26, 2020, Khalistani separatists issued death threats to India's Consul Generals at Vancouver and Ottawa. Subsequently, death threats to the Indian Prime Minister were pasted outside the office of our Consul General in Vancouver and posted on Facebook, also stating in the manner they took care of other politicians and Indian Generals in the past. The Justin Trudeau government has finally provided protection to Indian diplomats in Canada.
Pakistan's ISI has managed to infiltrate few Khalistani elements in the ongoing farmer's agitation in India using their links in Canada and surrogates in India. The most disturbing part is that infiltration of weapons by Pakistan into Punjab has increased threefold since beginning of the farmer agitation in October 2020. This was revealed by the Chief Minister of Punjab in a meeting with the Union Home Minister, with the former telling the Home Minister that this quantity of weapons being pumped in is not without purpose. The obvious aim is to create violence and disturbances. This should be of serious concern to us, which somehow has been downplayed in the media. Ironically, cross-border activities of this nature get downplayed with the Centre and concerned State accusing each other. No doubt Pakistan has cross-border help for smuggling narcotics and weapons, but the forces guarding the international border are directly under the Ministry of Home Affairs (MHA).
Of late the Pakistani Army Chief and Prime Minister have been signaling for peace with India which are mere ruses. Infiltration attempts and ceasefire violations have gone up considerably and these are no more restricted to only J&K. During 2020, Pakistan attempted to infiltrate terrorists through Gujarat, Rajasthan and Punjab as well. Multiple infiltration tunnels have been discovered on the Indian side, which obviously are not all. The construction of some of these tunnels indicates that the Pakistani army is involved in their digging and fortification. Anti-India terrorist training is in full swing not only in Pakistan but the ISI are also training terrorist groups in Myanmar to destabilise countries in the region using cross-border terrorism. Siegfried O. Wolf, analyst of South Asia Democratic Forum in Brussels stated in August 2020 that the ISI was training Rohingyas in conjunction the Jamaat-ul-Mujahideen Bangladesh (JMB). In addition is the Arakan Rohingya Salvation Army (ARSA) which is headed by a Pakistani national and is supported and armed by the ISI as well as the Lashkar-e-Taiba (LeT) albeit ARSA was initially trained by the Tehreek-i-Taliban (TTP).
As long as the army continues ruling Pakistan directly or indirectly and puppet Prime Ministers like Imran Khan dance to the army's tune, peace with India will remain a chimera. Moreover, the army has mortgaged the territories of Pakistan to China and latter will continue to tighten its vice-like grip on Pakistan. Notably, nearly 100 Kashmiri youth who travelled to Pakistan with valid visas for short duration in last three years have either not returned or have disappeared after returning. Though mainstream media has not mentioned this fact, it indicates that Pakistan will continue its efforts to destabilise India.