| | |
| --- | --- |
| | The Author is Former Director General of Information Systems and A Special Forces Veteran, Indian Army |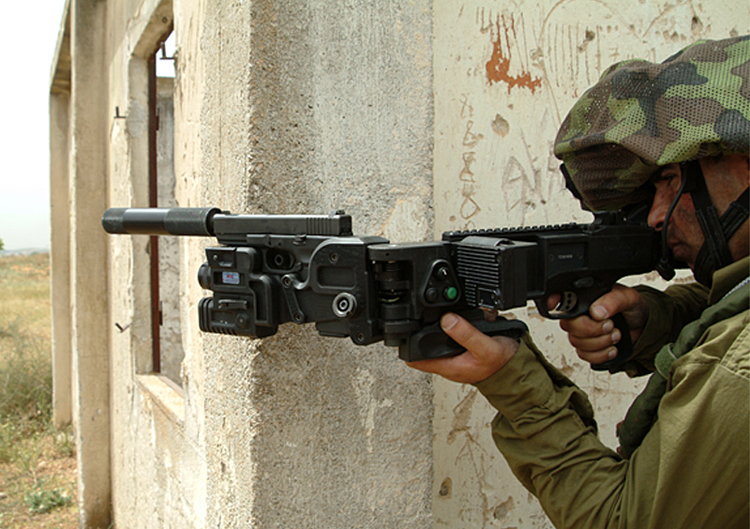 CornerShot Rifle
Media reports of June 2019 state that the Armament Research & Development Establishment (ARDE), Pune has developed 'Trikaal' CornerShot Weapon System (CSWS) which has in recent past undergone user trials by Rashtriya Rifles at the Pashan Range. Two different versions of CSWS are being developed - one to mount and fire 9mm pistol and the other as a platform for 40mm Under Barrel Grenade Launcher developed by ARDE.The lightweight rifle is made of composite materials and is multi-caliber, capable of firing both 5.56 and 7.62 rounds. Once the evaluation trials are over, the rifle design would be offered to a public or private sector industry for manufacture as per the Government's decision, and then made available to Army and police units.
The CornerShot rifle enables a soldier to fire at 90 degrees or at an angle from behind a wall without facing a terrorist or a target. The report goes on to say that CornerShot rifle was first developed in Israel and that India is reported to have bought some rifles for anti-terror operations. It may be recalled that on February 7, 2014, DRDO chief Avinash Chander had similarly told media that DRDO had developed a CornerShot rifle capable of firing both 5.56 and 7.62 rounds, and was undergoing final tests in Pune. The fact that five and a half years later we are still conducting user trials with counter insurgency and counter operations happening almost daily indicates the lackadaisical attitude towards R&D in defence and apathy towards lives of security forces. Incidentally, when the NSG was sent to deal with the 26/11 terrorist attacks in Mumbai in 2008, they were not equipped with CornerShots, even as the hundreds of rooms in multi-storey buildings were to be cleared and the DG from IPS with little idea of what it involved, wanted the terrorists to be captured "alive".
The Home Minister and his flock had little idea that the Special Group of SSF also trained in counter-terrorism was equipped with the CornerShot. The CornerShot was invented by Lieutenant Colonel Amos Golan of Israeli Defence Forces (IDF) in concert American investors in early 2000s as a 'weapon accessory'. The DRDO perhaps woke up after the 26/11 terror attacks but CornerShot was with the Special Group even before 2008 and it should not have taken more than a year to indigenisethis weapon accessory, rather than reinventing the wheel. The standard CornerShot mounts a normal semi-automatic pistol in the front part of the weapon, with a remote linkage to the trigger mechanism. It has a trigger pull of 21newtons or 4.7 lbf (pound-force). The effective range of CornerShot is reportedly 100m with 9x19mm and .45 ACP pistols, and 200m with .45 ACP pistols. The device is available in several variations. The mechanism can also mount various accessories, like detachable cameras, audio/video transmission kits, visible and IR lasers, tactical flashlights, suppressors and rubber bullets. A standard pistol version is available, along with a 40mm grenade launcher. Fitted with high-resolution digital cameras, any variant can also be used as a surveillance tool. All the models come with the same stock camera and 2.5-inch color LCD monitor, providing a video observation and sighting system with powerful transmission capability. The flashlight and camera let it operate in either day or night. A variety of interchangeable cameras are available, as well as with folding stock, whereas the accessory rail is standard.
China has developed three CornerShot-like weapons; HD-66, CF-06 and CS/LW9 –all by 2005. We appear to have woken up to the requirement a decade later despite battling insurgencies and terrorism past several decades. Significantly, India-based Zen Technologies Limited has been marketing its ShootEdge CornerShot that facilitates shooting accurately around corners, over the top or over walls, without exposing the user in darkness and low light conditions, firing from standing, kneeling, hip as well as lying positions. It is fitted with a high-resolution low light and IR camera, an IR illuminator, a red dot laser and a tactical torch light. ShootEdge can be fitted with pistols like Glock 17, Glock 19 and 9mm Browning. With ShootEdge the pistol can be shoulder-fired and can be instantaneously swiveled left or right by 65 degrees while allowing the shooter to remain behind cover while observing the camera feed. Fitting the pistol and commencing firing can be achieved in less than a minute. Similarly, the pistol can be removed and conventionally hand fired. No modification is required on the original weapon/pistol. The magazine of the pistol can be changed, without removing the pistol from the housing. ShootEdge has a picatinny rail to facilitate mounting of various accessories. A sling can also be attached to the ShootEdge.
The situation is similar to multiple Indian companies exporting bullet proof jackets to multiple foreign militaries and security forces for several year, with DRDO crawling, till Dr Shantanu Bhowmick of Coimbatore's Amrita University came through DRDO to produce a state-of-the art bullet-proof jacket. This particular venture of bullet-proof vests for Armed Forces is first in 70 years and would not have seen the light of the day had Bhowmick not come through DRDO and MoD– following the 'holy trail' and paying 'obeisance' at every step; so much about periodic statements for promoting privatisation. The eventual cost of the DRDO-developed CornerShot has not been revealed, but going by past history, it may not be cheaper than what is available commercially-off-the-shelf (COTS) including within India by Zen Technologies. Logically, latter should also be trial evaluated but then small change in requirement can help dump the ShootEdge. As and when whatever product is accepted, the usual debate over scaling and authorisation too will come to the fore – but that is another issue.