By Lt. General P.C. Katoch (Retd)


Former Director General of Information Systems, Indian Army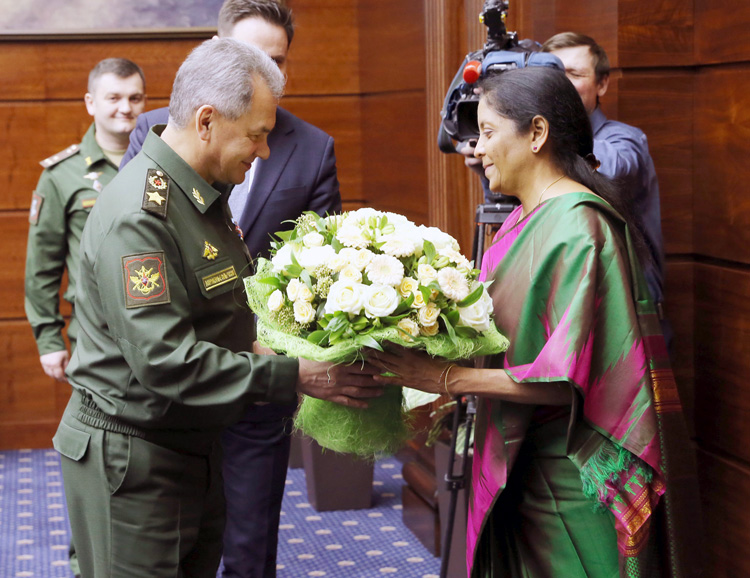 Union Minister for Defence, Nirmala Sitharaman being welcomed by the Russian Defence Minister, General Sergey Shoygu, on her visit to Russian Federation, in Moscow on April 3, 2018.
Defence Minister Nirmala Sitharaman's recent three-day visit to Moscow was primarily to attend the Seventh Moscow Conference on International Security. However, she also met the Russian Defence Minister, General Sergey Shoygu in a bilateral meeting, focusing on reinforcing defence cooperation with specific focus on military-technical cooperation. In addition, she also met Denis Manturov, Russian Minister of Industry and Trade to review ongoing military technical cooperation projects including measures to promote India-Russia joint industrial activities under the 'Make in India' program in defence production, particularly after-sales support. Addressing the plenary of the Conference on International Security, Sitharaman said, "Russia has re-established its role and influence in global strategic and defence matters. For us in India, Russia has been and remains a long-standing friend and partner with whom we share a special and privileged strategic partnership."
Sitharaman's Russia visit came at a time when 23 countries, mostly NATO allies expelled Russian diplomats over the spy-poisoning scandal in London. According to the latest report of the Stockholm International Peace Research Institute's (SIPRI), 62% of Indian arms imports have been from Russia during the period 2013-2017. In fact, Russia has always been the single largest supplier of weapons and military equipment to India. During the Defence Minister's visit to Russia, in addition to proposing to the Russian's setting up Maintenance, Repair and Overhaul (MRO) facilities in India under 'Make in India' and converting India into a hub for Russian spares for the rest of the region, the two sides were also expected to discuss: supply of 80 more Mi-17V-5 helicopters worth over $1 billion; purchase of S-400 air defence missile systems, and acquisition of Kamov-226 helicopters to replace the Indian Military's ageing Cheetah and Chetak helicopters.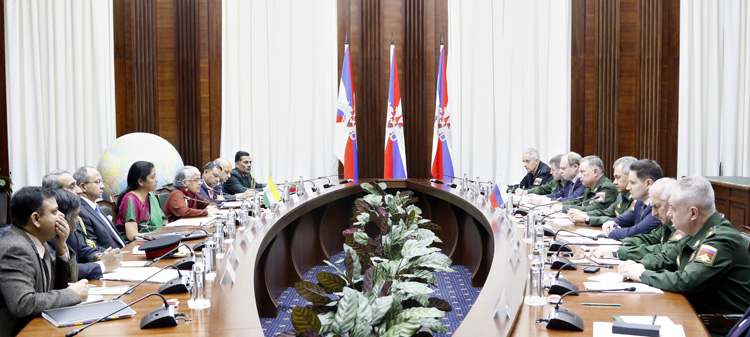 Union Minister for Defence, Nirmala Sitharaman and the Russian Defence Minister, General Sergey Shoygu at the delegation level talks, in Moscow on April 3, 2018.
The reason obviously is the federal law CAATSA (Countering America's Adversaries Through Sanctions Act) signed by US President Donald Trump on August 2, 2017, due to which among other reasons US imposed new sanctions on Iran, Russia and North Korea. CAATSA includes sanctions against countries that engage in "significant" transactions with the Russian defence and intelligence sectors. India, therefore, could face sanctions for purchasing high value military defence items from Russia under the act. This perhaps was the fear also that caused Defence Minister Nirmala Sitharaman to walk past the Russian pavilion at the DefExpo 2018 without a peep inside. Given the history of Indo-Russian defence relations, this deliberate snub was clearly unwarranted. Obviously, the Indo-Russian Fifth Generation Fighter Aircraft (FGFA) will also be confined to the dustbin, if not already done so. As of July 2017, India was still seeking time to even evaluate the Russian offer to upgrade its Sukhoi-30 fleet to "near FGFA level" despite the issue having been discussed between President Putin and Prime Minister Narendra Modi in June 2017. It has now emerged in the media that Russia has offered to sell 21 used MiG-29 fighter planes that would cost India $ 25-30 million apiece, almost 30% cost of new MiG-29. MoD is reportedly studying the offer in detail for "hidden costs". While India and China have both bough used aircraft carriers from Russia, this is first time Russia has offered used fighter jets to India.
The possible reason could be Russia's appreciation of India's meager defence allocations, and more significantly, knowing IAF is down to 31 squadrons (against required 42), another nine will retire in next five years, and by the time the freshly floated RFI transforms into fielding new fighters, the situation will be extremely critical. But if current government stance is any indication, unlikely there would be any further discussion on this issue, including price negotiations, with Moscow. Apparently, India is unable to balance its relationship with US and Russia despite the proven Indo-Russian defence cooperation and the historic Russian stand to assist India during 1971 in face of American and British naval threat and possible Chinese moves on the border with India. It is not a question US willingness to share technology, but what 'has' been shared and what assistance it will offer in case of conflict with China and Pakistan. In the same context, righteousness of acquiescing to blaming Russia for spy poisoning in the joint Indo-British joint statement during PM Modi's visit, despite Britain refusing repeated Russian requests to share details of the probe, can be conjectured. Building media perceptions that such acts are signal to Russia for defence cooperation with Pakistan is foolhardy, knowing full well the constraints on Russian economy in face of mounting sanctions. Looking at the enlarging China threat, India required the S-400 missile defence system from Russia yesterday. CAASTA or no CAASTA, we need to look at our own national interests. Prudence demands we balance out military relations as part of foreign relations rather than being spasmodic.