By Lt. General P.C. Katoch (Retd)


Former Director General of Information Systems, Indian Army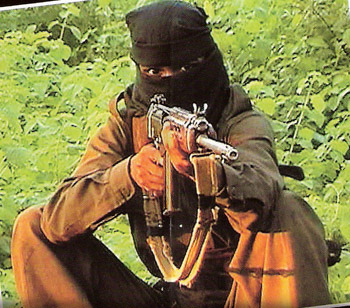 Maoist are under pressure from security forces in east-central India, their traditional stronghold
With 39 Maoists killed by Maharashtra police in Gadchiroli over 48 hours on April 22-23, 2018, and 10 Maoists killed in by Chhattisgarh Police in Sukma in south Bastar on April 21, the numbers of rebels gunned down has gone up to 49. Pressure on Maoists continues to be mounted. At least 15 bodies, including two women, were found floating in Indravati River late April 24. Among the 37 dead Maoists, 19 were women, including 18-year-old Suman Kulyeti, a platoon member with a 4 lakh reward on her head. Among the bodies recovered, two were of senior members of the Communist Party of India (Maoist), with rewards of 20 lakh and 12 lakh on their heads. Maoists identified till last reports came in carried cumulative reward of 82 lakh on their heads. An intelligence official of Chhattisgarh, referring to the Madhya Pradesh, Maharashtra, Chhattisgarh or MMC region, stated, "The recent activities of Maoists in Rajnandgaon, Khawardha (both in Chhattisgarh), Balaghat and Mandala (both in Madhya Pradesh) proves that they are moving to new regions in the MMC, of which Gondia and a tip of Gadchiroli (both in Maharashtra) are part. As per details available with us, there are about 180 armed cadres who have shifted to this new MMC area." Police officials of Chhattisgarh feel the attacks by security forces in Dandakaranya Forest have led to disputes between Maoist leaders and the cadre. Maoist are under pressure from security forces in Dandakaranya forests of east-central India, their traditional stronghold, and are trying to build a new bastion, according to interrogation reports of Maoist leaders and documents seized by police of Chhattisgarh and Maharashtra, a reason why they may be congregating in Gadchiroli. Dandakarayana is spread between the borders of Andhra Pradesh, Chhattisgarh, Maharashtra and Odisha, and the Maoists call it a free zone. The Communist Party of India (Maoist) has divided Dandakaranya into nine divisions, each comprising three/five area committees; every area committee is composed of several local organizational squads (LOS) and local guerrilla squads (LGS).
The MHA has been implementing the 'National Policy and Action Plan' since 2015 to combat Maoists, which envisages a multi-pronged strategy involving security and development related measures. The significant features of the new policy were zero tolerance towards violence coupled with a big push to developmental activities so that benefits of development reached the poor and vulnerable in the affected areas.MHA had categorized 106 districts in 10 states as Maoists affected. As a result of a review of the Maoists affected districts in the country, 90 districts in 11 States are now covered by the Security Related Expenditure (SRE) Scheme which is mainly applied to areas under Maoists. The number of 'Most Affected Districts' has been pruned to 30, down from 36 based on the level of violence. Of these 30 most affected districts, 13 are in Jharkhand, 8 in Chhattisgarh, 4 in Bihar, 2 in Odisha and 1 each in Andhra Pradesh, Telangana and Maharashtra.
Chairing a conference of Chief Ministers of Maoist-affected state on May 8, 2017, Home Minister Rajnath Singh announced a new strategy 'SAMADHAN'; acronym for smart leadership; aggressive strategy; motivation and training; actionable intelligence; dashboard based key performance indicators and key result areas; harnessing technology; action plan for each theatre; and no access to financing. The killing of 37 Maoists in an encounter in Gadchiroli is seen as a positive outcome of a recalibrated counter-Maoist strategy of Maharashtra Police, where intelligence-based strikes have replaced area domination exercises that often left security forces vulnerable to ambush attacks. According to an official of MHA, the Gadchiroli success has prompted the Home Ministry to plan a 'final push' in 30 worst-hit districts spread over seven states, setting the stage for "the proposed wipe-out of Maoists extremism by 2022. While wishing all the success to security forces, this may not be easy tasks. Though government has pressed the NIA to identify the source of funding of Maoists active in Maharashtra, Jharkhand, Bihar, Chhattisgarh, Odisha and Telangana, the type of funds they have are enormous. For example the special branch of Jharkhand Police had reported in 2016 that the CPI (Maoist) and fringe groups were annually collecting some 200 cr annually just through extortion. Besides, there have never been any reports of external funding to Maoists, which may not be the case.
The second requirement is of relentless pressure that needs to be mounted. For example after any intelligence-based operation by State Police that disrupts Maoists, follow-up operations by the CAPF must be immediately mounted. It may be noted that in all abovementioned encounters, no assault rifles, light machine guns, under-barrel grenade launcher etc were recovered. The Maoists have considerable arsenal of such weapons including scores of these taken from security forces through encounters. Not many would know that when Oinam, an Assam Rifles post was overrun by NSCN on July 9, 1987, the Inspector General Assam Rifles (IGAR) South launched 'continuous' operations over four months and recovered 90%of the lost weapons. The fight with Maoists therefore will not be easy and that the Maoists will retaliate for their losses should be taken for certain. They have already accused police of drugging Maoist cadres attending a wedding in Gadchiroli before shooting them, and have called for 'bandh' on May 4.