By Lt. General P.C. Katoch (Retd)


Former Director General of Information Systems, Indian Army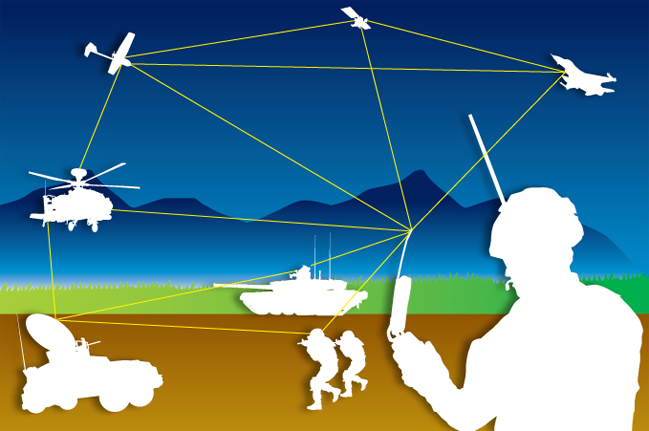 As per media reports, government on May 16, 2018, has cleared raising of budget by 11,330 cr for defence projects; more than doubled the budget to 24,664 cr for laying an alternative communications network for defence services – for the Network For Spectrum (NFS) project. The report said that the Cabinet Committee on Economic Affairs (CCEA), chaired by Prime Minister Narendra Modi, "has given its approval for enhancement of budget by 11,330 crore for NFS project for laying of alternate communication network for Defence Services for release of spectrum over and above 13,334 cr already approved by Cabinet Committee on Infrastructure in July, 2012". Being implemented by Bharat Sanchar Nigam Ltd (BSNL), the project will be completed in 24 months, it added. The project is expected to boost the communication capabilities of defence forces in a major way leading to enhanced national operational preparedness. Besides, it will have forward linkages to other related industries such as telecom equipment manufacturing and other telecom related services. How much money worth will actually be used on ground would depend on which ministry has signed the contract, what its kickback norms are, and how do they vary from a contract signed with a private firm or a government entity like BSNL. For example, if it was MoD, the usual cut talked about is 20 per cent, that is, some 2,266 cr; implying 9,064 worth would be executing on ground. Yes, you cannot prove it because of secrecy but then insider fiends do talk about it.
No defence related deal is without kickbacks globally albeit in a country like China, 'individual kickback' means execution. Ukraine has recently reported it is investigating kickbacks worth 17.5 cr (about $2.6 million) given to MoD officials in November 2014-August 2015 for purchase of spares for military transport aircraft An-32, and even then India not fulfilling terms of the agreement. Forget blatant vehement by MoD, no defence deal around the world is without kickbacks, especially India whether Modi Government or any other. That is the reason, HQ Integrated Defence Staff is not permitted to merge with MoD, appointment of CDS is out of the question and no politician or bureaucrat is prosecuted for any defence scam, be it the AugustaWestland helicopter scam or scores of others. What a shame that on directions of the mafia, a former IAF Chief was kept in lockup for 27 day in connection with the AugustaWestland helicopter scam, finally released when lambasted by a CBI Court for insufficient evidence, and the Director SPG who did the fictitious trial abroad remained untouched. But then, the kickbacks aside from warming individual pockets, contribute to coffers of the political party and help fighting elections. Getting back to the Network For Spectrum (NFS) project for which 11,330 cr stands sanctioned, media doesn't say anything more than that the executing body is the BSNL, however, it is understood that part of the project has been given to the Indian Telephone Industries (ITI) Limited – a Public Sector Undertaking (PSU). Significantly, ITI in turn has outsourced the job to Himachal Futuristic Communications Limited (HFCL). Both ITI and HFCL are not known for technology leadership. Who gave the contract to ITI and permitted further outsourcing to HFCL is not in media and in case of query, it will likely be deflected on to the Army, but you can be certain this is the handiwork of MoD.
If Army was to do the contract, why go through ITI, why not directly with an established firm like Tata Consultancy Services (TCS) or international giants in collaboration indigenous firm. HFCL is a listed company, certainly not leading in communications, that was started by Sukhram that gained notoriety when Sukhram absconded after 1 cr were found under his bed. As per information, about 6,500 cr worth of work has been given to ITI as part of Army's Army Static Switch Communications Network (ASCON) Phase IV. Army needs to pick up partners from the private industry rather than PSU's that are defunct setups with no future technologies. Obviously the route via ITI was done by MoD for the kickbacks, as discussed above. On May 29, 2018, Defence Minister Nirmala Sitharaman speaking about the achievements of the four-year-old Narendra Modi government said that the Centre is planning to lay optical fiber cable in all the border areas to mitigate connectivity problems being faced by both defence personnel and the civilian population. Apparently, during her recent visit to Kibithoo, the last border village in Anjaw district of Arunachal Pradesh, Sitharaman was told that the people of the area can only access Chinese radio frequency, not All India Radio due to poor frequency, and mobile network in the area too is poor. Responding to media questions, Sitharman said the union cabinet had discussed the issue and sanctioned the additional fund only ten days before, adding, "Soon all the border areas along the Indo-China border will be connected with OFC which will greatly improve the mobile and telephone connectivity besides improvement in radio frequency." All this is fine, and the system is unlikely to change, as demonstrated by the inability of the government to reorganize the MoD, but the least that Defence Minister Sitharaman needs to do is optimize utilization of the meager defence allocations and ensure no sub-standard equipment or works over and above the inevitable kickbacks.