| | |
| --- | --- |
| | The Author is Former Director General of Information Systems and A Special Forces Veteran, Indian Army |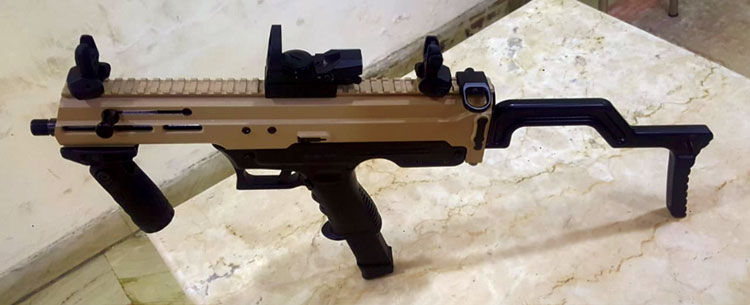 India's First Indigenously Developed 9mm Machine Pistol
India has developed its first indigenous 9 mm Machine Pistol – 'ASMI'. The Ministry of Defence (MoD) released a statement on January 14, 2021 stating, "Infantry School, Mhow and DRDO's Armament Research & Development Establishment (ARDE), Pune have designed and developed this weapon using their respective expertise in the complementary areas." ASMI is the brainchild of Lieutenant Colonel Prasad Bansod from Infantry School, Mhow who developed the weapon with assistance from the ARDE located at Pune, which is part of the Defence Research and Development Organization (DRDO), in a record time of four months.
ASMI has an upper receiver made from Aircraft grade Aluminium and lower receiver from Carbon Fibre, manufactured by 3D printing process including trigger components made by metal 3D printing. It features a 8 inch barrel and 33 rounds high capacity magazine with an overall empty weight of under 2 Kgs. Upper receiver has full length integral Picatinny rail at 12 and 6 O' clock direction for fitment of all modern scopes/optics & accessories and M-Lok slots on 3 and 9 O' clock direction. The weapon fires the 9 mm ammunition already in service. With the production cost of weapon likely to be under 50,000/- per piece, the weapon, it is aptly named ASMI which alludes to pride, self respect and hard work.
ASMI has been modeled after the Israeli Uzi submachine gun. According to the DRDO, "The machine pistol can fire at a range of 100 metres and is in the class of the Uzi series guns of Israel. The prototype has fired over 300 rounds in the last four months of its development." The weapon has a huge potential in the Armed Forces as personal weapon for commanders, heavy weapon detachments, tank and aircraft crews, drivers and dispatch riders, radio and radar operators, close quarter battle (CQB) in counter insurgency (CI) and counter terrorist (CT) operations, VIP protection duties, as well as policing.
The MoD statement notes, "It is expected that the Services and Paramilitary Forces (PMFs) will induct this ASMI expeditiously." Obviously the weapon has potential with the Armed Forces, as well as the PMF, Central Police Organisations as well as other services like the Coast Guards and police forces. But it also has a huge export potential considering that the per unit production cost of ASMI is likely to be below 50,000/-. Compare this to the exports price of its Israeli equivalent – the Uzi® PRO Pistol (Part Number: UPP9S) which comes with one 20-round and one 25-round magazine. The price of one Uzi® PRO Pistol is $1,109.00. As mentioned above, the ASMI has a 33 rounds high capacity magazine also.
The Armed Forces will likely conduct their own trials of ASMI before inducting the weapon, as would the PMF, CAPF and others. However, the issue that we need to reflect is why has it taken over seven decades for us to produce the indigenous machine pistol – ASMI? Isn't it government's total dependence on the DRDO and the Ordnance Factory Board (OFB) that we have not had a single worthwhile small arms weapon developed indigenously since Independence?
One cannot help recall that in 1980, 17 x 5.56mm rifles from 11 countries were imported by the MoD to equip 3 x Parachute Commando battalions and 3 x Parachute Battalions. Despite successful trials, the red tape and mafia blocked imports, giving these 17 weapons to OFB-DRDO who took 15 years to produce the 5.56 INSAS rifle that was nowhere close to top 10 assault rifles of the world. The IPKF went to Sri Lanka in 1987 armed with the unwieldy 7.62 SLR rifles battling the LTTE armed with AK 47 assault rifles. Eventually, Army had to import 1,00,000 AK 47 rifles (then costing only US$ 300 apiece) to give 100 per infantry battalion in the IPKF. Because of our failure to indigenously produce a state-of-the-art assault rifle and other small arms, even the PMF, CAPF, SPG and special police units like Force 1 and Greyhounds are importing small arms. The Army imported 5.56 Tavor Assault Rifles ex Israel for the Para (SF) and Para units but due to unprecedented expansion of Para (SF) these units hold a mix of Tavor, INSAS and AK-47 rifles.
The Army has been operating the INSAS all these years despite continuing defects that were never fully rectified. These are to be eventually replaced by the AK-203 being jointly produced under 'Make in India'. During 2020, the Army found all one crore rounds of Tavor ammunition produced indigenously defective. The silent version of Uzi submachine guns imported in late 1990s remained silent only till imported ammunition was available. Why can't we produce requisite silent ammunition for the Uzis in service, as well as for the ASMI. Hopefully, the ASMI example will lead to more participation by the Army rather than the DRDO-OFB giving fait accompli to the forces.