Defence Minister said that "The Ministry has set a target to achieve a turnover of 1,75,000 crore ($25 billion) including export of 35,000 crore ($5 billion) in Aerospace and Defence goods and services by 2024".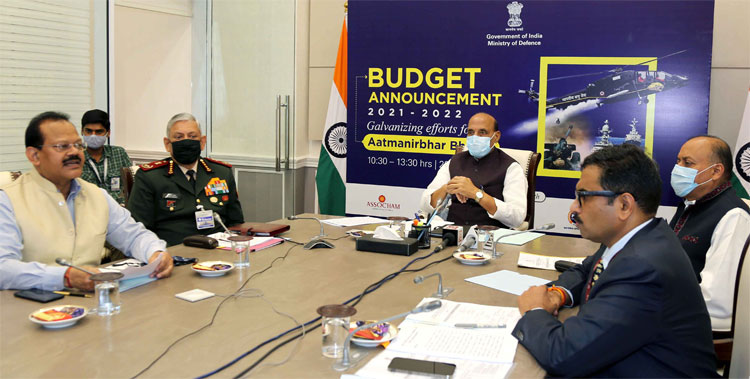 Defence Minister Rajnath Singh addressing at the webinar. The Secretary Department of Military Affairs & Chief of Defence Staff (CDS), General Bipin Rawat, the Defence Secretary, Dr Ajay Kumar and the Secretary (Defence Production), Raj Kumar are also seen.
Prime Minister Narendra Modi addressing at the webinar for effective implementation of Union Budget in Defence Sector.
The Webinar on "Budget Announcements 2021-22: Galvanising Efforts for Atmanirbhar Bharat" on effective implementation of the Union Budget provisions in the defence sector in New Delhi on February 22, 2021 had many firsts attached to it. For the first time all chambers of commerce representing the industry – CII, ASSOCHAM, FICCI, SIDM, PHDCC, came together to jointly organise a webinar. Also, perhaps for the first time, a webinar was marked by the presence of the Defence Minister Rajnath Singh, Defence Secretary Ajay Kumar, Chief of Defence Staff General Bipin Rawat, Chairman DRDO, all the three Service Chiefs, Top Executives from DPSUs and Captains of the Industry from the private sector. The event was a clear reflection of the importance to the self-reliance in defence production being given by the Government of India.
In his special address to the participating dignitaries, Prime Minister Narendra Modi said that the webinar assumes great significance as it is focusing on the important issue of making the country's defence sector self-reliant. He said that since 2014, it has been the endeavor of the Government to move forward in the defence sector with transparency, predictability and ease of doing business and that the Government has taken steps to bring about de-licensing, de-regulation, export promotion, foreign investment liberalisation, etc. Emphasising on our domestic capabilities, he also said that his government has relied on the capabilities of our engineers and scientists on developing the Tejas fighter aircraft and today Tejas is flying gracefully in the skies. A few weeks back, an order worth 48,000 crore was placed for Tejas.
Prime Minister Modi added that India has made a list of 101 important items related to defence, which can be manufactured indigenously with the help of our local industries. He said, a timeline has been set so that the domestic industry can plan to meet these requirements. He mentioned that although it is called a negative list in the official language but it is a positive list in the language of self-reliance. This is the positive list on which the country's manufacturing capacity is going to increase, that will generate employment and will reduce India's dependence on foreign countries for our defence needs.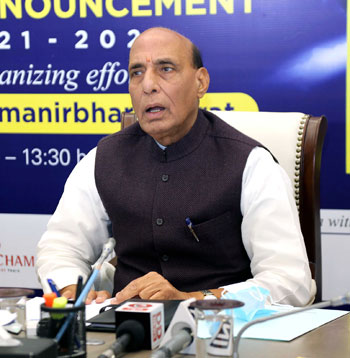 Defence Minister Rajnath Singh giving his opening remarks.
In his opening address, Defence Minister Rajnath Singh hailed Union Budget as a healthy mix of promise, potential and progress. He stressed that forward-looking agenda of the Budget will provide support to the defence and security of the country. He said, "The Budget focuses on accelerating economic growth and creating job opportunities to reverse the adverse impact of COVID-19 pandemic with 'Atmanirbhar Bharat' at the core." Rajnath Singh stated that the vision of self-reliant India of the Government defined the approach towards the defence sector in this year's Budget. The Defence Budget has seen an unprecedented increase of 18.75 per cent in capital outlay over and above last financial year (FY) and 30 per cent from the year before, which is the highest in the last one and a half decade. He termed threat perceptions, aspirations, capacity & capability development initiatives and technological advancements as major factors that drive procurement decisions in defence and underlined the close cooperation between the Armed Forces and manufacturers to reduce the gap between the aspirations of the Armed Forces and actual delivery by the manufacturers. Defence Minister said that the Union Budget for the year 2021-2022, stands out as a unique initiative of the government. It brings a healthy mix of promise, potential and progress and its forward-looking agenda provides support for the defence and security of the country. "The Ministry has set a target to achieve a turnover of 1,75,000 crore ($25 billion) including export of 35,000 crore ($5 billion) in Aerospace and Defence goods and services by 2024," he added.
The Defence Minister stated that 'Make in India, Make for the World' is the only mantra to stay abreast with latest technological advancements and remain frugal at the same time. Emphasising that the defence industry can only thrive by going global, he said, the Government is actively promoting not only domestic manufacturing but also an export-oriented defence industry. "The most important factor that is going to drive the domestic industry is 'Atmanirbhar Bharat'," he underscored, saying that the Government is willing to deal with higher initial costs to build the defence industry for the future. He added that the focus of the Government is on 'Ease of Doing Business' to encourage foreign Original Equipment Manufacturers (OEMs) to set up manufacturing units in India, develop Joint Ventures with domestic defence sector.
Rajnath Singh listed out number of initiatives taken by the Government to promote domestic defence manufacturing. He shed light on the plans to spend $130 billion on military modernisation in the next five years, mentioning about the recent order of 83 indigenously designed and developed Light Combat Aircraft MK 1A, Tejas, worth 48,000 crore, awarded to Hindustan Aeronautics Limited (HAL) during the recently held Aero India 2021. He also touched upon the bifurcation of capital procurement budget into domestic and foreign capital procurement routes to ensure more procurement from domestic industry. "The Ministry has planned to invest about 63 per cent of the outlay for 2021-22 on domestic procurement, i.e., about 70,221 crore for domestic defence procurement. This increase will have a positive impact on enhanced domestic procurement, having multiplier effect on our industries including MSMEs and Start-ups. It would also increase the employment in defence sector," he said.
The Defence Minister added that during the current financial year, 75,000 crore worth Acceptance of Necessity (AoN) has been accorded, of which 87 per cent relate to 'Make in India'. He stated that the Ministry is also working on bringing down the delays in timelines of capital acquisition. He also said that MoD has planned to channelise about 1,000 crore during 2021-22 for procurement from Innovations for Defence Excellence (iDEX) start-ups to give a major boost to innovative defence technology and support start-ups based in the country.
Rajnath Singh also clarified that the 'Make' Procedure of capital procurement has been progressively simplified. There is a provision for funding up to 70% of development cost by the Government to Indian industry under Make-I category. In addition, there are specific reservations for MSMEs under the 'Make' procedure. He mentioned that recently, Financial powers have also been enhanced to support prototype development under 'Make-I'. This is in line with Government's vision of 'Aatmanirbhar Bharat' and 'Make in India' for a robust defence industrial ecosystem. Similarly, Procedure for 'Make-II' category which was introduced in DPP 2016 to encourage indigenous development and manufacture of defence equipment, has number of industry friendly provisions such as relaxation of eligibility criterion, minimal documentation, provision for considering proposals suggested by industry/individual etc. So far, 55 projects relating to Army, Navy & Air Force, have been accorded 'Approval in Principle', valuing about 30,000 Crores. Also, a new 'Make-III' procedure has also been introduced in DAP 2020 so that the Indian firms may manufacture defence items locally either in collaboration with or ToT from foreign OEMs.
Apart from these, Government of India has also established Technology Development Fund (TDF) Scheme under 'Make in India' initiative to create an eco-system for enhancing cutting edge technology capability by inculcating R&D culture in Industry for building indigenous state-of-art systems for defence applications and import substitution. The flagship program of Innovation for Defence Excellence (iDEX) is also making headways into greater innovation. To give a major boost to innovative defence technology and support Start-ups base in the country, Ministry of Defence has planned to channelise about 1000 Crore during 2021-22 for procurement from iDEX start-ups.
Rajnath Singh also mentioned that the Government understands the importance of collaboration and cooperation, if India has to emerge as a manufacturer of repute at the Global stage. Therefore, the Government has notified the 'Strategic Partnership (SP)' Model in May 2017. It envisages establishment of long-term strategic partnerships with Indian entities through a transparent and competitive process. There would be tie ups with global Original Equipment Manufacturers (OEMs), to seek technology transfers and to set up domestic manufacturing infrastructure and supply chains.
According to the Defence Minister, the initiatives taken by the Government have resulted in staggering 700 per cent growth in defence exports in the last six years and India has entered into the list of top 25 exporters in the world, citing data published by Stockholm International Peace Research Institute (SIPRI) in 2020.
Ajay Kumar, Defence Secretary said that this Budget provides a historic opportunity for the industry to come forward to make for the armed forces and make for the world. "The Ministry is focussing on procurement from the GeM portal in a big way and we will continue to give it more thrust. We would encourage the industry to come on the GeM platform," he said.
Captains of Industry from CII, SIDM, FICCI, PHDCC appreciated the Ministry's policies for encouraging domestic manufacturing and gave a few suggestions for consideration. Industry flag bearers like Baba Kalyani, Jayant Patil, Sukaran Singh, S.P. Shukla, Satish Kaura, Rajinder Singh Bhatia, Col, K. V. Kuber, Col. H. S. Shankar and others laid out their requirements for a level playing field and support from the Government to galvanise the private sector to meet GoI's ambitious targets.

(Left to right): Baba Kalyani, Jayant Patil and S.P. Shukla from the Indian defence manufacturing industry thanking the Defence Minister for his support to the private sector and giving their suggestions at the webinar
Some of the recommendations put forward by the domestic defence manufacturers include –
Prioritising Make-II and iDEX programmes for R&D and indigenous technology development
Undertake a detailed study on the capability and technology matrix of domestic manufacturing
Negative List and future updates can act as a driver to accelerate growth in the defence sector
Most items under negative list require Indian R&D
In addition to larger programmes, regular contracts of 500-2000 crore are key to sustain domestic defence industry
Increasing the capital head for domestic procurement and raising the private sector's share on it to a minimum of 15 per cent in this financial year to 25 per cent by financial year 2023-24
Directive to Service Head Quarters (SHQs) to amend PBG / PWBG for all contracts (excluding the disputed ones) to 3 per cent in line with Ministry of Finance's order
Operationalisation of hosting AON details online and to monitor the conversion of AON to contracts
On Foreclosure/Retraction/Changes in AON, a formal concurrence from AON issuing authority should be taken
MoD could consider promulgation of at least 10 projects in the scale of 500 - 2000 crore on competitive basis in the FY 2021-22 to energise the domestic defence manufacturing
Categorise Defence as a priority sector to enable easier borrowing options for the defence industry to meet the working capital expenses and invest in R&D.
Procurement through Strategic Partnership Model that will ensure absorption of critical technologies and establish large scale manufacturing capabilities in the next 10 years.
Leasing of equipment to the armed forces in the DAP 2020 will strengthen our armed forces in expeditious manner.
Chief of Defence Staff General Bipin Rawat, Defence Secretary Dr Ajay Kumar, Secretary (Defence Production), Dr G. Satheesh Reddy, Secretary, Department of Defence R&D and Chairman, DRDO and V. L. Kantha Rao, Director General (Acquisition), Ministry of Defence took it upon themselves to clarify some of the points raised by the private sector manufacturers.
Based on the inputs from the private sector, Defence Minister Rajnath Singh lost no time and in his closing remarks, made the following announcements:
Another list of items that will be not be imported to be notified in March 2021.
The Letter of Intent (LoI) for Light Utility Helicopters (LUH) will be given to HAL so that the helicopters can be inducted into the Armed Forces coinciding with the 75th Anniversary of India's Independence.
Procurement from private sector will not be limited to 15 per cent but will go much beyond that.
The 'AON' contract conversion would be completed within two years under close monitoring.
Projects worth 500 crore to 2,000 crore will be announced on competitive basis and will be finalised within one year.
A "Fund of Funds" worth 10,000 crore has been created for Start-ups and MSMEs. Complete support would be provided to the Defence and Aerospace sector in utilising the fund.
Acceptance in principle would be accorded for at least five Make-1 projects this year.
The webinar concluded with defence manufactures from the private sector assured of the Government actively promoting export-oriented defence industry under 'Make in India, Make for the World' mantra and of the Government's aim to ensure transparency, predictability and ease of doing business in defence sector.