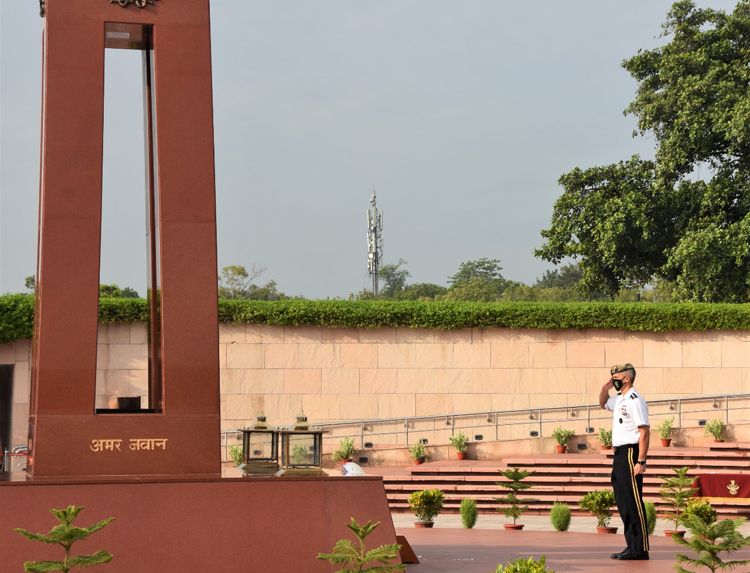 General Richard D. Clarke, Commander United States Special Operations Command USSOCOM laid wreath at National War Memorial.
The visit of US Chief of Special Operations Command to India in end-July, has raised speculations of further deepening cooperation between the Special Forces of two countries in which the Florida based US headquarter of the Command would be extending training facilities to Indian commando soldiers of Special Forces Division. According to defence sources, the three day visit of the US commando Chief was not an ordinary routine courtesy visit, much details of which have not been officially disclosed. With the two militaries coming closer under the umbrella of Indo-Pacific QUAD group, the visit was watched with great interest in strategic circles. Significantly, the visit was scheduled a day after theconclusion of the visit of US Secretary of State Antony Blinken to New Delhi.
As India is still quite a distance away from setting up a Special Operations Command, the three day visit (July 28-30) of United States Special Operations Command (USSOCOM) Commander General Richard D. Clark was very significant. India would like to take a leaf out of US book, in upgrading its nascent tri-services special operations division set up in late 2019 on the recommendations, made in 2012, of the Naresh Chandra Committee. This recommendation was accepted in September 2018 by Prime Minister Narendra Modi. The three armed forces accordingly spared its commando soldiers to form the Armed Forces Special Forces Division, which drew personnel from all three special warfare branches of the armed forces namely the Para SF of the Indian Army, the MARCOS of the Indian Navy and the Garud Commando Force of the Indian Air Force. The Special Forces Division operates under the leadership of the Integrated Defence Staff, which is responsible for managing the other integrated forces like Strategic Forces Command and Andaman Nicobar Command . As India is in the process of setting up integrated commands, the Integrated Defence Staff is studying the structure of the US Special Forces command which has a size of over 70,000 commandoes, where as Indian Special Forces Division comprises little over 3,000 commandoes.
It is understood that the Indian Army Chief has discussed the feasibility of US Command further raise the level of cooperation so that India swiftly moves towards upgrading its Special Forces Division to Special Forces Command and help raise the unified Command, which is considered very relevant in contemporary strategic environment, when war is going to be swift and short, in which super agile commandoes would be playing a very special role. The new tri-service special operations division is meant for lethal surgical strikes and cross border operations besides the kind of operation we have seen on the Galwan Valley on June 15 last year, where Indian commandoes were able to retaliate the Chinese army surprise attack with double vengeance, during which the Chinese army had to beat a hasty retreat. The Naresh Chandra Committee on Defence management in 2012 recommended the setting up of the Special Operations Command, comprising integrated force of commando soldiers of the three Services, (two other commands -Cyber and Space were also recommended).
After meeting top Indian defence officials the US General Richard D. Clarke said, "Our partnership with India is vital in the Indo-Pacific, and our teamwork helps provide security throughout the region," Clarke said. "Whether we're training together in exercises, or cooperating in many other areas, our relationship with India is strong and continues to grow. I want to thank the Indian defence team for their leadership, friendship, and commitment to ensuring a free and open Indo-Pacific region."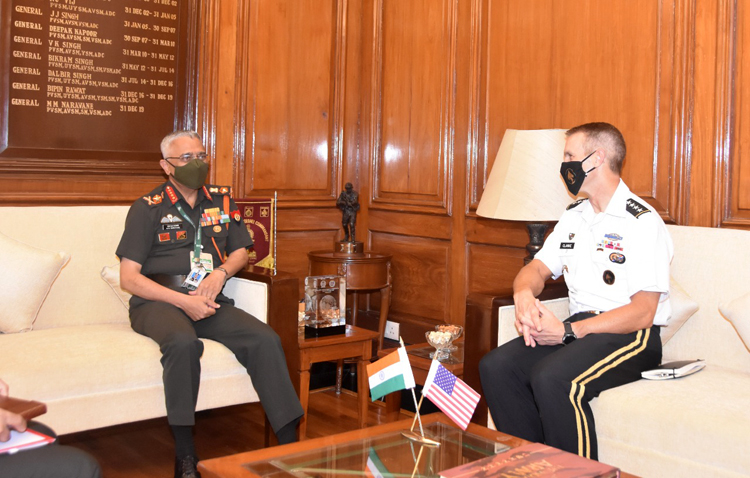 General Richard D. Clarke, Commander United States Special Operations Command USSOCOM called on General MM Naravane COAS and discussed issues of mutual interest.
According to a US embassy statement, General Clarke discussed ways India and United States can continue working together to improve defence partnerships and grow interoperability. According to the USSOCOM website, the hostage rescue and recovery, unconventional warfare, counterinsurgency, counter terrorism, special reconnaissance and countering weapons of mass destruction are some of the operations under taken by the personnel of the command.
Clarke began the trip by honouring India's fallen service members by laying a wreath at the National War Memorial."We are proud to recognise the efforts of all those who've fought and defended India," Clarke said. "Laying this wreath reminds us of what our respective countries have given to protect our ways of life. We thank India's service members who've made the ultimate sacrifice and we appreciate the work of all those who protect India today."
After the meeting with Army Chief General Naravane, Indian Army tweeted, "General Richard D. Clarke, Commander United States Special Operations Command #USSOCOM called on General MM Naravane #COAS and discussed issues of mutual interest," According to Army officials various aspects of bilateral defence cooperation, including ways to further deepen it, figured in the interactions.
During the meeting General Richard is also reported to have discussed the evolving situation in Afghanistan. The visit of General Richard to India can be said to be in the spirit of continuing and deepening India – US defence cooperation during which the US side has extended many help of critical nature. India has already inked many defence cooperation agreements, which has cleared the way for expanding the security cooperation between the two countries. Only late last year India has signed the Basic Exchange and Cooperation Agreement (BECA) to further deepen mutual defence relations. This agreement has facilitated sharing of high-end military technology, logistics and geospatial maps between India and United States. Prior to BECA India and US had signed anther significant pact named COMCASA (Communications Compatibility and Security Agreement) which also facilitates interoperability between two forces and enables high-end technology transfers and sales to Indian armed forces. As is well known in Mid-2016,the US administration had designated India as a Major Defence Partner which elevated defence trade and technology sharing in accordance with the status of major defence partner. Prior to this India and US had also signed the Logistics Exchange Memorandum of Agreement (LEMOA) that enables the two forces to use each other's military bases for routine maintenance, replenishment and repair of systems.
The rare visit of the US Chief of Special Operations Command was in furtherance of above defence cooperation agreements. Considering the kind of multidimensional threat, from terrorist attacks to border incursions and conflicts that India presently faces from its adversaries, the visit of General Richard was given due importance by the Indian military officials, much details of which has not been released by Indian or US defence sides.