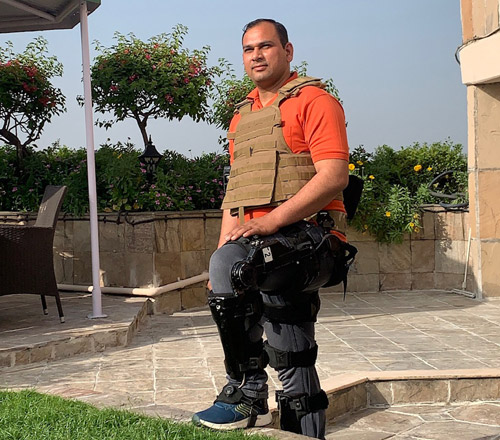 Lockheed Martin demonstrating their new lower-body exoskeleton
Key features
Provides strength and endurance to carry heavy loads over distance and difficult terrains.
Enables better handling and support for heavy weapons.
Reduces cost of transport to improve endurance and reduce fatigue.
Reduces stress on the back and leg muscles.
Guides orthopedic alignment to help evenly distribute weight and maintain skeletal system alignment to avoid overstress and pressure injuries.
What's in the name?
The name Onyx was thoughtfully chosen by the project team, cuing an inspiration from the amulet that Roman soldiers wore for courage, and this one is for endurance though.
Bringing the iron man closer to home, Gavin Barnes, the lead engineer for Lockheed Martin's exoskeleton technologies program, who was in Delhi recently demonstrated its strength to go the distance. Onyx Exoskeleton, is a wearable robot, assisting people perform jobs with improved strength, endurance and safety.
"Imagine a soldier marching up the side of a mountain, carrying heavy equipment, firefighter running up the stairs of a burning building, all the work that involves squatting down and picking up heavy objects," said Barnes. "Onyx takes the burden off the user's knees and the associated muscle groups, so they have more energy to do their job and do it safer because they're not fatigued."
Lockheed Martin's new powered lower-body exoskeleton is designed to improve the strength and endurance of its users. Winner of the popular Science magazine's Grand Award in the security category, the suit counteracts overstress on the lower back and legs. It supports leg capacity for the physically demanding tasks, which involves lifting heavy loads, repetitive squatting, crawling, scaling long distances with load, ascending or descending stairs or navigating inclined surfaces.
Lockheed Martin's new powered lower-body exoskeleton is designed to improve the strength and endurance of its users.
In a trial run, a user was asked to exercise with a 185-pound squat bar, and he completed around 25 squats. The next day, the same person was outfitted with an Onyx and asked to perform the same exercise. He reached 72 squats before being stopped by the team. "The user was already physically capable of holding this weight, but the Onyx helped him go that much further," Barnes says.
Onyx assists in reducing the impact of the lower limb injuries for those in challenging environment. This augmented mobility is powered by rechargeable batteries and lasts up to 8 hours. Weighing around 20 pounds, Onyx is made of carbon fiber, aluminum, plastic, fabric and a bit of titanium. "Though it is not yet ready for water, sand, dust, shock or vibration," says Barnes. "We are working on ensuring it can withstand any environment."
The build-in sensors on the exoskeleton report speed, direction, and angle of movement to an on-board computer that drives electro-mechanical actuators at the knees. The exoskeleton delivers the right torque at the right time to assist knee flex and extend. This wearable technology has a negligible lag time for the Onyx to respond to a user's movement, taking about 150 milliseconds. The team is working towards reducing this time to half, the exoskeleton will not just predict what movements is the user making based on AI, but will also implement the next motor command while the user is in motion.
This technology is pegged to help soldiers and first responders go the extra mile while carrying mission-essential equipment, allowing them to do their regular job with better capabilities. More ammunition and heavier weapons, making the soldier more effective and reducing the strain and fatigue.