Empowering Our Armed Forces with Emergency Procurement has paved the way for rapid acquisition of critical weapon systems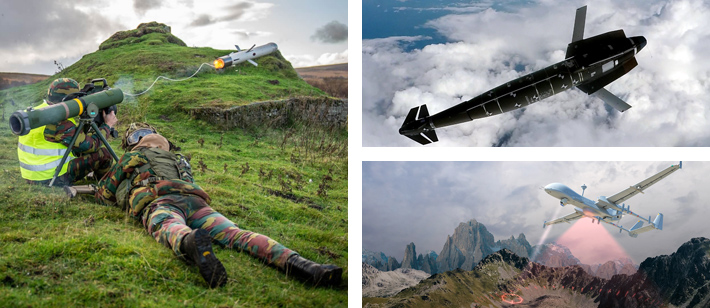 Some of the Weapon Systems procured under Emergency Purchases: (Left) SPIKE™ 5th Gen Precision Guided Tactical Missiles [ATGM]; (Right Top): Safran's 1,000-kg AASM Hammer Air-to-ground weapon on Rafale; (Right Above): IAI's Heron MK II UAV
In the wake of Chinese troops invasion on the Line of Actual Control on the Eastern Ladakh borders in early May, 2020, the Emergency Procurement mechanism launched under Defence Procurement manual of 2021 has enabled Armed forces to fill critical gaps in combat readiness. During this period the armed forces purchased weapons and spare parts worth 23,500 crores, which otherwise would not have been possible in the absence of Emergency Procurement mechanism.
According to official sources, the purchases included a range of cutting edge weapon systems which includes drones and counter drones, precision guided munitions, satellite, communication systems, surveillance equipment and radars etc. Army alone contracted over 70 weapon systems worth around 11,000 crores from September 2022 till September 2023, whereas IAF sealed contracts worth around 8,000 crores. The Navy signed deals worth 4,500 crores in last one year. The Emergency purchases included French Hammer air to ground precision guided munitions for the Rafales jets and Israeli Heron Mk-2 unmanned aerial vehicles and Spike anti-tank guided missiles.
Emergency Procurement has emerged as a pivotal force in enhancing combat readiness
Infact, the Defence ministry learnt an important lesson from the Kargil conflict of 1999, when armed forces were facing criticalshortage of certain ammunitions and spare parts, that to enhance the combat readiness of the armed forces, the Army Commanders should have some emergency powers to acquire the required weapon systems to be instantly deployed on the battlefield. Acquisition of arms is a very lengthy and complicated process in India. The Army Commanders in internal meetings were expressing their resentment over the dominance of civilian bureaucrats in weapon purchases who are not adequately equipped with the knowledge and expertise to select the required weapon systems. This led to delay in acquiring the weapons systems and most of the time the weapon systems arrived when the requirement was over.
Hence, to avoid lengthy bureaucratic procedure of going for various tendering process of acquisitions a faster acquisition mechanism needed to be evolved. To achieve this aim, for providing required weapon systems or spare parts, a fast track procedure was promulgated in 2001. Later further oiling of this fast track process was felt, hence in 2021, under the Defence Acquisition Procedure, 2020, it evolved an Emergency Procurement mechanism to enable the field commanders to obtain and deploy the weapon systems in shortest possible time to face the enemy forces in a much effective manner. Need for separate Emergency procurement was felt when critical operational gaps were observed during the LAC intrusion by Chinese army, in May 2020.
A staggering allocation of 23,500 crores under emergency procurement has equipped the armed forces with critical weapon systems
The aim of the Fast Track Procedure (FTP) was to ensure expeditious procurement for urgent operational requirements of the Armed Forces, foreseen as imminent during war as well as peace time and for situations in which crisis emerges without prior warning. FTP may also be applied for cases where timelines of the normal prescribed procedure in procuring of operationally critical equipment is seen to be adversely impacting the capability and operational preparedness of the Armed Forces. The FTP covers acquisitions under 'Buy' category or outright purchase. Such acquisitions are applicable for both indigenous sources and ex-import. Procurement proposals in which limited validation trials are envisaged, will not be progressed under the purview of FTP.
Besides the FTP, Emergency Procurements (EP) have also been provided which are very specific and special cases of FTP to meet emergent situations based on Defence Acquisition Council directive for a specific duration of time. EP may be undertaken only from indigenous sources and exceptions if any, for import, specific approval of the DAC will be obtained.
Fast Track Procedure has revolutionised the acquisition of urgent operational necessities
Under the emergency procurement procedure, the Defence Acquisition Council delegated powers to the service headquarters to be able to procure weapon worth 300 crore under the emergency clause, which does away with the lengthy process that drags on for years. The emergency powers permit the armed forces to acquire any new or in service equipment on a fast track basis to improve the combat readiness of the forces. So, under the new emergency procedure armed forces can allocate funds on the new purchases from their own budgetary provisions, without any need to take requisite permission from the defence ministry.
The need for Emergency procurement procedure was felt more when the Chinese troops landed on the LAC of Eastern Ladakh and posed a big challenge to Indian armed forces. The armed forces faced an emergency situation as it asked the MOD to make available certain weapon systems, ammunition and spare parts which it may fall short of, in case of any direct conflict arising suddenly. The Army and Air Force also needed to store certain weapon systems and spare parts and ammunition for long term availability.
Emergency Powers to Field Commanders grant swift access to vital equipment, enhancing combat readiness
The Armed forces has utilised this facility of Emergency Procurement to be able to tackle the war like situation on the Ladakh border. The Emergency Procurement has played an important role in equipping the armed forces through almost 140 schemes divided into four tranches. Under the first three tranches the Army allocated 6,500 crores for 68 contracts. Out of this 1,800 crores were allotted for modern weapons, equipment and ammunition. Almost same amount was utilised for communication and non-communication equipment. About 900 crores was provided for 10 contracts for surveillance equipment. Around 1,500 crores were allotted for 14 projects related to Drones and counter Drone Systems. Approximately 1,000 crores was provided for mobility enhancement in various terrains and engineering equipment.
Under the Emergency Procurement – IV tranche, spread over one year from September 2022 to September 2023, it managed over 70 schemes for around 11,000 crores. Out of this, under 6-7 schemes, 1,300 crores were provided for weapon systems, 1,300 crores for protective equipment under 7-8 projects, 1,500 crores for intelligence, reconnaissance and surveillance equipment. 2,000 crores were reserved for Drones and Counter Drones. 1,800 crores provided for communication and non-communication equipment. Significantly a substantial amount of 3,110 crores was utilised for survivability and training.
Also, major upgrades were facilitated through Emergency Procurement in the field of remote control weapon systems, air defence missiles, anti-tank missiles, satellite downlink and recording systems, VSAT and portable mobile terminals, secure Army mobile systems, all-terrain vehicles, high mobility reconnaissance vehicles, radars, loiter ammunition, drones, counter drone systems, high endurance UAVs, ballistic helmets, navigation systems etc.
The Emergency procurement has proved its efficacy in terms of cost efficiency also. Since this mechanism also helped in quickly filling the gaps in combat readiness and bolstered India's defence preparedness, this needs to be institutionalised as a model for future acquisitions.