Charting a fresh course, India and Italy embark on a new era of defence collaboration
Indian Defence Minister Rajnath Singh in a bilateral meeting with the Italian Defence Minister Guido Crosetto in Rome, Italy on October 9, 2023.
The first ever visit by an Indian Defence Minister to Rome in recent decades, on October 9, 2023, cleared the roadmap for revival of full scale defence cooperation between India and Italy. The visit of Defence Minister Rajnath Singh delivered defence cooperation agreement on expected lines as it was preceded by a joint statement on defence cooperation from highest quarters. The India-Italy summit meeting between Prime Minister Narendra Modi and Italian Prime Minister Giorgia Meloni, held earlier in March this year, issued a landmark statement on defence cooperation and an action plan to revive and deepen the defence cooperation between India and Italy.
Indian Defence Minister's groundbreaking visit to Rome in October 2023 sets the stage for a new era of defence collaboration between India and Italy
Defence relations between India and Italy were put on hold after allegations of bribery in the VVIP Augusta Westland helicopter deal. After the Narendra Modi led government in New Delhi gave a closure to this issue and cleared the way for laying the track for next chapter in defence relations, the European defence equipment manufacturer will have cordial defence cooperation relations with Indian defence forces and industry in coming years.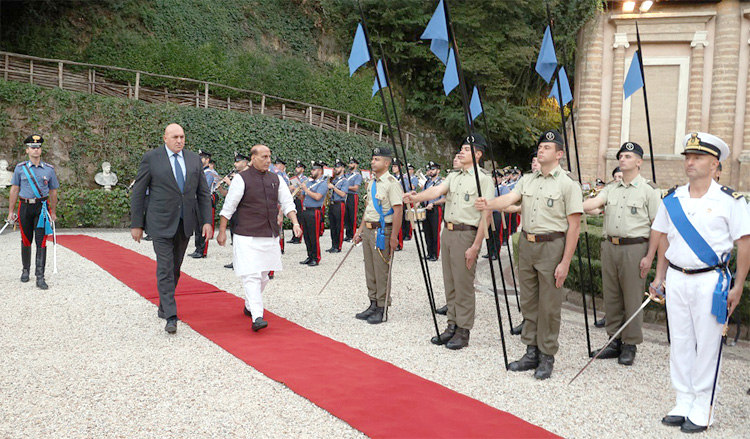 Defence Minister Rajnath Singh inspecting a Guard of Honour in Rome, Italy on October 9, 2023.
Prior to Rajnath Singh's landmark visit to Rome, during the 2020 virtual summit between Prime Minister Narendra Modi and Prime Minister Giorgia Meloni, a plan of action was released to deepen economic and strategic cooperation, which referred to 2020-2024 plan of action for enhancing Defence Cooperation. During the November 2020 virtual summit, the two Prime Ministers welcomed the steady strengthening of defence cooperation between the two countries and recognised the importance of regular defence exchanges between the two countries. According to senior officials, they emphasised on the need to further expand defence engagement through greater two-way collaboration and technology cooperation, co-development and co-production, by expediting discussions through the Joint Defence Committee and Military Cooperation Group.
Defence Minister Rajnath Singh's visit culminates in a significant landmark defence agreement marking the rebirth of India-Italy defence relations
Further during the March, 2023 state visit of Giorgia Meloni to New Delhi, the two Prime Ministers released a joint statement which referred to the inking of MoU on Defence cooperation. Probably this led to the India-Italy Defence Cooperation agreement, which will initiate a new chapter in India-Italy defence relations.
Earlier, the two countries held on June 1, 2022, 11th round of Military Cooperation Group meeting in Rome. The India-Italy Military Cooperation Group (MCG) is a forum established to boost defence cooperation between the both countries through regular talks at the strategic and operational levels between Headquarters, Integrated Defence Staff and the Joint Staff HQ of Italian Armed Forces.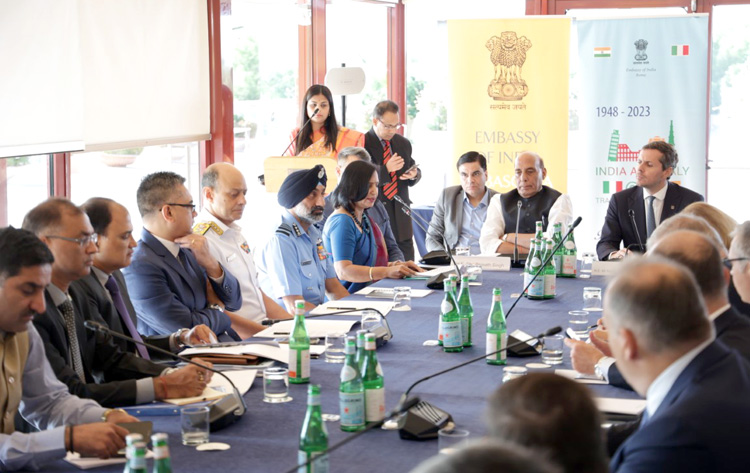 Rajnath Singh interacting with CEOs and other top industry leaders of Italian defence companies in Rome on October 10, 2023.
The meeting was Co-Chaired from the Indian side by Deputy Assistant Chief of Integrated Staff, Brigadier Vivek Narang and Italian Defence General Staff Brigadier General Alessandro Grassano, from the Italian side. A senior official described the meeting of the military cooperation group was held in a friendly, warm and cordial atmosphere. Discussions focused on new initiatives under the ambit of existing bilateral defence cooperation mechanism and further strengthening ongoing defence engagements.
More than an year after the MCG meeting, the two defence ministers signed defence cooperation meeting of long term significance, The agreement released after meeting between Indian Defence Minister Rajnath Singh and Italian Defence Minister Guido Crosetto talked of promoting bilateral cooperation in varied defence domains, such as security and defence policy, Research & Development, education in military field, maritime domain awareness, sharing of defence information and industrial cooperation, including co-development, co-production & setting up of joint ventures.
With shared interests in the Indo-Pacific region, India and Italy plan to collaborate on projects, solidifying their strategic partnership and contributing to regional stability
Besides the cooperation agreement, both sides discussed a host of defence and strategic cooperation issues, including training, sharing of information, maritime exercises and maritime security. The focus was on the opportunities in defence industrial cooperation.
The two Ministers discussed the complementary capacities of India & Italy in defence and the possibilities of joint development. The talks between Indian and Italian defence ministers suggested fostering the interaction of the Indian start-ups with the Italian defence companies.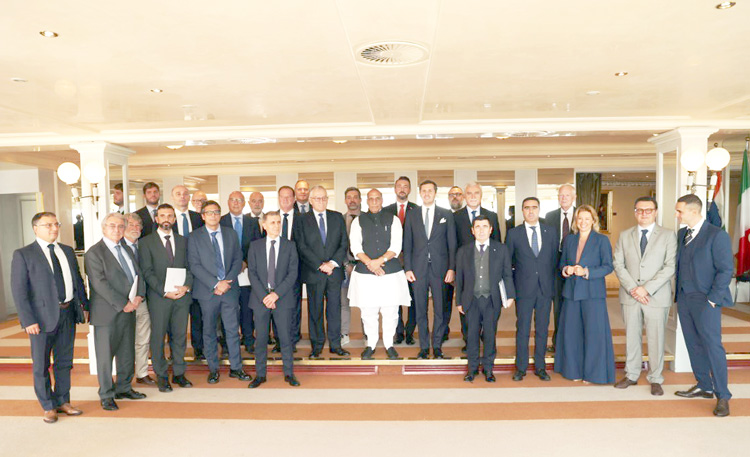 Group photograph of Rajnath Singh with CEOs and other top industry leaders of Italian defence companies on October 10, 2023.
Since India and Italy raised the level of bilateral relationship to strategic partnership and there are similarities of views relating to Indo-Pacific issues, both the countries also plan to have cooperative relationship between armed forces. The issue ofpromoting strategic partnership in Indo-Pacific was taken up during the visit of External Affairs Minister Dr S. Jaishankar to Rome two years ago.
In view of European Union's positive assessment of the emerging Indo-Pacific construct, India and Italy can cooperate in resilient supply chains and infrastructure projects in third countries. It is significant that Italy has already organised a trilateral India, Italy and Japan meet on promoting cooperation under the banner of Indo-Pacific. Italy and India agree on support to all connectivity issues based on international norms and standards, good governance, rule of law, inclusiveness, transparency and level playing field.
In the Plan of Action finalised duringthe virtual summit, Italy agreed with India on the importance of the Indo-Pacific region as a fundamental area for connecting Asia and Europe. It is expected that India and Italy can be a major partner in implementing connectivity projects under the Indo-Pacific. Thus Indo-Pacific is going to be new focus of India-Italy bilateral cooperation projects.
Besides joining hands on multilateral forums, the two ancient civilisations have already worked out an ambitious agenda to strengthen people to people contacts through cultural festivals, besides plans to strengthen the opportunity for tourism, culture and educational collaboration. These developing relations in various sectors, would lead to an atmosphere of trust in defence sectors also, which is expected to a revived cosy defence relations between India and Italy.