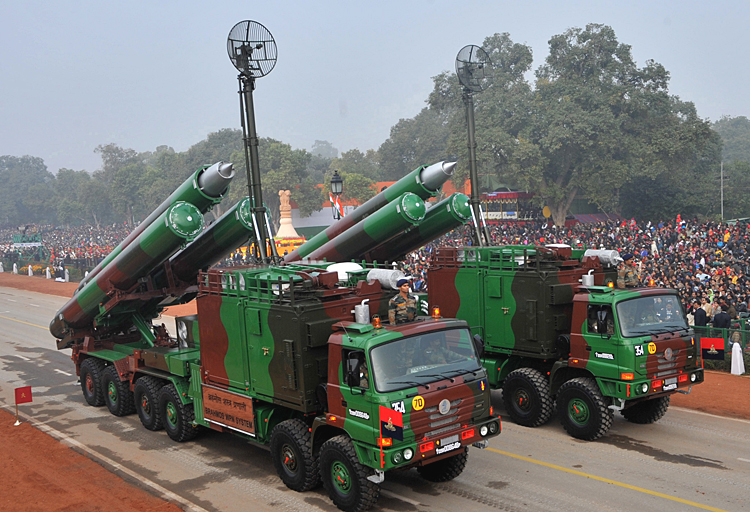 BrahMos WPN System
The Indo-Russian supersonic cruise missile BrahMos made its maiden flight, on March 22, with an Indian seeker system. The missile was "successfully flight tested at 0842 hrs today at the Pokhran test range in Rajasthan," said a government statement.
The seeker system has been co-developed by Defence Research and Development Organisation and BrahMos Aerospace.
According to the statement, "The precision strike weapon with indigenous seeker flew in its designated trajectory and hit the pre-set target. The flight test was conducted by the scientists of DRDO and BrahMos along with the Indian Army."
Congratulating DRDO, armed forces and Industry, Defence Minister Nirmala Sitharaman, in a tweet, said, "The precision strike weapon with Indian-made seeker flew in its designated trajectory and hit the target with pin-point accuracy."
This will bolster our national security, she added.
The test was witnessed by a high level team of scientist and military officials including, S Christopher, Chairman DRDO, G Satheesh Reddy, Director General (Missiles & Strategic Systems) and Director General BrahMos Sudhir Mishra.
The BrahMos missile is a universal supersonic cruise missile that can be launched from ships, submarines, aircraft and land based platforms. It can be used for precision strike to destroy targets, within a range of 290 kms, on land and sea.
BrahMos is undergoing massive up-gradation. After inclusion in the Missile Technology Control Regime- it caps the sale of missiles beyond 300 km range, India is working on an extended range BrahMos which can hit target up to 450 km. Indian Air Force, on November 22, successfully fired the BrahMos air version anti shipping missile from its frontline Su-30 MKI fighter aircraft off the Eastern Coast. This was the first live test of the air version BrahMos.