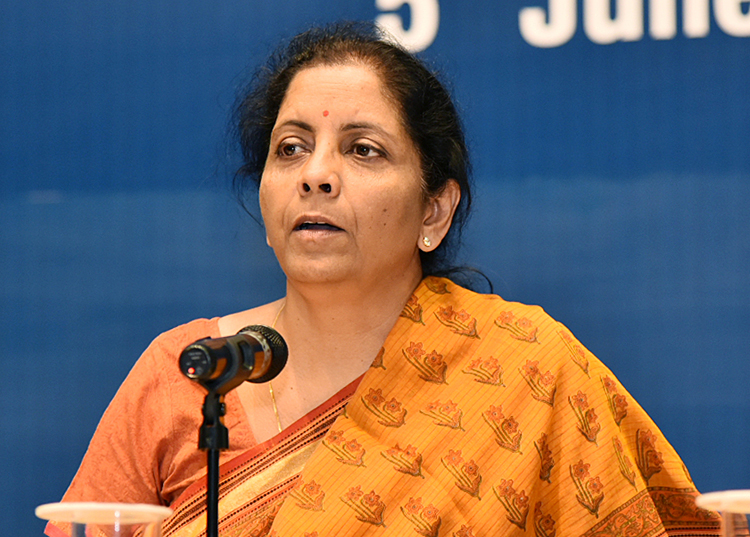 Union Minister for Defence, Nirmala Sitharaman
The much awaited nod for implementation of the "Strategic Partnership" model of the Defence Procurement Procedure was given on July 30 by the Defence Acquisition Council (DAC), apex procurement body of the Ministry of Defence. The meeting was chaired by the Minister of Defence Nirmala Sitharaman.
"In continuation of its efforts to boost indigenous defence industry and to reduce timelines so as to ensure timely delivery of equipment to the Armed Forces, the DAC discussed and approved Implementation guidelines for the 'Strategic Partnership' model," the ministry said in a statement.
Chetak Helicopter from the Indian ship Rajput class destroyer INS Rana prepares to land
"Strategic Partnership Model aims to revitalise defence industrial ecosystem and progressively build indigenous capabilities in the private sector to design, develop and manufacture complex weapon systems for the future needs of the Armed Forces," it said.
The SP Model was approved by DAC in May last year and became part of DPP-2016 as Chapter-VII, titled as 'Revitalising Defence Industrial Ecosystem through Strategic Partnerships'. Initially four segments like Fighter Aircraft, helicopters, submarines and armoured fighting vehicles / main battle tanks have been identified for acquisition under Strategic Partnership (SP) route. This is another category of Capital Acquisition in addition to the existing categories of DPP-2016 i.e. 'Buy (Indian-Indigenously Designed, Developed and Manufactured (IDDM))'; 'Buy (Indian)'; 'Buy & Make (Indian)'; 'Buy & Make' and 'Buy (Global)'.
Rafales in operations
The model requires Indian manufacturers to tie-ups with foreign Original Equipment Manufacturers (OEM), to cover manufacturing, transfer of technology (ToT), assistance in training skilled human resources and other support. Such partnerships or tie-ups between Indian manufacturers (Strategic Partner - SP) and OEM may take the form of joint ventures (JV), equity partnerships or any other form of arrangement. "The OEM will be jointly responsible along with the SP for certification and quality assurance of the platforms supplied to MOD."
The selection of Strategic Partner (SP) will be through a thorough evaluation of technical and financial capability of participating companies. Simultaneously, OEM will be selected through their bids and "even if only one OEM is shortlisted, the process will be taken forward."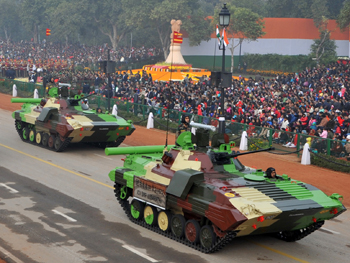 ICV BMP II (Sarsth) System
Adding further the ministry said that the "amplifying guidelines lay emphasis on incentivisation of transfer of niche technology and higher indigenous content Global Majors, who in collaboration with Indian Partners are ready to make India a Regional / Global manufacturing hub for the platform will also be incentivized. This will give a major fillip towards encouraging self-reliance and aligning the defence sector with the 'Make in India' initiative of the Government."
Since last year, India has come out with tenders under the SP model, namely, Project 75 India for six conventional stealth submarine, 111 Naval Utility helicopters, 110 fighter for Air Force, 1770 Future Ready Combat Vehicle (FRCV) and 123 Naval Multi-role helicopters.
From these 4 segments identified (fighters, helicopters, submarines and armoured vehicles) for SP model, NUH will be the first project to kick off under this model. Thus, talking further on the implementation direction, Ministry also approved "platform specific guidelines for procurement of Naval Utility Helicopters." All procurements under this process "would be executed by specially constituted Empowered Project Committees (EPC) to provide focused attention and ensure timely execution," it said.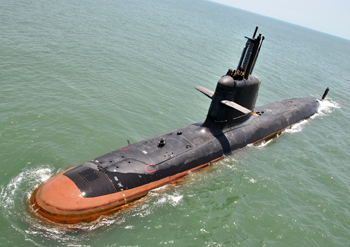 Kalvari, the first Scorpene class submarine
Naval Utility Helicopters
In August last year, Indian Navy sent out a RFI for 111 Naval Utility Helicopters. These choppers will replace the decades' old Chetaks (Allouette III) which are reaching their airframe life. The procurement will be carried out under Strategic Partnership model. The deal is expected to cost the exchequers around 21,738 crore ($3.2 billion). These choppers will operate from frontline warships and Offshore Patrol Vessels and will also operate from shore for search and rescue operations.
Multi-Role Helicopters
Indian Navy is looking for the replacement of its legacy shipborne choppers for modern helicopters which can execute anti-submarine, anti-surface warfare, electronic intelligence, troop movement, special operations and commando roles. The requirement is for 123 Naval Multi-Role Helicopters (NMRH). India is currently operating Sea King in anti-submarine roles. The RFI for the requirement was sent out last year. The procurement will be made through the Strategic Partnership Model.
Project-75(I)
It is the follow-up programme of the ongoing Project-75 under which India is building six conventionally powered French Scorpene submarines. In this project, six more conventionally powered submarines with land-attack cruise missiles, air-independent propulsion for significant longer underwater endurance, will be built in India by an Indian shipyard, through the strategic partnership model of defence procurement procedure. The 60,000 crore project is open to private shipyards also.
FRCV
Last year, India came out with a RFI for procurement of a new generation, contemporary State-of-the-Art Combat Vehicle Platform, approximately 1770 Armoured Fighting Vehicles which "will form the base platform for the Main Battle Tank." India "planned to subsequently develop other need-based Family of Variants" on this "tracked fighting vehicle of Medium Weight Class (All up combat weight not to exceed 50Tons ± 15%)." Army wants the cost to include "all aspects of Supply of Production Material, Manufacturing, Transfer of Technology, Trials, 10 Years Performance Based Logistics, Documentation, Training, Simulators and Life Cycle Support for a period of 40-50 years."
110 Fighters for IAF
In 2016, the IAF initiated a process to acquire around 100 single-engine combat aircraft but the process which appeared to solve the problem in minimum time with substantial cost saving. The aircrafts were to be manufactured in India with significant technology transfer. This did not go further as the government failed to put aside the demands for inclusion of twin-engine fighters in this requirement. India issued the Request for Information (RFI) for 110 fighter jets in April this year.
According to the RFI, "the proposal is to procure approximately 110 fighter aircraft (about 75 per cent single seat and rest twin-seat aircraft). The procurement should have a maximum of 15 per cent aircraft in flyaway state and the remaining 85 per cent aircraft will have to be made in India by a Strategic Partner/ Indian Production Agency (SP/ IPA)."