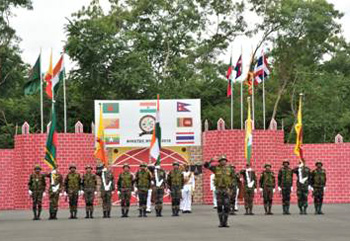 The week long inaugural Military Field Training Exercise for the Bay of Bengal Initiative for Multi Sectoral Technological and Economic Cooperation (BIMSTEC) nations named 'MILEX-18', after a Validation Exercise and an impressive Closing Ceremony held at Foreign Training Node, Aundh Military Station, Pune, on September 16.
Minister of State for Defence Subhash Bhamre presided over the closing ceremony which attended by "other dignitaries including Shahidul Islam, General Secretary of BIMSTEC forum, Service Chiefs of BIMSTEC nations, senior Military officers of the Indian Army and representatives of the BIMSTEC Nations."
Speaking on the occasion, Bhamre said, "The MILEX-18 Exercise has provided us all an opportunity to discuss the issue of Countering Terrorism from the military point of view with an endeavour to create synergy, better understanding and evolving of an institutionalized mechanism for regional cooperation in the field of Counter Terrorist Operations. This Exercise and Army Chief's Conclave held yesterday will further augment the relations between all BIMSTEC nations."
During the Validation Exercise, tactical drills such as Hostage Rescue by insertion of troops from helicopters, Room Intervention as well as House Clearing Drill as part of Cordon and Search Operations, Raid on a Terrorist Hideout and neutralization of Improvised Explosive Devices (IED) were carried out.
The purpose of the exercise was to "demonstrated the commitment and capabilities" of the participating armies while working together to fight terrorism.
The exercise was followed by an exhibition organised by the Federation of Indian Chambers of Commerce & Industry (FICCI) where more than 250 indigenously developed defence equipment were displayed. "Almost 20 different agencies dealing with defence equipment participated in the display including Ordnance Factories, Defence and Research Development Organisation (DRDO), leading private sector companies, startups etc to showcase some of the latest weapon systems and vehicles produced indigenously."