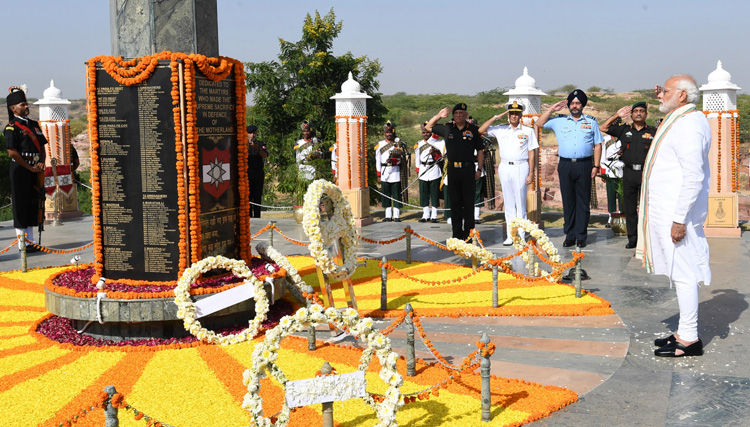 The Prime Minister, Narendra Modi paying homage to martyrs at the Konark War Memorial, in Jodhpur, Rajasthan on September 28, 2018.
Two years after the surgical strike by Indian Army's Special Forces across the line of control in Pakistan Occupied Kashmir (PoK) on the intervening night of the 28th and 29th September of 2016, avenging the killing of 19 soldiers in an suicide attack on an army camp in Uri on 18 of the month, India has begun celebration of the exemplary valour of its soldiers as the 'Parakram Parv' which is being observed from 28-30 September.
Prime Minister Narendra Modi, after arriving at the Jodhpur Military Station inaugurated the Parakram Parv exhibition. He is there to attend the Combined Commanders Conference being held at the Jodhpur Air Force Station.
This marks the second anniversary of the surgical strike.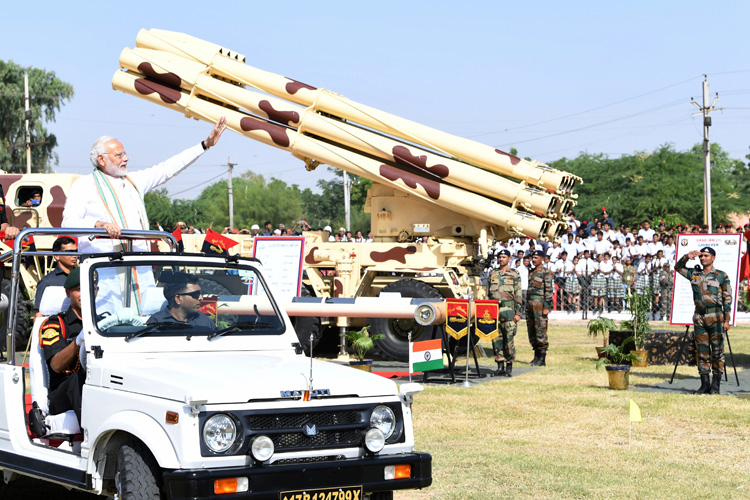 The Prime Minister, Narendra Modi attending the "Parakram Parv" celebrations, at Jodhpur, Rajasthan on September 28, 2018.
Today, Minister of Defence Nirmala Sitharaman "will visit India Gate lawns, New Delhi (for the main event) to commemorate the inauguration of 'Parakram Parv' and will also interact with children. The programme will start with bugle call at 1830 hrs, thereafter, movies and photographs depicting valour and courage of the Armed Forces will be shown. Huge canvas/digital signing walls for sending messages to the soldiers will help citizens connect with them. Letters addressed to soldiers by school children will also be on the display. The event is open from 1100 hrs to 2200 hrs on Saturday and Sunday. Visitors will get the opportunity to see captured weapons used by terrorists that have been brought from Jammu & Kashmir. Military equipment like artillery guns and small arms will also be on display. On 29 and 30 September 2018 noted singers are scheduled to perform at the venue apart from the Military band," Indian Army said in a statement.
Similarly, 53 locations in 51 cities across the Nation shall be showcasing the events highlighting valour of Indian Armed Forces in general and Special Forces in particular, statement added.