India has lost 42 helicopters at the world's highest battlefield. This incredible recovery effort is a victory against staggering odds imposed by nature at the Glacier. The pictures accompanying this text best tell the amazing story of resolve and resourcefulness.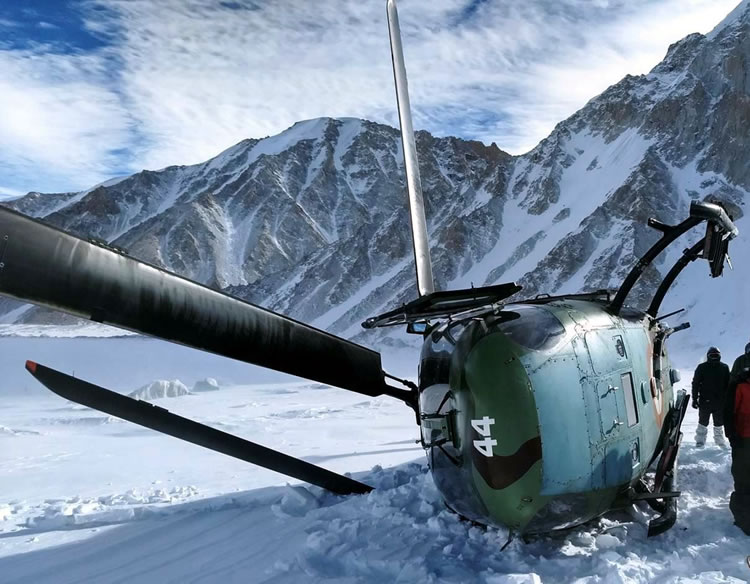 The severely-damaged Indian Army Advanced Light Helicopter (ALH) lies toppled over on its side after crash-landing on fresh snow at the Northern Glacier, Siachen, on January 9, 2018
This is certain to go down as an aviation legend: The Indian Army has recovered an Advanced Light Helicopter (ALH) which crash-landed and then toppled over near a troop post on the Northern Glacier in Siachen, the world's highest and most treacherous battlefield.
It took sublime ingenuity and a heavy dose of military doggedness for in situ repairs in severely frigid conditions at a forbidding height of 16,200 feet to recover the badly stricken helicopter of the Army Aviation Corps's Leh-based 203 Squadron.
A snag forced the chopper to crash-land on fresh snow near Khanda Post on January 9, 2018 during an air maintenance sortie. It toppled over as the snow failed to hold up its weight. The extensive damage included broken rotor blades and a skid. The never-say-die spirit of the Army and its famed teamwork finally resulted in an incredible recovery of the chopper, which was flown out on July 7, 2018 to the Siachen Base Camp.
The visuals, which tell the story, have become public only now. "HAL (the helicopter manufacturer) is still in shock," joked an Army officer involved in the incredible recovery.
At such heights where approach by land is not feasible, it is also extremely difficult to airlift heavy loads required for this sort of an effort to recover an aircraft, and then to carry out the physical labour in super cold and rare conditions - which severely curtail human ability - to execute the task.
The IAF and Army have lost as many as 42 helicopters in air maintenance of troop outposts at Siachen since the commencement of Operation Meghdoot by India in April 1984 to foil Pakistan's attempt to annex the Glacier. Flying conditions at Siachen are amongst the most treacherous in the world, demanding the highest levels of pilot skills.
So, would this famous recovery effort constitute a world record? Apparently not. Air Vice Marshal Manmohan Bahadur (Retd), the Additional Director-Genreal of the Centre for Airpower Studies, has published an account of a dramatic engine change on a stricken IAF Cheetah (Alhoutte) helicopter and its recovery accomplished under intense Pakistani artillery fire at the 19,500-foot high Amar Post in Siachen in 1990,when it was a live warzone. At this Glacier battlefield, heroism and resourcefulness is, quite clearly, a way of life.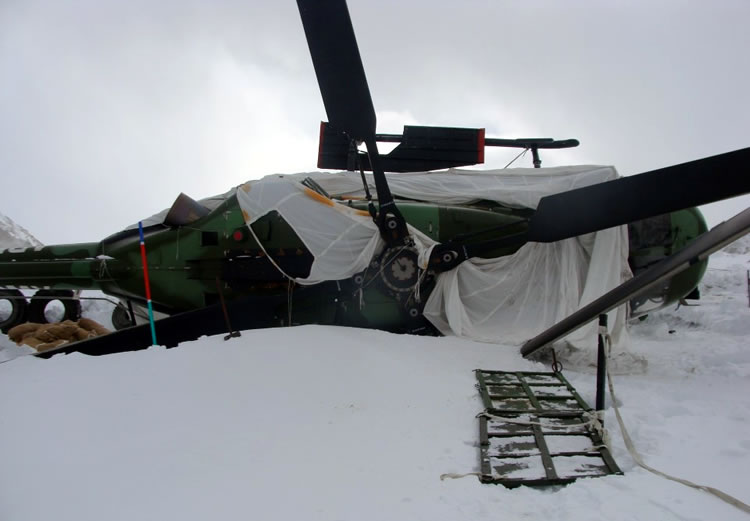 The chopper's rotor blades were broken, and its skid collapsed after it keeled over on its own weight on fresh snow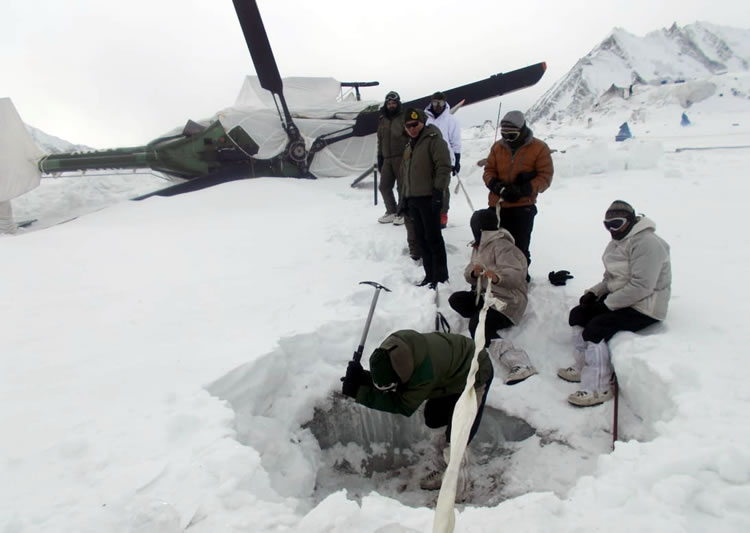 A dogged attempt was made over six months to recover the stricken helicopter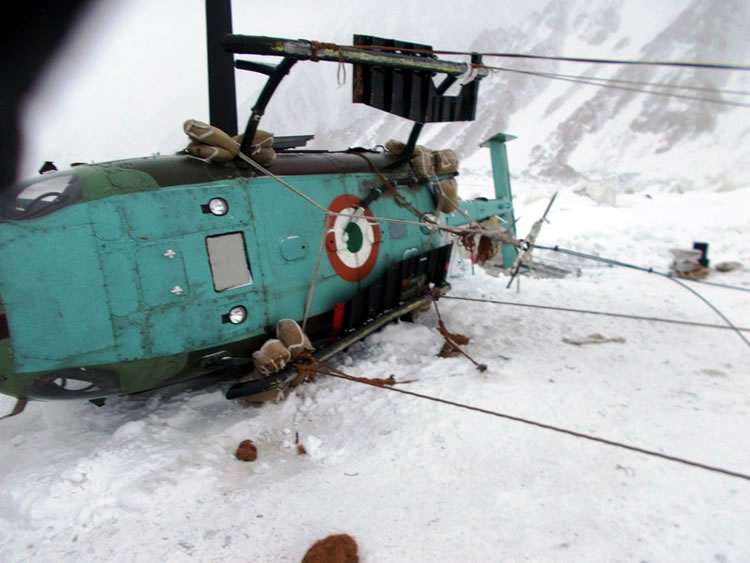 The Indian Army mustered all its resourcefulness to pull out the toppled chopper from the snow, repair the damage, and put it back on its skids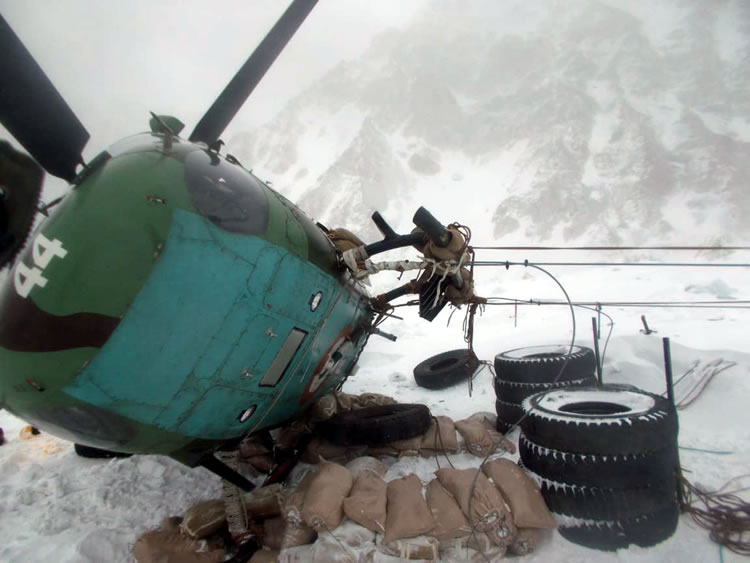 The Indian Army mustered all its resourcefulness to pull out the toppled chopper from the snow, repair the damage, and put it back on its skids
The famed Army team work and ingenuity was in full flow in delivering replacements for damaged components to the crash site, and retrieving the chopper from what looked like a snowy grave
The famed Army team work and ingenuity was in full flow in delivering replacements for damaged components to the crash site, and retrieving the chopper from what looked like a snowy grave
The recovery team, led by the Army Aviation Corp's Leh-based 203 Squadron and assisted by Infantry troops at the nearby Khanda Post, literally dug the chopper out of ice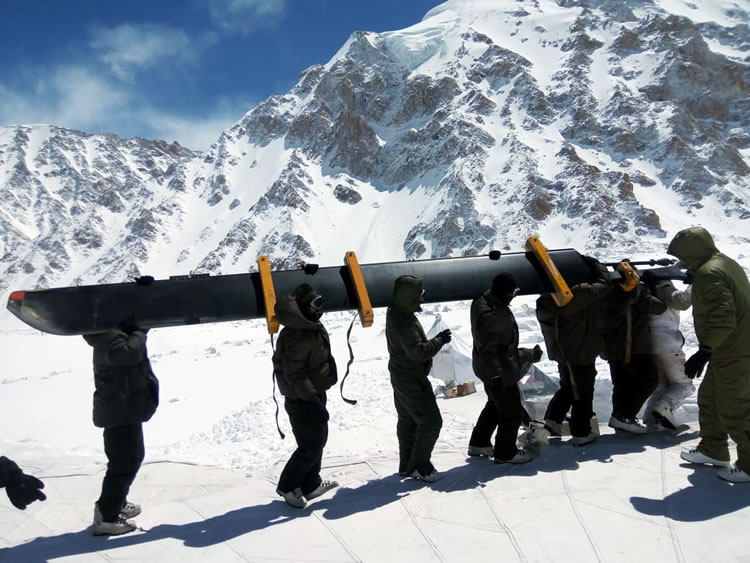 Airlifting replacements for damaged parts like rotor blades from Leh was a demonstration of ingenuity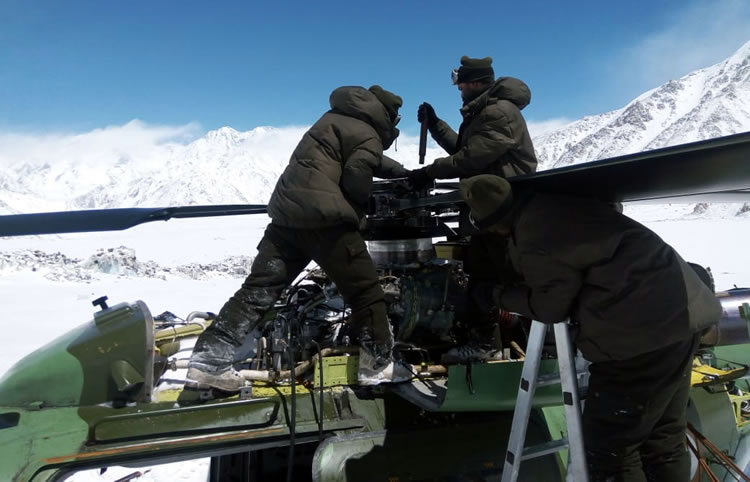 It's so cold at the crash site that even touching metal with bare hands will lead to skin getting stuck on metal. Human ability is severely debilitated at such heights in severe cold. The recovery was a struggle against all odds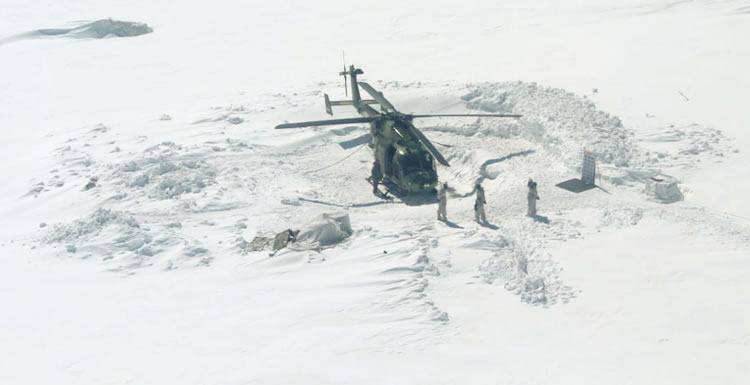 An aerial shot of the helicopter at the Glacier after it was retrieved, repaired, and made ready for take-off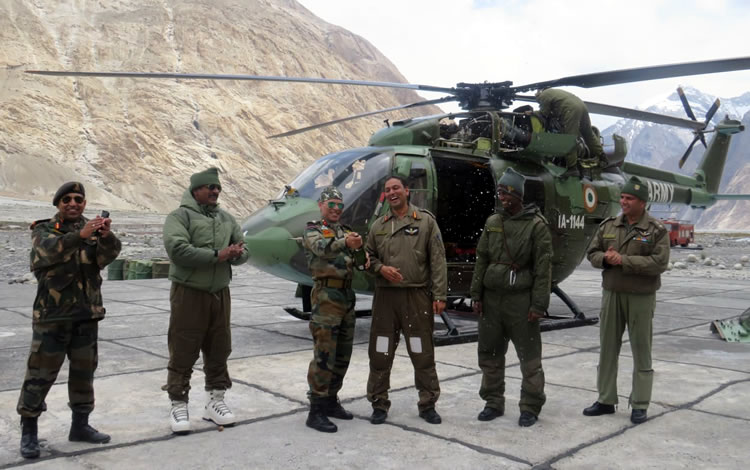 Champagne moment for the Army Aviation Corp's jubilant 203 Squadron after the helicopter was flown back to the Siachen Base Camp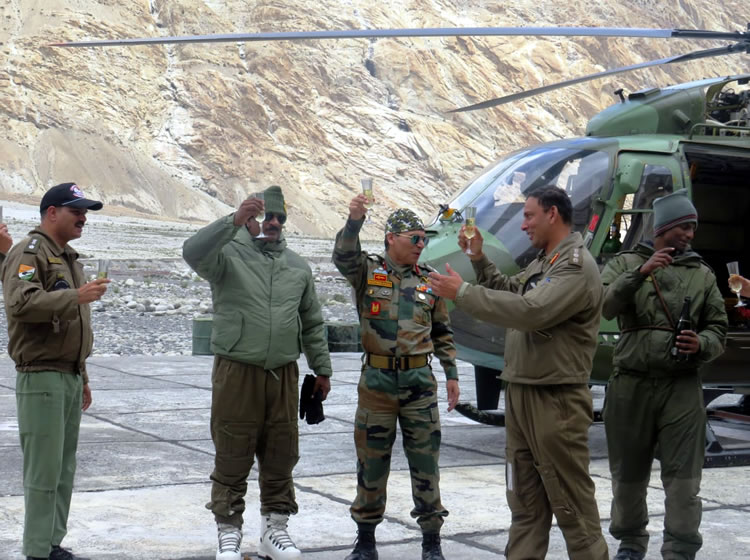 Champagne moment for the Army Aviation Corp's jubilant 203 Squadron after the helicopter was flown back to the Siachen Base Camp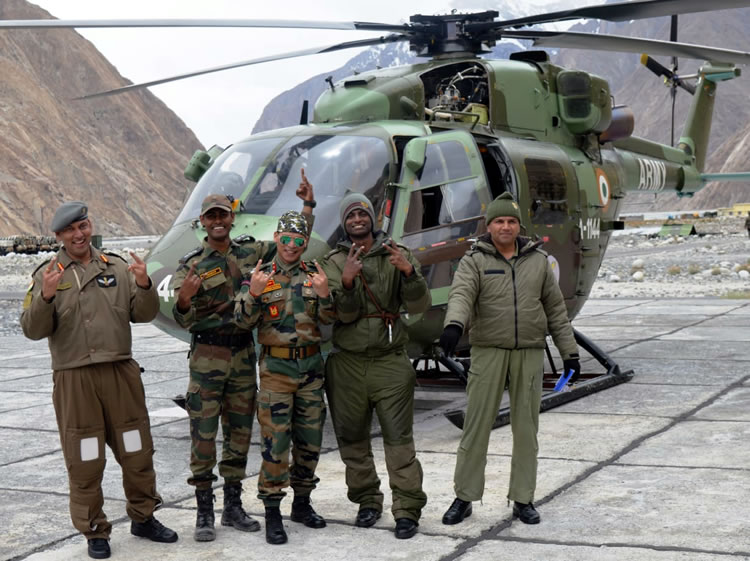 Standing tall, against all odds, on a treacherous battlefield. The team of 203 Squadron savour the celebratory moment after achieving the improbable. The image belies the story of the helicopter crashing into what looked like an icy graveyard