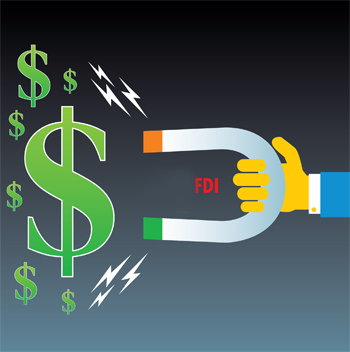 India has received over 438.60 crore ($62.7 Million) of Foreign Direct Investment (FDI) in the Defence & Aerospace Sector since April 2014, the Government has declared to Parliament.
This provides clarity about FDI inflows, as the previously stated figure earlier this year was a rather modest 1.16 crore ($165,892).
The Ministry of Defence clarified in a statement to Parliament that 1.16 crore FDI pertains to receipts under just three National Industrial Classification Codes for the Defence Sector. Inflows of 237.44 crore ($33.95 Million) have been received by six companies under other codes since April 2014, the Government stated.
"In addition to the six cases mentioned above, FDI of over 200 crore ($28.6 Million) has been received in Defence & Aerospace Sector in 14 cases through the automatic route," it elaborated. The revised FDI limits in 2016 placed investments up to 49 per cent under the automatic route. Government approval is required only for FDI over 49 per cent.
In 2014, the Government liberalised the defence licensing regime, restricting the items which required a government license, and the different National Industrial Classification Codes are a reflection of the liberalised regime.
These figures relate to the incumbency of the Narendra Modi Government, which took office in May 2014.
It is also apparent that the Government is now clubbing Defence and Aerospace as one sector.