Army not to implement SC orders decriminalising homosexuality, adultery. Terming it "unacceptable", General Rawat wants Army to be treated as an exception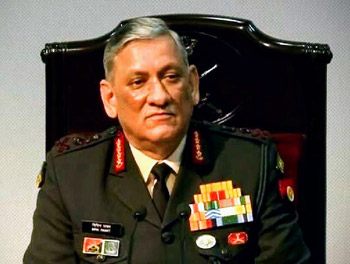 Chief of the Army Staff, General Bipin Rawat
Army Chief General Bipin Rawat on January 10 strongly asserted that the Indian Army will not implement recent Supreme Court judgements decriminalising gay sex and extra-marital affairs.
"In the Army, this is not acceptable. We will deal with it under various sections of the Army Act," he declared at his annual press conference in New Delhi, while responding to questions from journalists.
In separate judgements, the Supreme Court recently struck down Sections 377 and 497 of the Indian Penal Code. These were British colonial era laws which treated gay sex and adultery respectively as criminal offences and prescribed jail terms for those held guilty.
While conceding that it is not above the law of the land, he insisted the Army is out of bounds for social glasnost. "We're not above the law but in the Indian Army, some of the rights and privileges (taken for granted by society) are not available to Army personnel. For instance, we don't have the right to form a union," he attempted to reason his position. "We're different. Let's wait and watch," he said.
While holding that there would be no compromise on the social conservatism of the Army, the General's response suggested that the Army takes an even sterner view of adultery than it does of gay sex. The Army is very harsh on adulterous relationships, particularly those involving a serving personnel with a colleague's wife. Even though this is not listed as an offence on the statute books, the military treats this as unpardonable, and terms it as "stealing the affections of a brother officer's wife". Once proved, it often invites summary dismissal. Even Generals have not been spared.
"The soldier posted on the front has to be reasonably assured," General Rawat said, holding this to be a deeply sensitive subject for the Army. "The Army is a family. Family members left behind (by soldiers and officers deployed on the front) are looked after at peace stations by officers deputed by the local commander," he explained. Any extra-marital affair with a personnel's wife is unacceptable, as its seen as a deep emotional distraction for a man deployed on the front.
"The Army is conservative. We haven't modernised (socially) or westernised. This (adultery) can't be allowed to happen," he stressed. "We will deal with this under Rules 63 of the Army Act, which deals with acts prejudicial to good order and military discipline," the Army Chief insisted.
Comments from Senior Retired Military Officers
The working environment of the Army is based on team / crew where soldiers and officers work closely together in a trench or on an artillery gun or a tank for days together. This aspect is also applicable to the supporting arms and logistic elements. The soldiers come from rural or semi rural background where the culture is very orthodox and conservative. The army personnel are separated from their families for long periods of time. In such a situation being young and physically fit, there hormones do play up which in the current Military Law and tradition are controlled but if freedom is given then chances of it spreading is very much there. Also a senior can always exploit a junior if the checks and balances on homosexuality and sodomy is removed thus I whole heartedly agree with the views of the Army Chief.
— Lt. General Naresh Chand (Retd.), Former Director General, Army Air Defence Corps
A response from General Bipin Rawat, Chief of the Army Staff yesterday on Homosexuality and Adultery in the Army as reported in both Electronic and Print Media was not required. Matters such as these, which are mostly hypothetical in nature, do not qualify for immediate response. A response if at all required must relate to specific situation/circumstance and well calibrated based on the statutory provisions of the Army Act.
— Rear Admiral Sushil Ramsay (Retd.), Former Naval Attaché, Embassy of India in Moscow